The latest and greatest Android tablet is here, the Motorola Xoom that runs the newest version of Android called Honeycomb. The Xoom is a 10.1 inch tablet that comes with dual cameras and even a flash along with the ability to capture 720p videos and play it back over HDMI. This tablet features a dual core 1Ghz processor and 1 gig of ram and 32gig of memory. The Xoom is available right now on the Verizon wireless network for $600 on contract, and it's well worth the cost.

Let's start off with a quick unboxing video:
Then the pictures. The Box is nice looking I guess.
When you open the box you're greeted with the Xoom itself that has a screen protector on it that's labeled with all the buttons and ports etc.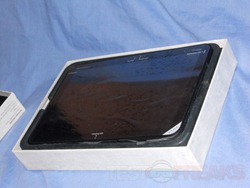 Under the Xoom you'll find the documentation, charger and USB cable.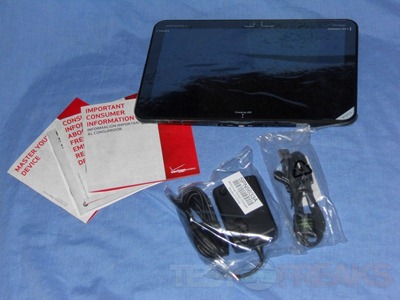 The Xoom has an extremely glossy screen, I mean it was virtually impossible to take any pictures of it.
On the back of the Xoom you'll find the power button, stereo speakers, camera and a flash.
On the bottom edge of the device are the ports.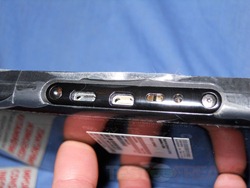 The left edge has the volume buttons: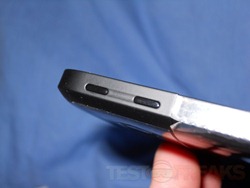 The top edge is where you'll find the sim card slot and the audio jack.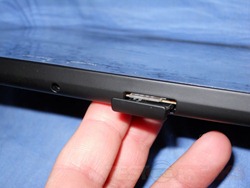 Specifications:
Verizon Wireless Motorola Xoom
Honeycomb
The first tablet powered by Android 3.0 (Honeycomb)
* A multi-touch holographic user interface with a sleek 3D experience
* Completely customizable from a single location: view all 5 home screen panels as well as all available widgets, app shortcuts, wallpapers and more in one place
* Offers the best of multimedia and the Internet with a powerful desktop-like browser with Flash 10.1 support
* A platform that offers true multitasking and access to over 100,000 apps in the Android market
Apps
The Android Market: a one-stop shop to download your favorite books, apps and games. Read, watch and play your favorite content on the go.
* Access to over 3 million eBooks with Google Books
* You can also buy apps from the web-based store on market.android.com and the app will show up on your app tray
Hardware
Get a fully immersive viewing experience with a 10.1 inch high definition display.
* Playback at 16.10 widescreen format
* Console-like gaming with rich graphics and a built-in accelerometer and gyroscope
* Support for Adobe Flash Player for an optimum web video experience
Front and rear-facing cameras.
* Capture HD 720p video and play it back over HDMI
* Video chat with friends using the front facing camera
* Shoot photos and video with the 5.0 megapixel camera and edit them instantly right on the screen
Speed and Multi-tasking
* Dual-core 1 GHz processor for super-fast responsiveness when using multiple applications
* 1 GB of RAM memory
Thickness and Size:
The XOOM is lightweight at ~1.5lbs, and is an easy-to-carry 0.51 inches thick.
Technical Specifications:
Wireless Connectivity:
* 3G (CDMA EV-DO Rev A)
* 4G Upgradable (LTE)
* WiFi 2.4 GHz & 5GHz 802.11 b/g/n
* Bluetooth 2.1 + EDR + HID
Wired Connectivity:
* 1 USB port
* 1 HDMI input
* 3.5mm wired headset input
Display Size: 10.1″ 1280 x 800
Device Thickness: 0.51 inches thick
Mobile Processor: NVIDIA Tegra 2 Dual Core 1GHz
Bands / Modes:
* CDMA 800/1900
* LTE 700
* Rx diversity in all bands
Cameras:
* Front-facing 2.0 megapixel webcam
* Rear 5.0 megapixel camera with flash
Internal Memory: 32GB
RAM: 1GB LP DDR2
Battery Life:
* Charge Time – Up to approx. 3.5 hours
* Video Playback Time – Up to approx. 10 hours
* Browsing over WiFi – Up to approx. 10 hours
* Browsing over 3G – Up to approx. 9 hours
* MP3 playback – Up to approx. 3.3 days
* Standby – Up to approx. 14 days
Price: $599.99 (With new 2yr activation and data plan required)
My phone uses Android 2.2, and going to Honeycomb is a big difference really. When you first turn it on you're greeted with a nice looking clock and a few icons for Browser, Gmail, Talk, Music, eBook and Market. At the top right corner you'll see a shortcut for App and a '+' to add more things to the screen.  Over at the top left corner is Google search and microphone. At the bottom left corner you'll find shortcuts for Home, Back and Task manager or running programs, then at the bottom right corner is the time and other status indicators.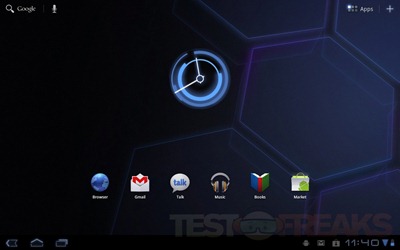 The Xoom isn't exactly filled with stuff when you get it, you can swipe back and forth like other Android devices.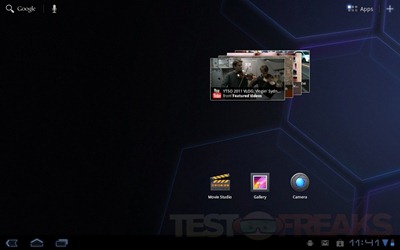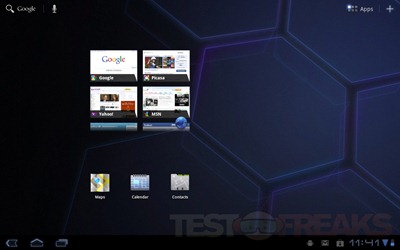 This is what the running programs looks like, it's a pop up window:
In the apps section you won't find much, just the basics really. I added Angry Birds, Gun brothers, Guns n' Glory, Air Attack and Asphalt 5, the rest is stock.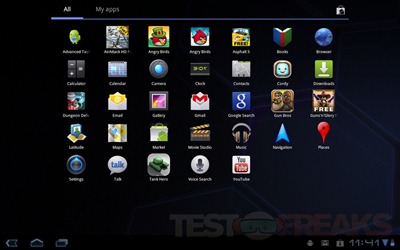 At the top of the page you'll see 'All' and 'My Apps' which is nice because under My Apps is the stuff that you added.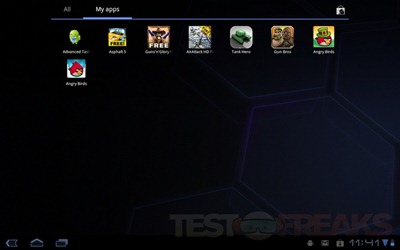 Here's the Settings for you to browse through, I'm not going to list everything here.
The Xoom works on Verizon and as of now it uses the 3G network, but soon it should be LTE or 4G. I did some browsing with it of course and the speed was fast. I also used it with my wi-fi and had no problems connecting to my network. One small issue is that there's no flash as of yet on the Xoom, but it's supposed to be added soon, within a day or two actually. If you don't have the Xoom now, but are planning on getting it flash should be enabled by the time you get it.
The Xoom does come with a couple decent games, Dungeon Defenders and Cordy. The Xoom does gaming well, if you like to play games then this tablet is the one for you seriously. There's nothing like playing games on such a nice large, gorgeous looking screen.
Every game I played on the Xoom looked beautiful and they all played smoothly.
The screen on the Xoom is beautiful, and movies and games are just amazing looking on it. Actually everything looks great on this tablet, it's all nice and crisp and clear. One major issue I have with the Xoom is the screen, not the graphics but the actual screen, it's very glossy like a mirror. It can be very annoying at times, I don't like it at all.
Speaking of multimedia, the Xoom features two speakers so you get stereo sound but they're on the back so it can be a bit muffled at times. It depends how you're holding the tablet really, like if you've got it on your lap or even lying flat on a desk, it can muffle the speakers a bit.
Here's what the music player looks like, just slide back and forth.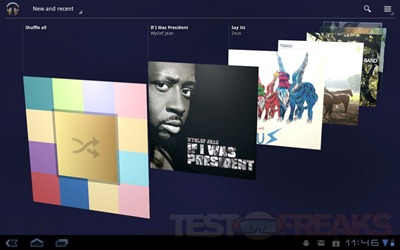 The Xoom comes with an eBook reader and a few books. The tablet can of course be used in either portrait or landscape modes which is great for reading.
There is a nice calendar built in as well, that looks great.
The Marketplace looks very much different than on my phone, I like it a lot better I think.
The camera is rather nice, it's 5mp and can do 720p video and it actually has quite a few settings for you to adjust to get the best pictures you can get. The interface is easy to use, plus and minus buttons at the top for zoom, the a wheel like interface for all  of the settings, everything is right there at you fingertips for quick and easy access. At the bottom is a little camera button that you can tap to switch between the front and back cameras, and a slider next to that to switch between still and video.
The picture quality is decent really especially for a tablet camera, I wasn't expecting much really but I was pleasantly surprised.
Conclusion:
The Xoom is the top of the line Android tablet on the market today that's for sure, and it's near perfect I think.
Yes it's missing flash and 4G at the moment, but that's supposed to be fixed soon. The Xoom works well, it's fast and I really never noticed any lag at all, even when running several programs at a time.
Gaming and multimedia on the Xoom is excellent, it does that the best. Sure it can do email and browse the web, but that's basic stuff that it should do well and does.
The list of included apps is short, very short actually. I expected a lot more to be included on the Xoom especially for the high price you'll have to pay for it.
The biggest issue with the Xoom is the glossy screen, it's just too glossy to the point that in bright light it's almost unusable. I mean that as in bright light behind you. It's like a mirror when it's powered off truly.
Pros:
+Gorgeous screen
+Fast
+Great for gaming and multimedia
+Simple to use
+Dual cameras with flash
+Decent picture quality
+Stereo sound
Cons:
-No Flash yet
-Expensive
-Very glossy screen
-Easily picks up fingerprints
-No 4g until upgrade
| | |
| --- | --- |
| Grades: | |
| Overall | |
| Design | |
| Performance | |
To learn more about our review policy please visit this page HERE.