How would you like the internet in your pocket, to be able to take it with you everywhere you go? Well now you can with a MiFi! The MiFi I have today from Virgin Mobile offers you the same features that others offer, but this once doesn't require a contract, it's a pay as you go type of device. It offers you the freedom to pay when you need it only and you're not stuck on a contract for something that you might not use all of the time. So read on to learn more..

The MiFI comes in a plastic box with a cardboard slip cover on it.
Once you unpack everything you'll find the MiFi itself, USB cable, documentation, power supply and a nice little cloth carrying case.
The MiFi is small weighing only 2.08oz and with dimensions of 3.5" x 2.32" x .35".  The top is fancy looking silver color with a brushed pattern on it, there's a power button on the top.
On the bottom you'll find the identifying information along with the battery cover.
On the side you'll find the USB port and an LED indicator.
The MiFi fits into the cloth pouch nicely, but it's not exactly tight, but it will do a decent job of protecting it.
Specifications:
Connect up to 5 Wi-Fi enabled devices to the 3G wireless internet. No contract.
-Pay As You Go with no monthly bills
-Use cash (Top-Up), credit, or debit
-Only pay for what you need
-Plans start at just $10
Features:
-One-touch connectivity
-Connect up to 5 Wi-Fi enabled wireless devices
-Up to 4 hours of battery usage with 40 hours standby
-Connect from 30-40 feet away
-Password-protected connection
Specs:
Dimensions: 89mm x 59mm x 9mm / 3.5″ x 2.32″ x .35″
Weight: 59g / 2.08oz
Wireless:
Security: Wep/Wpa/Wpa2
Wi-Fi: 802.11b/g
Speeds:
up to 3.1 Mbps download
up to 1.8 Mbps upload
Pricing and Service Details:
Virgin Mobile USA's customers have access to broadband service on the Nationwide Sprint Network reaching more than 254 million people. Customers also have access to high speed broadband service with average downlink data speeds between 600 and 1400 Kbps. High speed broadband service not available in all areas.
Price: $149.00

To use the MiFI you've got to charge it first, a couple hours and you're all done the power button lights yellow when charging and turns green when complete.
When you turn it on the button lights up green and there's a small green activity LED on the bottom that blinks as well.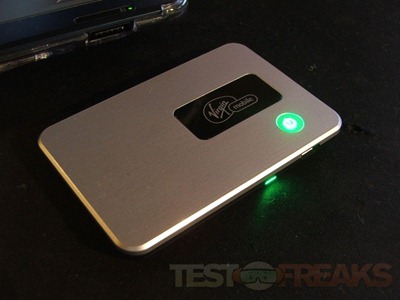 To access your MiFi you'll need to go to virginmobile.mifi to open up the interface for it. On the main page you'll find connection status with a bit of information like connection status, data transferred and received and the time connected along with IP info.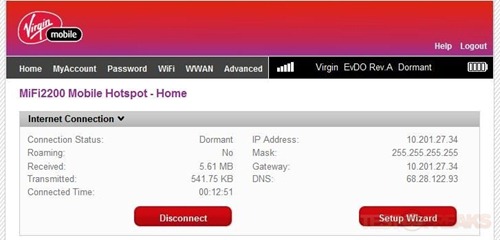 Across the the top you'll find drop down menus to access more settings:
To test the MiFi I used it with my netbook to browse the internet. Connecting to the MiFi is easy just turn it on and it will appear in your wireless connections, click connect and use the password to connect to it. Very simple to do, it worked for me with no issues.
I browsed many site like here, Digg, Engadget, Gizmodo and checked my email along with  a few other things as well. After about a half and hour I checked the status and I found I used about 22mb of data.
Of course I also had to test the speeds, I used SpeedTest.net and DSLReports.com as well.
I used both FireFox and Internet Explorer for the testing as I've found that there are differences between them. I'm in Pittsburgh, PA for SpeedTest I used the server in California and for DSLReports I used the sever in New York.
So we'll start with FireFox:
Then here's Internet Explorer:
These tests were all done within minutes of each other and you can see the speeds vary greatly, at least the download speeds do anyway, the upload speeds seem fairly close.
Battery life is four hours on the MiFi and I got that with no problems, so that works.
The range of the MiFi is supposed to be between 30 and 40 feet and it's WiFi basically so depending what's between you and the MiFi, the range can vary.
The MiFi does have security built-in like wep,wpa and wpa2 so you should be safe.
It seems well made, like a little solid piece of plastic basically, but it should be safe in it's little case.
The pricing on the MiFI itself is $149.99 alone, then of course you'll have to purchase time or data actually. For $20 you'll get 300Mb, and as you can see from my usage that could last quite a bit for regular internet usage. if you're going to be watching movies and downloading of course there will be a problem with running out of data.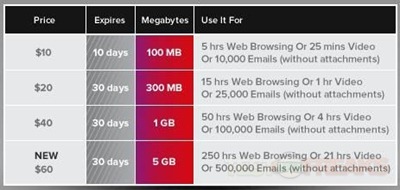 Some might consider the pricing expensive, at least a little, but it's no contract, you just pay when you need it really.
Conclusion:
The MiFi from Virgin Mobile is a great little device that can offer you a lot of freedom to be connected wherever you go and when you want  or need it.
This little gadget is one that I like quite a bit, it's easy to use and you can connect up to five devices to it.
Pros:
+Very easy to use
+Small and portable
+Decent speeds usually
Cons:
-Power button is very sensitive
-Speeds vary greatly
| | |
| --- | --- |
| Grades: | |
| Overall | |
| Design | |
| Performance | |
To learn more about our review policy please visit this page HERE.