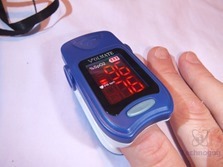 Fitness and getting healthy are always a good thing and there seems to be a slew of fitness related products flooding the market but there are standard medical products that do similar functions that can be useful for those trying to be fit. Up for review today I have the Volmate VOL60A Pulse Oximeter which is used to measure your pulse rate and blood oxygen saturation which can be helpful for those that need to know those things for medical reason but also for fitness related activities where you want to monitor those things. The VOL60A is inexpensive and includes a carrying case, lanyard and even batteries and from my testing and comparison it's accurate. Read on to learn more…

Specifications and Features
Volmate VOL60A Pulse Oximeter Finger Pulse Blood Oxygen SpO2 Monitor w/ carrying case, lanyard & Battery FDA CE Approved
-New technology and new re-design exterior to make our pulse oximeter more accuracy and easier to use. It will keep your healthy in your home or outdoor, and it's perfectly-design for all customers.
-Automatically power off-battery-low indicator, 7-Segment bar graph display. Low power consumption-working continuously for 50 hours. FDA and CE approved
-Accommodates pediatric to adult finger sizes (suitable for all ages) and can be used by sports and exercise enthusiasts as well as anyone interested in measuring pulse rate and oxygen saturation.
-Includes: 1 x Volmate Pulse Oximeter and Heart Rate Monitor, 1 x Carrying bag, 1 x Lanyard, 1 x User Manual, 1 x Warranty Card, 1 x QC Test Card, 2 x 1.5V AAA batteries
Healthy your life with the Volmate fingertip pulse oximeter. With new technology and re-design exterior to make our pulse oximeter more accuracy and easier to use. It will keep your healthy in your home or outdoor, and it's perfectly-design for all customers.
It is designed to provide an affordable yet accurate way for spot-checking blood oxygen saturation levels and pulse rate. It helps athletes, and pilots to obtain accurate oxygen saturation readings very quickly. Its small size makes it easy to carry around in its soft carrying case. Simple operation allows it to turn on and off with the touch of a button. This Pulse Oximeter and Heart Rate Monitor is a battery electronics device that measures your SPo2 and heart rate PM and displays it right on the built-in LED display screen. This is not a medical device
This Pulse Oximeter is the perfect choice for on-the-spot SpO2 and Pulse Rate measuring and monitoring. With digital blood oxygen and pulse sensor meter. The universal finger clip allows the oximeter to fit a range of finger sizes from pediatric through to adult. It turns off automatically when a finger is removed from it for more than 5 seconds. It is approved by FDA and can be used a variety of sports enthusiasts, including mountain climbers, hikers, skiers, bikers
To use this health gadget just insert your finger then press the power button and the Finger Pulse Oximeter and Heart Rate Monitor will display your heart beat p/m, the percentage of oxygen in your blood and also displays an indicator bar that increases and decreases by syncing with the rhythm of your heart beat
Product Dimensions: 2.2 x 1.2 x 1.3 inches ; 3 ounces
Price: $15.98 (from Amazon at time of review)
The Review
Let's start with a video unboxing and then move on from there:
The packaged for the Volmate pulse oximeter is nice looking with information on the back for you. When you open the box you're greeted with documentation and then under that you'll see the pulse oximeter and carrying case in a sectional tray.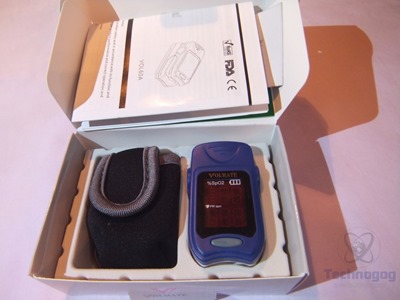 Once you unpack the box you'll find user guide, certification and warranty along with a carrying case and the pulse oximeter itself.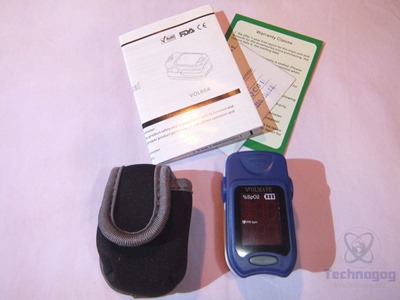 The top of the oximeter is mostly the display with a single gray button under it.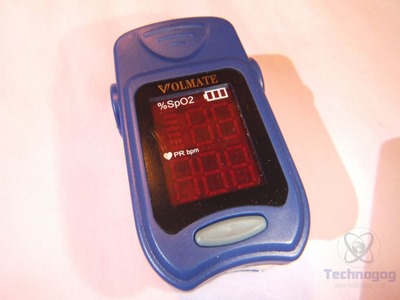 The oximeter is spring loaded and you squeeze the back to open it and inside you can see the sensors.
The bottom is where the batteries go, the cover just slides off and on easily.
The carrying case is, I believe, a neoprene material with a loop and ring on the back and it's fastened closed with velcro.
During shipping they store the batteries and lanyard inside of the carrying case.  The lanyard doesn't actually attach to the pulse oximeter, it attaches to the case itself.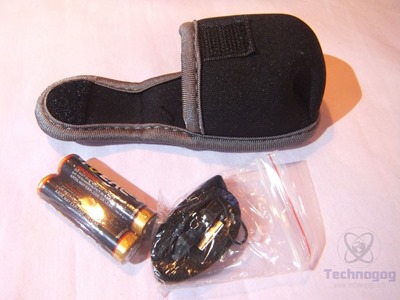 The display is easy to read with nice bright red numbers along with a battery indicator at the corner.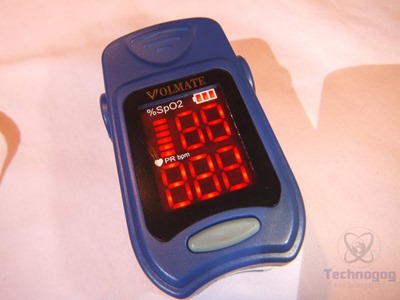 Using the pulse oximeter is very easy, push the button to turn it on, open it up by squeezing the back and insert your finger and let it close and within seconds you'll have a reading.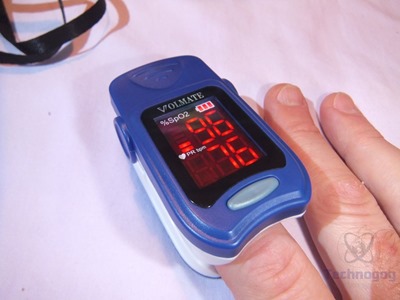 My wife is a nurse and she has a pulse oximeter so I borrowed it to compare to the Volmate and the results very virtually identical at 96/76 and 96/75.
As far as quality, the Volmate seems comparable to the one my wife has been using for years, both are plastic, but only time will tell how long the Volmate will last but it seems well made.
Conclusion
When it comes to medical devices I think you need to be wary of what you buy as they do need to be accurate and reliable and from testing the Volmate VOL60A is accurate and should be reliable.
This of course isn't just for medical uses you can use it for fitness and other outdoor activities where you might wan t to monitor your pulse and blood oxygen, so it does have other uses.
It is inexpensive and comes with a nice carrying case, batteries and lanyard for the price.
My wife is a registered nurse and I compared the Volmate to her pulse oximeter and the results seemed the same so I would have to say it's accurate and that's truly what you want to see in a device like this.
Pros:
+Accurate
+Well made
+Inexpensive
+Includes carrying case,lanyard, and batteries
Cons:
-None really
| | |
| --- | --- |
| Grading | Scores Out of 10 |
| Overall | |
| Design / Aesthetic | |
| Value / Price | |
| Performance / Usage | |
Disclosure: This product was given to us for review by the company for review purposes only, and is not considered by us as payment for the review.
To learn more about our review policy please visit this page HERE.