Today for review I've got a product for the kitchen and it's one of those things that I've come to love and just find very handy. The product is a handheld milk frother from a company called VonKitchen and it's very inexpensive but it even comes with a nice stainless steel stand. This frother only has one speed, high, which is fine by me and it's quiet in operation but it makes thick and fluffy froth in just seconds for you morning coffee or whatever. REad on to learn more..

Specifications and Features
The stand seems well made and it's made of stainless steel, you simply drop the frother down into it and it's ready when you are, handy in the stand on your counter possibly.
I think I misread the description here as it says: "Vonkitchen Handheld Milk Frother – Stainless Steel" and to me that meant the frother itself was stainless steel like the handle and shaft were made of it, but the handle section is just a chromed plastic. It still looks nice but I was just expecting something different, I do have another frother and it's all metal so I thought this was similar. The overall length is slightly less than eight inches with the whisk end coming in at 3.5 inches of the total length. It's just a few ounces in weight and slightly more when you put the batteries in so it's very lightweight really.
The whisk or frother end is a coiled spring like you'll find on most any frother of this type, but this one is supposedly a wider whisk than others on the market. I'll be honest, it seems to be the same as the other two frothers that I have in my kitchen, so whatever there.
There's a single sliding switch on the handle that just turns it on and off. There's just one speed, fast, but that's fine with me as that's what I use on my multiple speed frother anyway all the time.
The frother is powered by two AA batteries that go into the bottom or top of the handle, however you want to look at it I guess. The battery door just slides off to the side, you put the batteries in and then you push down and slide to get the cover back on and you're ready to whip or froth some things.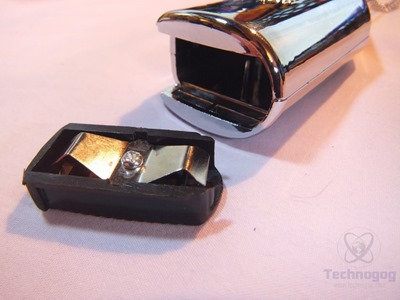 My ten year old son loves frothers, he just loves it when I make homemade whip cream for him, just milk, vanilla and a little sugar. I call it an instant milkshake myself and that's what it tastes like really. The frother is quiet, like a low hum, maybe comparable to an electric toothbrush. It's much quieter than a hand mixer surely, and a whole lot quieter than a blender.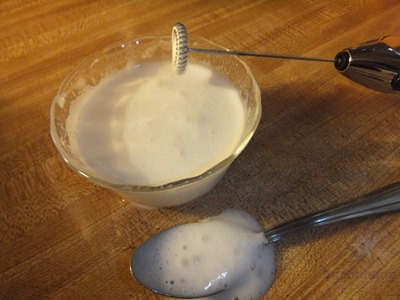 The frother works very well, I whipped both 2% and whole milk very easily and it about quadrupled in volume once whipped. It's perfect for homemade whip cream or froth for your coffee, nice and quick and you're ready to enjoy your beverage.
When you get a frother you'll need to practice with it to get the process perfected. I've had a frother for a while now and still mess up sometimes by adding to much milk, it happens, so practice make perfect surely. (Maybe I should measure it instead of eyeballing it like I always do.)
I should not I did try to make scrambled eggs with it and it just couldn't handle it at all, not a big deal, just thought I would try it to test it out.
Conclusion
The VonKitchen Handheld Milk Frother is a great little product for sure, it's fast and quiet and it works just as it should.
For the price this is a great entry level frother I think, it's small and lightweight and it works great to make nice and fluffy froth for your coffee or homemade whip cream of even a quick milkshake or protein shake.
My son loves it, he thinks it's the greatest so that's a bonus there, I can get him to drink more milk instead of sodas.
Pros:
+Very inexpensive
+Includes nice stand
+Fast and quiet
Cons:
-None really
| | |
| --- | --- |
| Grading | Scores Out of 10 |
| Overall | |
| Design / Aesthetic | |
| Value / Price | |
| Performance / Usage | |
Disclosure: This product was given to us for review by the company for review purposes only, and is not considered by us as payment for the review.
To learn more about our review policy please visit this page HERE.