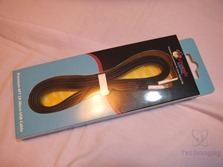 Are all USB cables created equal? I don't think so, some are better than others, not only in how they're made or what they look like but in what they can handle in terms of power or voltages and amperage's. Today for review Crabby Digital has sent me over what they call their Premium Micro USB Cable which is six feet long and it's flat making it tangle free, but what's more important is that the cable can handle up to 2amps of power allowing you to charge your devices quickly. Read on to learn more…
Specifications and Features
Premium Micro USB Cable – Extra Long 6FT – 2A Max Charge – Lifetime Warranty – USB 2.0 Charge & Data Sync Cable – Compatible With Google, LG, Motorola, Samsung, Xiaomi & More – By Crabby Digital
-6FT LENGTH – Extra long tangle free cable for continuous device operation while charging or transferring data
-100% SATISFACTION GUARANTEE & LIFETIME WARRANTY – 30 Day Money Back Guarantee & Lifetime mechanical or workmanship defects warranty
-TURBO CHARGE – 2Amp design for speedy charging
-Perfectly matched to our USB Car Charger – B00T4XYTI8 and USB Wall Charger – B00V60HYFW
-BUILT-IN CABLE MANAGEMENT – A reusable strap aids cable management
Price: $14.99 (from Amazon at time of review)
The Review
I did a quick video unboxing of this, so here it is:
THE cable comes packaged in a light blue colored box with window on the front and some basic specs on the back.
Once you unpack the box you'll only find the cable, but that's fine as I don't think we need instructions for a USB cable. The cable is six foot long and it's black in color and flat which makes it tangle free and it seems rather durable. The cable is made to be able to handle 2amps of power which means your stuff should charge faster if you have the correct power adapter that can produce 2amps of output power.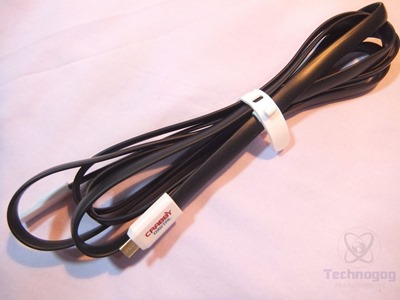 The cable comes with a tie or really a belt already already attached to it to keep things nice and tidy. The tie is rubber and can be stretched as needed and then you just push the tab through one of the holes on the belt to secure it.
On one end of the cable you'll find the stand USB connection but it's flat, so I guess it's not standard as it's an open ended style connector.  The other end is where you'll find the microUSB connection which is gold plated for better connectivity.
I used the cable with various things for charging them and it worked just fine as a regular USB cable but I had to do some more work with this.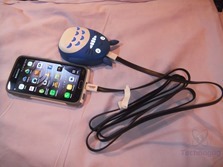 I have the Power Practical USB Practical Power Meter that you can use to measure how much power is coming from your USB port and how much is being used essentially. The meter is about the size of a USB flash drive and has as female USB connection on one end and male on the other and it has five LED indicators on it that light up to indicate power. I dug out a USB AC adapter that had specs of 2amps output and proceeded to test it with the Crabby Digital microUSB cable and the meter. The meter lit up with one blinking red LED and four solid blue LEDs which means the power output is 10watts at 2amps. The Crabby Digital cable handled it with no problem and my phone and tablet charged nice and fast.
Conclusion
The Crabby Digital micro USB cable is a decent product for sure, I love the fact that's it's flat and tangle free and it feels very durable and well made.
The cable is six feet long making it very handy for sure, it should be long enough to plug in most anywhere and still be within easy reach.
In my testing the cable worked as advertised, it could handle 2amps of power to charge my devices much more quickly.
I'm not sure about the price, some might consider it a bit high for just a USB cable but it's not just a standard USB cable either.  I like it though and I will continue to use it for sure.
Pros:
+Long cable
+Well made cable that's tangle free
+Can handle 2amps of power for faster charging
Cons:
-Might be considered expensive by some
| | |
| --- | --- |
| Grading | Scores Out of 10 |
| Overall | |
| Design / Aesthetic | |
| Value / Price | |
| Performance / Usage | |

Disclosure: This product was given to us for review by the company for review purposes only, and is not considered by us as payment for the review.
To learn more about our review policy please visit this page HERE.