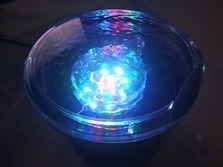 I love gadgets, buying them and getting them for review is fun really. Up for review today I've got a night light of sorts from a company called Weirdbeast and this light is what they call an ocean wave projector and it even includes various nature sounds to go with the moving water effect of the light. The light is an LED of course and it has seven modes along with four built-in sounds but you can use a micro SD card for your own music and sounds or you can use your MP3 player with the included auxiliary audio cable. There is a motor inside of the light that makes the lights move to create the moving water effects and it really does look like water. Read on to learn more…
Specifications and Features
[GENERATION 3] Weirdbeast Remote Control Ocean Wave Project Sleep Night Light Projector with Built-in Ambient Audio Bedroom Living Room Decoration Lamp for Kids/Adult – Black
GENERATION 3! WELCOME TO THE NEW SEA WORLD!
Weirdbeast Generation 3 Ocean Nightlight with four relaxing audio presets mimicking nature. Remote control included. Auto Power Off Timer. A breeze to operate!
Main Feature:
– 7 colorful light modes
– Smart touch sensor key
– Remote control
– Angle adjustable (0-45 degrees)
– Four built-in ambient audio presents
– TF card slot
– Audio input
Product Specifications:
Size: 4.17*4.17*5 inch
Weight: 0.69 lb
Material: ABS/PS/Metal/Electronic Components
Rated Volt/Current: DC 5V/1A
QC: Pass
Power: 160Hz – 20KHz
USB Cable Length: 1.2M
Audio Cable Length: 0.6M
Motor Specification: 5V/13 Circle
Price: $22.99 (from Amazon at time of review)
The Review
Let's start with a video unboxing and demo:
The lights comes packaged very well in a nice looking box with styrofoam and plastic. Inside of the box is the light and a smaller box that holds a micro USB cable, 3.5mm audio cable, user manual and a remote control. The remote control has controls for power, lighting modes, sound modes, mp3 controls for play/pause, forward and back and there's controls for volume, and timer. You can set the light to run for 1 hour, 2 hours or 4 hours.
The lighting section can tilt to help you direct the lights to where you want them. On the left side, near the bottom, is where the speaker is located.
On the front is the touch control panel with controls for backward, forward, volume up and down and power and then above that is the IR receiver for the remote.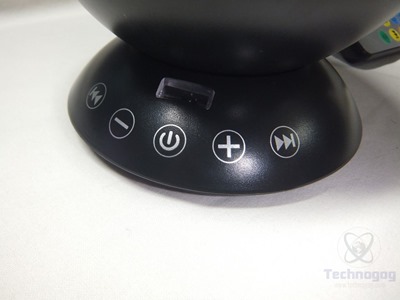 On the back you'll find the micro USB port for power, a micro SD slot and an auxiliary audio port.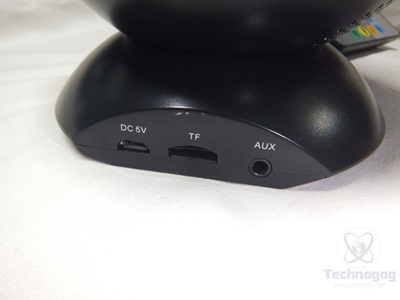 On the bottom are four rubber feet along with the main power switch.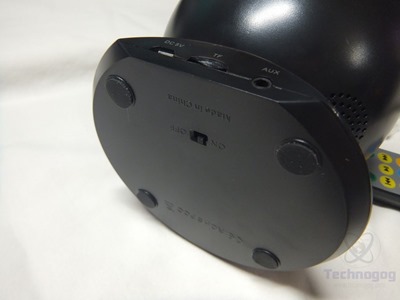 The top has a clear plastic covering over it but it's textured to give the lights a wave like appearance. Down inside is the actual light which is attached to a motor that moves it around to create a wave movement effect. I could note the motor is silent, you can't hear it unless you get very close and all the sounds effects are turned off.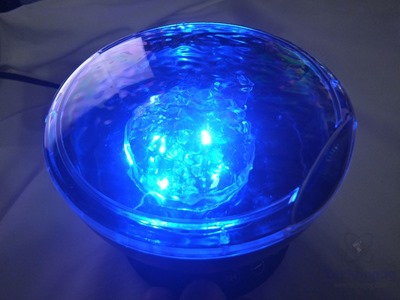 There are 7 lighting modes or eight if you include off. The modes are blue, green and red all at once, green and red, blue and red, solid blue, solid green, blue, green and red alternating slowly, and then blue, green and red alternating fast or flashing really. There are 4 nature sounds included, seagulls and waves, bubbling water like a creek or stream with bird chirps, lots of birds close and far away sounding and then the last one is crickets and frogs maybe, or like wooded nature sounds, there is no off mode to the nature sounds unless you count turning the volume all the way down.
Volume can get very loud, there are 10 levels of sound including off, I was surprised by just how loud it could get really and so was everyone else in my house.
I should also note I have dogs and some of the sounds very much interested them.
Conclusion
I like gadgets and this is a rather cool one I think, just as is with the lights and nature sounds it's great but the added ability to play MP3 files via the micro SD card slot and the auxiliary slot just makes this product that much better really.
Yes it's plastic, but most everything is these days and it seems well made for what it is.
The sounds can get very loud which is good I guess, but it can get low for nighttime use as a night light. The nature sounds can be soothing at nighttime and there's a decent selection of them.
All in all the Weirdbeast night light is a decent product for what it is, it would be great for kids I think.
Pros:
+Bright
+Micro SD Slot and auxiliary port
+Really looks like water
+Seems well made
+Easy to use
+Nature sounds
Cons:
-None really
| | |
| --- | --- |
| Grading | Scores Out of 10 |
| Overall | |
| Design / Aesthetic | |
| Value / Price | |
| Performance / Usage | |
Disclosure: This product was given to me for review by the company for review purposes only for free or at a discounted price.
To learn more about our review policy please visit this page HERE.