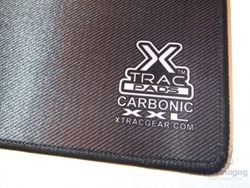 Up for review today I have a rather large mousepad, or desk mat as they're called, from XTracGear called the Carbonic XXL. This pad features a carbon fiber pattern that not only looks good but allows your mouse sensor to track better. The mat also features full stitching all around the edges of the mat to make sure it won't fray or separate like some cloth pads tend to do after time. Read on to learn more…
Specifications and Features
The Carbonic XXL comes rolled up in a plastic bag essentially for shipping, just slip it out and lay it flat and you're ready to go.
It's a desk mat so it's large at 36" x 13" x 1/8" or 91.44cm x 33.020cm. First impression is that it looks great and it's well made.
In the bottom right corner is the XTracGear logo along with the Carbonic XXL name and the website address. One of the not so great things about most cloth pads is that they tend to separate along the edges after a while just from normal use. XTracGear has come up with a solution to this as they've stitched all around the outside edge of the Carbonic XXL which they're calling Overlock edge stitching which looks good and seems to do a great job of keep th4e mat together.
The Carbonic XXL gets it's name not only from the size of it but the carbon fiber pattern on the front of it that not only looks great but helps your mouse track better.
The back or bottom of the Carbonic XXL is rubberized or what XtracGear calls Enhanced Sure Grip rubber cell backing, whatever it's called it will keep the mat in place wherever you put it.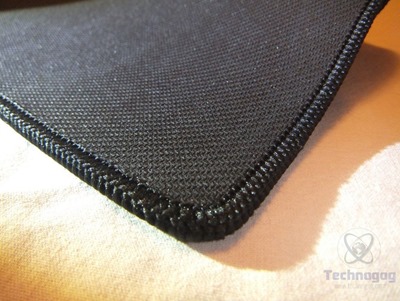 I grabbed a keyboard and a mouse to show just how big the Carbonic XXL is, you can easily fit both keyboard and mouse on it and have room to spare that's for sure.
One of my favorite desk mats is the
So I used the Carbonic XXL as my mousepad for daily use and gaming, I have my keyboard on it as well. I do like having my keyboard on it as it provides a nice cushion while typing and it just makes things more comfortable for sure.
My mouse is the Feenix Nascita 2014 edition and it tracked perfectly fine, no problems at all. It's a cloth pad so it does offer a bit of resistance which equals more control, but the material does allow the mouse to just glide across the surface easily.
Conclusion
The XTracGear Carbonic XXL is an excellent choice for a desk mat, it's made very well and looks great and the carbon fiber pattern allows your mouse to track perfectly.
The Carbonic XXL isn't for everyone of course, you'll need to a large desk, but it is smaller than other desk mats on the market so you won't need that much room really.
I personally like desk mats as they offer a comfortable surface to work on and you don't need a separate mousepad as it's all just one piece.
If you're looking for a new desk mat then I can highly recommend the XTracGear Carbonic XXL.
Pros:
+Great looking
+Well made
+Excellent tracking
Cons:
-None
| | |
| --- | --- |
| Grading | Scores Out of 10 |
| Overall | |
| Design / Aesthetic | |
| Value / Price | |
| Performance / Usage | |
Disclosure: This product was given to us for review by the company for review purposes only, and is not considered by us as payment for the review.
To learn more about our review policy please visit this page HERE.