If your home is like mine then the maxim – "you can never have enough chargers" should ring true. Between the iPhones, iPod Touches and iPads there always seems to be some device in need of charging. XtremeMac helps alleviate this problem with their latest release, the InCharge Sync.
This portable compact dock is able to sync and charge most recent Apple devices including the latest iPad, iPhone and iPod Touch. Unlike other docks there are no adapters or spacers needed to obtain the proper fit for the target Apple device.

The InCharge Sync comes in an orange and white cardboard box with an image of the dock on the front charging an iPhone 4. On the back is a listing of features and another image of an iPad being charged. Inside the package we find the InCharge Sync dock, a mini USB cable, a rubber iPad standoff and a user guide.
The dock is composed of black plastic with the XtremeMac logo on the front of the base. Towards the top front we find an Apple dock connector along with an adjustable rear support for the docked Apple device.
On the center of this support is a button which when depressed slides this section forward or back. The front of the dock has a gray rubbery material.
On the back of the base we see a Mini-USB connector. Flipping the InCharge Sync over we see a grey rubbery pad with an imprinted XtremeMac logo and name.
XtremeMac also includes a 3 foot USB cable which allows the dock to connect to a computer or AC adapter.
One drawback to this system is the lack of an included AC adapter meaning you'll need to provide a computer USB port or one of the Apple AC charger plugs.
The user guide has a pictorial demonstration of how to use the device.
For docking an iPad 2 XtremeMac provides a black rubbery standoff that keeps direct pressure off that device's connector.
One pleasant thing immediately noticed is the lack of adapters/spacers for various shaped mobile Apple devices found with other docks. The adjustable support and rubber iPad 2 standoff allows the InCharge Sync to function without needing them meaning less clutter and spare pieces to lose.
Specifications:

XtremeMac's InCharge Sync offers simultaneous syncing and charging in one compact dock, perfect for desk or counter top. The case-friendly dock features an adjustable rear support to accommodate different device depths. InCharge Sync includes a USB cable for syncing and charging with a computer. The cable will work with most USB wall chargers to use as a stand alone charging dock.
Dock connector port for simultaneous syncing and charging
Adjustable rear support to accommodate device depth
Charge device battery with USB wall charger (sold separately)
USB cable for syncing and charging with a computer
To start using the InCharge Sync you'll need access to a PC/Mac or one of the Apple AC adapters. Plug the included cable into the back of the dock and the other end into the USB port of the computer or adapter.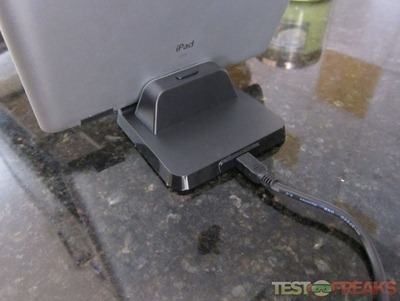 Depending on the thickness of the Apple device you may need to adjust the rear support by pushing it forward for an iPod touch or back for an iPhone or iPad. This spacer even accommodates devices resting within low profile cases. For instance I was able to charge my iPhone 4S which was housed in a iChair case.
(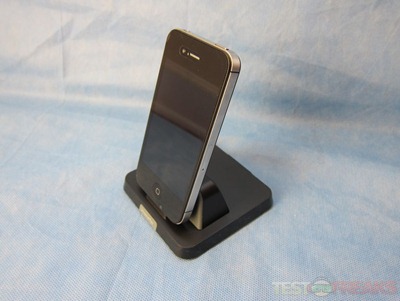 Since the iPad 2 is tapered around the connector pin area you'll need to use the included rubbery standoff to keep unnecessary pressure off its dock connector.
The InCharge Sync can be used as just a charger or as a dock for syncing your Apple devices.
Depending on which AC adapter is used will determine how quickly it charges the attached device. For instance using an iPhone AC adapter to charge an iPad will take much longer than using the native iPad charger.
Missing from the InCharge Sync is an LED indicator light to determine if the Apple device is fully charged.
Other than these two issues the InCharge Sync as both a dock and charger worked well.

Thumbnail gallery here

Conclusion:

If you are looking for an affordable multi-Apple device charging solution then the InCharge Sync is a good option. It currently retails for $30 which is just ten dollars more than buying a sync cable from Apple and the same price as the Apple brand dock for the iPhone.
With the InCharge Sync you can charge numerous Apple devices as well as syncing your device when connected to your Mac or PC. It does lack an LED indicator light to let the user know when charging is occurring or finished and you will need to provide an AC adapter or PC/Mac for charging. For someone looking for those two missing components you may want to check out XtremeMac's InCharge Duo.
Pros:
+No adapters needed for different Apple devices
+Portable
+Works for syncing and charging
Cons:
-No LED indicator light
-Does not come with an AC adapter
| | |
| --- | --- |
| Grades: | |
| Overall | |
| Design | |
| Performance | |
To learn more about our review policy please visit this page HERE.