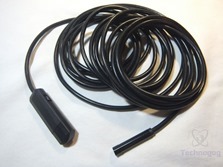 I've been reviewing products for about 12 years now and one of the great things about reviewing is getting things that are useful like the USB borescope or endoscope I have for review today. There a lots of products I want but don't need so I'll probably never buy them, but getting them for review is nice. A borescope is something that I wanted but not really needed, maybe once or twice per year I might have a use for one, not really worth running out and buying one, but it can be very useful for the average homeowner to own something like this as you never know when you'll need one. The one I have for review today is 5 meters long or about 16.4 feet and even has LEDs that you can adjust built in to make sure you see everything you need to. Overall it's not a bad product, it's inexpensive and I found it works with both Windows and Android. Read on to learn more…
Specifications and Features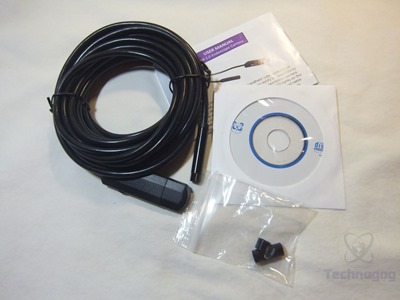 The cable is 5 meters or about 16.4 feet long and it seems to be covered in rubber for protection and durability. It feels fairly thick, it's a bit stiff but still more than flexible enough to feed through pipes or wherever you need to. Overall it feels well made for home use, not sure I would trust using it everyday for a job though.
On one end of the cable is what looks like a USB flash drive and it even has a cap for you but on the side is a small dial that will let you turn the LEDs on or off and adjust their brightness.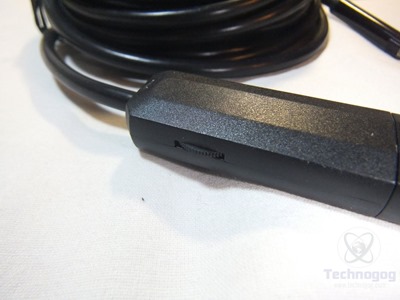 The actual camera part is about 1.5 inches long and the front is threaded so you can use the accessories. The camera housing is metal, aluminum I believe as a magnet won't stick, but from taking the covers on and off the black paint has come off the threads and it's silver underneath. The specs say this camera has only four LEDs in it but the one I got has six of them which are located around the camera in the center.
You want something like an endoscope or borescope to be portable and yes you could use a laptop but I used my Windows 10 tablet for it. I transferred the software that was on the CD to the tablet and it worked fine for the most part. The software got confused I think as the tablet has two cameras, front and back and it kept trying to access those and that wasn't working and the software would sometimes crash. I rarely, if ever, use the cameras on the tablet so I went into the device manager and just disabled them both and after that the software worked fine at finding and accessing the borescope camera. I'm not sure if that issue will happen on a laptop but it's something to keep in mind. Please note I did need to use a microUSB to USB adapter as my tablet only has a microUSB port on it.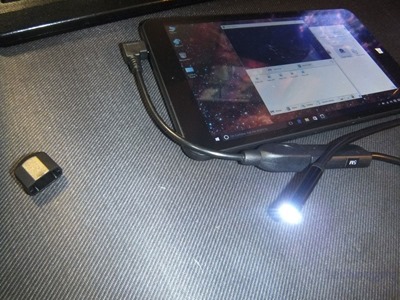 It comes with two pieces of software, AMCAP and Smart Camera. AMCAP is very basic but it actually gives a better live picture, or more clearer anyway. You'll have to use drop down menus to take pictures which can by hard to do on a tablet as it's so small.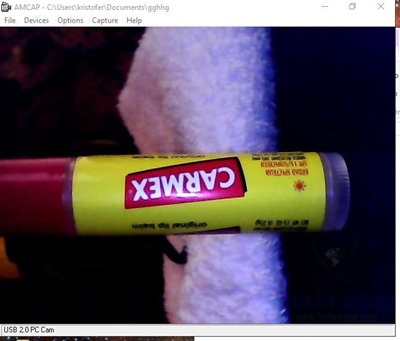 The Smart Camera software has more options for video like changing format, resolution, and compression and right there on the interface is buttons for taking a picture or taking a video.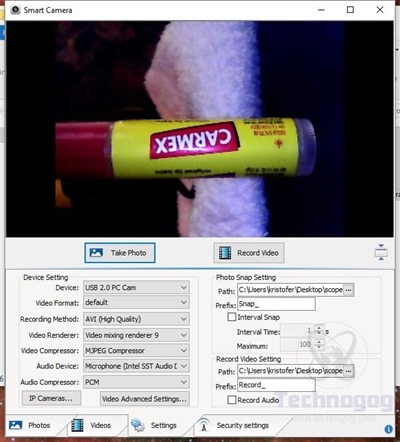 I did a quick test with the scope using my Husky set of pliers actually, they come in a zippered black thick nylon case. I opened the zipper just enough for the scope to fit in so no light could get in either and ran the scope through it. I could make out the velcro, the zipper and the handles and parts of the pliers just fine. The LEDS do a great job of illumination but I found having them turned all the way to the highest brightness is the best.
As far as colors they're correct, yes the pictures are slightly grainy but the colors are fine and you can tell exactly what things are. The camera is good enough to even read larger writing. I took a picture of a tube of Carmex and I could read the name on the label but not the smaller fine print on the tube
The make it truly portable though you can use your phone, at least I could use my Samsung Galaxy S6 Android phone with the borescope. You will need to find software to use though, I downloaded two different apps, USB Borescope and CamerFi and they both worked with the Borescope and I'm sure there are other apps as well but you'll just have to try and find one that works and one you like. You will need to have a microUSB to USB adapter though and your phone needs to be OTG enabled for this to work and you'll need to allow access to the camera from the phone. The picture quality was actually better with the Android phone and app than the included software on my Windows tablet. The CameraFi software though does watermark the images on the free version which I think for the average home user won't matter much at all. The 'USB Borescope' app I tried worked fine but the display was smaller on my phone.
Conclusion
For the price this isn't a bad product at all in my opinion, it would great for home usage or someone who won't be using it all the time like for a job.
I like the fact that I can use it with both Windows and Android devices, using it with my phone really makes it portable but you'll need a microUSB adapter for most all phones and probably most tablets as well.
Picture quality is low yes, but I think it's good enough to see what you need to see. I don't think you'll be reading books or fine print while inside of a pipe or your wall. I also found the picture quality is dependent on the program or app your use with it. They include two pieces of a software and while one is very basic it does give a better live view then the more comprehensive program.
One thing to note about the price, when I purchased this is was $15.59 but now the price has gone up to $21, but I still think it's worth it if you need something like this. It's basic yes and not the highest resolution but it gets the job done inexpensively. This is one of those things that is great for just around the house as a homeowner who doesn't really need HD as you're just looking with it. You could be looking into a pipe to find a clog or in a wall to find whatever, the resolution is fine and you can make things out clearly enough for most uses for sure.
Pros:
+Works with Windows and Android
+Fine for general home usage
+Inexpensive
Cons:
-May have to disable cameras to use with software
-Fairly low resolution
| | |
| --- | --- |
| Grading | Scores Out of 10 |
| Overall | |
| Design / Aesthetic | |
| Value / Price | |
| Performance / Usage | |
To learn more about our review policy please visit this page HERE.