Ah, the NAS box! I've got a thing for NAS boxes, that doesn't sound right does it? Anyway, I like NAS boxes, I like them much more than external hard drives, they're just so much more useful than an external hard drive really, everyone can access them and you can access them from anywhere in the world really. With an external hard drive you can put your files on it, but then you'll have to take it with you to access those files, sure there are ways around that, but it's not as easy as just hooking up a NAS box. NAS boxes are the replacement really for external hard drives, toss the files on the server, access the server from your destination, can't get much easier than that really.
I've taken a look at the Seagate BlackArmor series of external drives and NAS boxes in the past, today for review I've got another of the BlackArmor series, the NAS110. This one is a single drive NAS box that's very easy to setup and offers all of the features of multiple drive NAS boxes. The NAS110 is aimed at those that want network storage but don't want to spend hundreds and hundreds of dollars, it's a a little over $200 in cost and well worth it I think. I've tested it out, and compared it up against a few other NAS boxes I've got on hand and found it to be the fastest of the bunch. So read on to learn more about a great little NAS box…
The BlackArmor NAS110 comes in a nice stylish box, I like the industrial look of it.
Included with the NAS110 is an Ethernet cable, power supply, driver/software disc and user manual
The BlackArmor NAS110 is a small black box, a shiny small black box that collects dust and fingerprints easily, but oh well it still looks good. It features ventilation on all sides except the front, to keep the drive inside cool.
On the back you'll find the power connection, power switch, one USB port, Ethernet port and a reset switch.
On the front you'll find the One-Touch backup button, a USB port, indicator LEDs and the Seagate Logo done in a metallic blue.
Specifications:
BlackArmor NAS 110
Desktop storage with an easy USB interface.
* Storing and accessing files for a central, secure location
* Remotely accessing and managing files
* Streaming media to devices and computers
* Performing full-system backups on networked PCs
With centralized storage and automatic full-system backup for up to 10 PCs, BlackArmor NAS 110 is serious hardware. And with easy media streaming, remote access and intuitive interface, it makes accessing and sharing your content seriously easy.
Protect up to 10 PCs.
With up to 2TB data capacity, BlackArmor NAS 110 lets you protect every PC in your home (or small business), keeping files secure with powerful hardware-based encryption. And features like automatic full-system backup and SafetyDrill+ bare metal recovery software provide critical protection for your important data.
Web-based server management.
In addition to included backup software, BlackArmor NAS 110 lets you manage data remotely using the web-based BlackArmor Discovery tool. With a single click, you can view or map shared volumes to your computer, access the web-based user interface or back up the PC you're working from.
OneTouch backup.
Quickly back up important data from USB drives and digital cameras. Just plug in and press the OneTouch button. With two external USB ports, you can connect external drives, share a printer or utilize an uninterrupted power supply to safeguard against power failure.
Stream your content.
BlackArmor NAS 110 also lets you stream media files to DLNA® compliant devices or computers running iTunes.® So you have an easy way to centralize your content and display it simultaneously on multiple devices.
Specifications:
Model Number: ST310005MNA10G-RK
Interface: Ethernet
Capacity: 1 TB
PHYSICAL
Height (max): 176 mm (6.90 inches)
Width (max): 61 mm (2.40 inches)
Length (max): 147 mm (5.80 inches)
Weight (typical): 1220 grams (2.71 pounds)
Shipping Weight: 1.65 kilograms (3.638 pounds)
PERFORMANCE:
Spindle Speed: 7200 rpm

Here's a picture of the BlackArmor NAS110 with a standard 3.5" hard drive to give you an idea of size:
I've already covered the BlackArmor backup software in-depth with the other reviews of the BlackArmor products, so I won't repeat myself again here. You can check over here for a more in-depth look at how the software works: BlackArmor PS110.
The admin interface is simple to use, it's broken down into dual menus actually.
There are drop down selections across the top and a menu on the left side when you're in that section.
I'm not going to show you each every section as many of them are self-explanatory, but I'm going to touch on a few of them.
When you first log on you're greeted with the System Status that tells you information about the BlackArmor NAS110.
The general Setup section lets you setup your new NAS box like Time, Status of the Drives, Firmware Updates, Email, SSL Certificates, Backup Client Licenses
Under the Network Tab you can setup your services like FTP, HTTP Access, UPnP and NFS along with Workgroup names, Dynamic DNS Management and and Network Printers.
Under the Users Tab is all things related to the Users on your Network, you can add them and setup what they can or cannot access and do with the BlackArmor NAS110. You can also setup or link your Global Access account to the NAS110, and access and create your very own Wiki Server.
The User view on the network is very basic and simple, anyone should be able to use it.
At first I wasn't sure about the Global Access part of the BlackArmor NAS Series, but I've come to like it. It allows you to access your BlackArmor NAS from anywhere via the Seagate Global Access site. It's a secure site, and it takes the guess work out of trying to setup your own web server, you just link the NAS to your Global Access account the BlackArmor does everything automatically for you. Very easy and simple, everyone can access the BlackArmor just by going tot he website.
Here's a couple screen shots of my Global Access account, I've got both the BlackArmor NAS110 and the NAS220 so both are linked to my account and both are accessible easily. It does take a few seconds to access the NAS from the web, but once it's accessed everything is quick and ready to go for you.
So we've covered all of that.. now let's see how the BlackArmor NAS110 performs with some file transfer tests.
I decide to run three tests on The BlackArmor NAS110 and the NAS220, along with the Qnap TS-109Pro II and the Qnap TS-419P as well.
The first tests is a file and folder test. There are 874 files and 199 Folders inside of the main folder, the total comes to about 3gigs in size.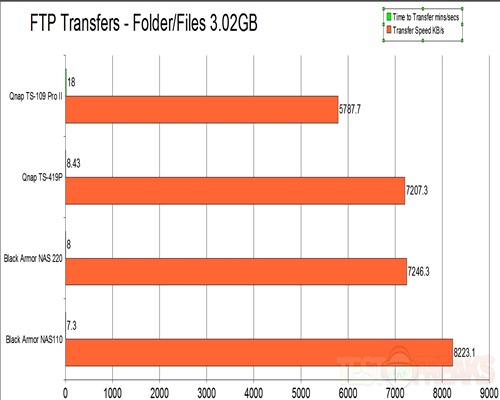 As you can see the NAS110 is fast, even faster than the NAS220…
The next test is a large single file test, it's an ISO file that is 3.02GB in size.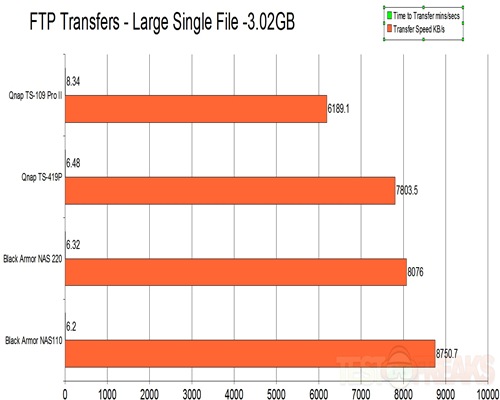 Again we can see the NAS110 is the fastest of the bunch, very nice speeds here.
The final test is a small files test, the file is a TS video file coming in at 904MB in size.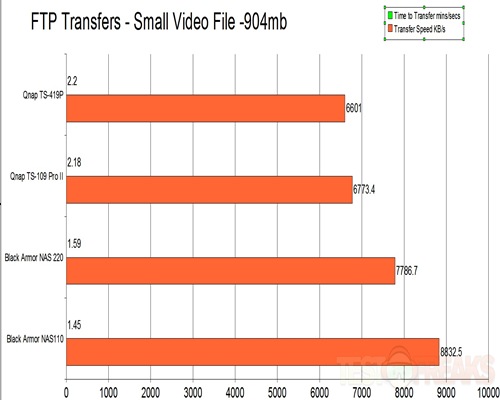 We see the Qnap boxes changed positions, but not he NAS110 of the NAS220, the Black Armor NAS110 is still the fastest of the bunch. Very nice speeds from this little box!
As far as sound, there really is none from the NAS110, it's quiet, I've got it sitting less than two feet from me on my desk and every once in a while I can hear it accessing the hard drive, but it's not loud at all.
The design seems to keep the drive inside cool, the outside is warm to the touch, but not hot at all.
The BlackArmor NAS110 is small making it actually portable, yes it's not meant to be portable, but it's so small you could easily take it with you if need be.
The one I received is 1TB in size, but you can get a 2TB version as well.
Since this is a single drive there is no RAID available so there's no protection there, so that might be a concern for some people. Of course you can back it up in other ways as well if you wish.
On a side note, I've read other reviews of BlackArmor NAS boxes and one of the complaints is that you might need advanced networking knowledge to access and utilize some of the features, this isn't really true at all. The BlackArmor series of NAS boxes are easy to setup, and you can easily find any help you might need via the internet these days. The idea is to make things easy on the end user, a regular consumer who buys this box will most likely not be using the advanced features really, and if they do they're not that hard to setup honestly. Most consumers will utilize the main features, streaming, network access via HTTP and FTP and global access, these are all very easy to setup and utilize. The advanced features are there if you want them and have a need for them. For someone who doesn't know much about NAS boxes, these are easy to setup and get running really. The Global Access part eliminates the need to set up any sort of web sever for outside access, it's very simple, the box does it for you really, in a few minutes you've enabled access from anywhere in the world to your NAS box.
Aside from that though, it's not quite as feature rich as other NAS boxes I've looked at, but then again those NAS boxes cost sometimes three times as much and they don't even come with hard drives, so you really can't complain too much about the lack other features.
Conclusion:
The Seagate BlackArmor NAS110 is fast, very fast, and it's easy to setup and get going with. In a matter of minutes you can have this box up and running on your network and even have outside access setup as well in that same time frame. The BlackArmor NAS110 is nicely made and designed, it looks nice, it's small making it able to fit most anywhere really, so you can easily just stick it somewhere out of site if need be. The NAS110 works, and works well, it does what it should, when it should.
I like the BlackArmor NAS series quite a bit honestly, for one it's got a cool name, but besides that they work great, they're easy to use and setup and they're inexpensive compared to others out there really.
Pros:
+Fast
+Quiet
+Easy to use and setup
+Well made and designed
+All your needs in one little box
+Access from anywhere via the web
Cons:
-Might be considered expensive (but I don't think so)
-Not as feature rich as other NAS boxes
| | |
| --- | --- |
| Grades: | |
| Overall | |
| Design | |
| Performance | |