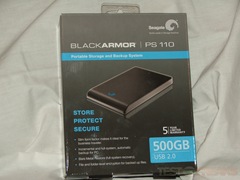 About a week ago Seagate announced their new BlackArmor series of External Hard Drives, and they sent me two of them for review, the PS 110 and the WS 110. I posted a brief look at them HERE when they arrived. The BlackArmor series of drives are aimed at professionals and business users, but of course they can be utilized by home users as well. They've got a lot of great features to them, including a very powerful and useful software suite included that allows you to backup, restore, encrypt and use a sandbox feature as well, along with some other useful programs. The Seagate BlackArmor series of drives are very nice, and can be a useful tool for business and home users alike.
Today for review I've got the Seagate BlackArmor PS 110 2.5″ External Hard Drive. The PS 110 is much more than just a way to transport your data to and from places. Continue on as I take a look at not only the drive itself and its' performance when compared to others, but also I've taken a look at the software suite that's included with the drive.

The packaging is as expected, it has specs and feature listed on it. Inside the box we find another plastic box as well, with warranty information.
Unpacking it we find just the BlackArmor PS 110 and a USB cable.
The BlackArmor PS 100 is mostly black in color as one might expect with a name like BlackArmor. There is a blue Seagate logo near the front and a very small LED near the back. The drive is thin and small, about 1/2″ thick, with a length of 5.12″ and width of 3.15″. One the bottom is an identifying label and the back is where you'll find the mini-USB port.
Specifications:
BlackArmor PS 110
ModeL: ST905003BPA1E1-RK
Complete system backup built for the road warrior
Business-grade software, a reliable Seagate hard drive and exceptionally slim form factor make the BlackArmor PS 110 portable drive a powerful mobile storage and backup solution for your digital assets. The BlackArmor Backup software, preloaded on the drive, offers full-system backup, which includes the operating system, all of your programs, setting, email… Everything! Plus, you can choose to safeguard your backed up files with AES 256-bit government-grade encryption.
If you accidentally delete a file or lose data due to a computer crash, you can easily recover individual files or revert your entire system back in time before the problem occurred, all with the included SafetyDrill+ recovery software.
The Try & Decide feature allows you to create a secure, controlled temporary workspace on your computer. You can try out new programs or change system settings without having to worry about losing data or damaging your system. When finished experimenting, simply decide to keep the changes or discard the recent activity as if it never happened.
The BlackArmor PS 110 is compatible with Seagate dock accessories, so you can easily access and back up your files while keeping your workspace organized.
Highlights:
-Incremental and full-system, automatic backup for PCs.
-SafetyDrill+ recovery software (Bare Metal Restore).
-Backs up open files for greater protection.
-File and folder-level encryption for backed up data.
-Slim 12.5mm thin form factor makes it effortless to carry while traveling
-Easily find backed up versions of files with Windows or Google desktop search.
-Utilizes the same software package as all other BlackArmor products for ease of installation and management.
-Built with a reliable Seagate hard drive.
-5-year limited warranty.
Specs:
Product Dimensions: 3.15" x 0.49" x 5.12" (80.00mm x 12.50mm x 130.00mm)
Weight: 0.35lbs (0.16kg)
Performance
-5400RPM
-USB 2.0: up to 480Mb/
Inside the Box
-BlackArmor PS110 portable drive
-BlackArmor Backup software pre-loaded on the drive (Windows only)
-Quick start guide
-USB cable
Price: $159.99
When you plug the Black Armor PS 110 into your USB port, a tiny blue LED will light up, there is no HDD activity light, just the blue power light. Not a big deal though.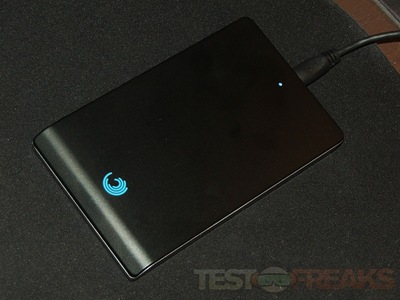 When you plug it in the window will pop up asking you what you want to do, run the Setup software or explore the drive etc. I choose explore the drive first as I wanted to see what was there. Just the software is there as expected, with Autorun and the Setup EXE file. The point was to see how much space was available, and there's 465Gbs, so the Black Armor software doesn't take up muck space at all.
One little interesting thing as that when you go to My Computer and look at the drive, the icon looks like the Black Armor drive, I thought it was kind of neat that it worked that way.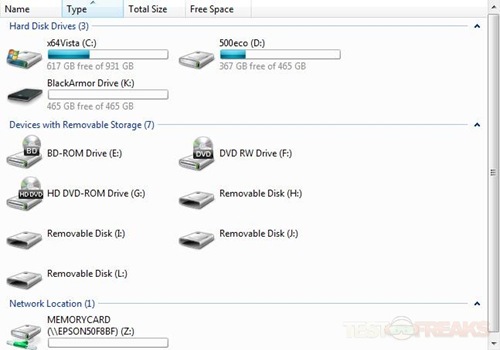 When you run the Setup program you're greeted with the main screen with options for Checking for updates, Install the software, read the user guide and get technical support. The backup and restore software is based off of the popular Acronis software.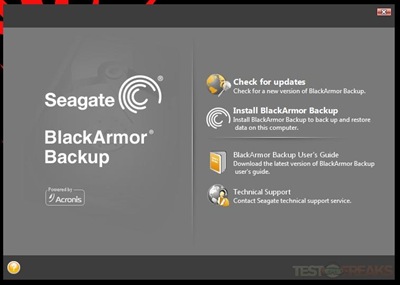 After clicking install you're greeted with the standard EULA and installation screens, it will install two products on your computer actually. The first is Rescue Media Builder which allows you to create a rescue of restore disk and the second is the BlackArmor Backup suite of software.
Once installed run the program and you're greeted with the BlackArmor loading screen and then it prompts you to make your backup first thing.
The main screen is divided into two sections basically, the left is navigation, and the right is a larger window telling you about the programs in the section you picked for the navigation. The first is the Welcome screen, giving you the main program choices and listing a few more features.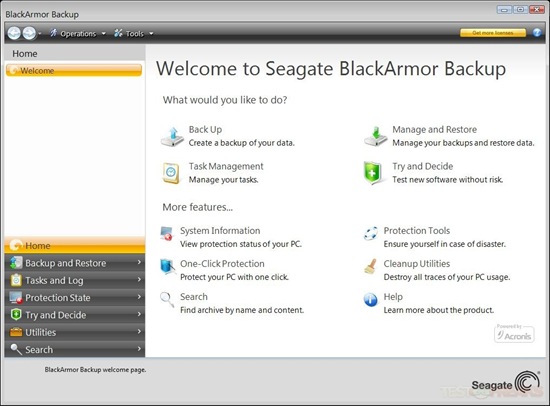 The second choice is Backup and Restore, which actually give you two navigation options, one for Backups and the other for managing them and restoring.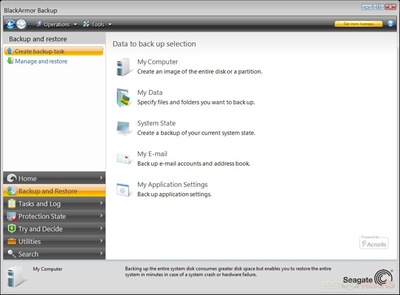 I ran a quick backup of just my Emails to test it out, and it works quickly, it gives you the option to create a new archive or add to an existing one.
You can also Backup Specific file, entire partitions or setting for programs you use frequently.
The third choice is Tasks and Log, here you can view the calendar, and scheduled tasks etc.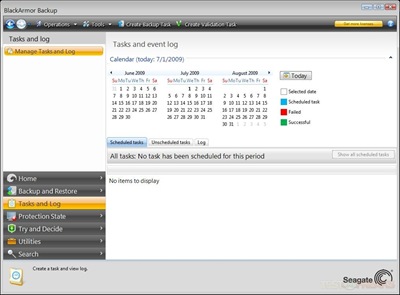 The Fourth choice is Protection State, here you also have access to Protection Tools as well. The System Information section tells you about your computer, and the status of your protection. The Protection Tools section is for creating bootable rescue media and managing the BlackArmor Backup Secure Zone.
The Try and Decide option is essentially a Sandbox, and I think it's a great feature, it allows you to create a space separate from your main computer where you can try things out, like new programs and such, before you install them to your main system.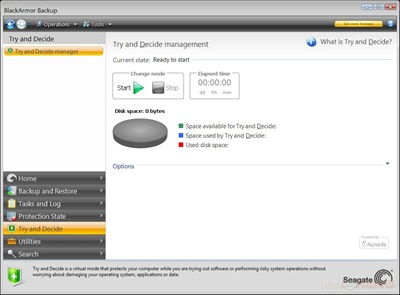 Under the Utilities heading there are two option, one for Disk Management where you can clone a disk or add a new one. The second option is Cleanup Utilities where you'll find programs for shredding files and cleaning up your system.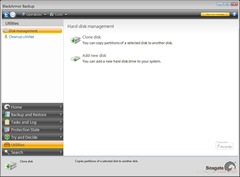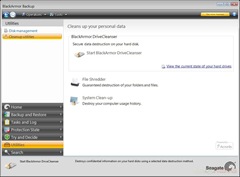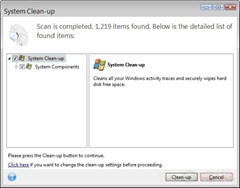 <
The last option is search, which is self-explanatory. There's also a menu bar across the top of the interface where you can access all of the features and programs.
The BlackArmor software suite is an excellent, useful and powerful set of tools that most anyone will appreciate, it makes protecting your system quick and easy.
Ok, on to the performance of the BlackArmor PS 110. First up is ATTO, no graph just the individual screenshots of the results. I compared the BlackArmor PS 110 to a few drives, both 2.5″ and 3.5″ to get an idea of performance. The 2.5″ drives are all using the USB interface.
Samsung SATA 1tb 3.5″
Imation Apollo 500gb 2.5″
Seagate 160gb 2.5″
Western Digital Green 500gb 3.5″
Between the 2.5″ drives the BlackArmor PS110 falls about the middle in regard to performance.
Here's the results for testing with SiSoft Sandra 2009 SP3 Removable Storage Benchmark, I threw in the Samsung 1tb 3.5″ drive for comparison.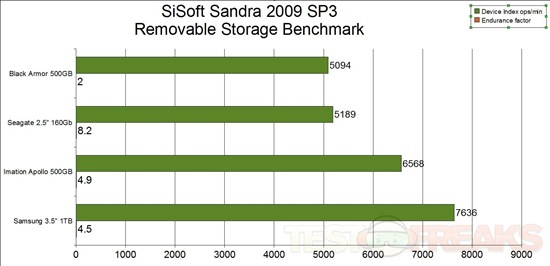 The BlackArmor falls behind a bit..
Finally for testing I've got DiskBench and the time and transfer rates for moving a 350mb .AVI video file to and from the 2.5″ drives. The chart is ordered for Write speeds going from fastest to slowest.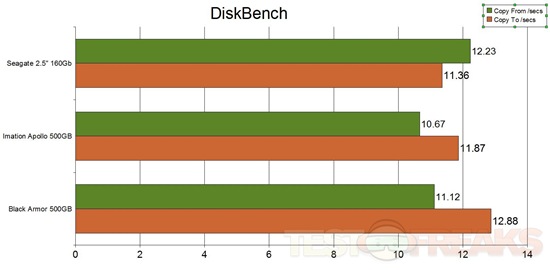 According to the chart we can see the BlackArmor is the slowest of the drives, but we're really talking only about a second slower.
Here's the transfer rates for the file transfer, going from slowest to fastest with Write Speed as the reference.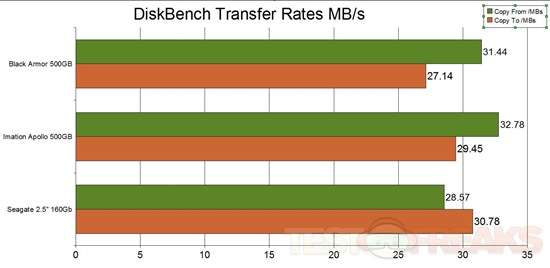 In the real world, the speeds are all pretty much the same, we're talking about one second difference in transfer times, not a big deal really.
The Seagate BlackArmor PS 110 is a great little product with no problems at all, except maybe the price, coming in at $160 is a bit expensive. That's the price directly from Seagate, though NewEgg is offering for $150.
Conclusion:
The Seagate BlackArmor PS110 is the perfect choice for anyone looking for a decent performing portable hard drive. The included suite of software is very nice, and it will totally protect your system and your data. This product would make a great accompaniment to a laptop of netbook, for not only extra storage space but for providing peace of mind with backup and restore capabilities.
I can easily recommend the BlackArmor to anyone in need of a new, and portable external storage solution.
Pros:
+Easy to use
+Small, portable and well made
+Excellent, and very useful suite of software included
Cons:
-High Price
| | |
| --- | --- |
| Grades: | |
| Overall | |
| Design | |
| Performance | |