We've taken a look at a couple iPod docks this past week, so I figured why not throw another into the mix today.
The iPod has pretty much become the ultimate music device, but there's one flaw, it's personal only, meaning you've got to buy some sort of external speaker setup to listen to your iPod without headphones. Companies know this and lots of them are vying for your dollar when it comes to these accessories, and as with anything not all are worth your hard earned cash.
Scandyna is a company out of Denmark that makes iPod accessories, very interesting looking ones, very stylish and almost surreal looking in their shape, and form. Today I've got the Scandyna Micropod Dock pack for review, it consists of two pod looking speakers, a powered dock, remote control and several iPod dock adapters.
Is it worth your money? Continue on to learn more about it…

So here again we've got an unboxing video for you, then the still pictures, so check it all out and continue on:
Specifications:
A Package that contains all you need to produce the best possible sound with your iPod.
Technical Highlights:
Color: Black, White, Pink.
Package includes:
1 x Dock
(inc. Amp 15watt stereo, 2 channel)
2 x Micropod SE Speakers,
(100watt Kevlar bass/midrange driver + softdome tweeter)
1 x Infrared Remote Control
(Compatible with all ipods (excluding shuffle)
2 x Speaker cables
6 x Aluminum spike feet
The dock – Integrated amplifier
Get the maximum out of your iPod with the remarkably new and well designed dock. The dock is specially designed to complement the iPod and combines high quality audio with unique design for docking, playing and recharging your iPod.
The dock brings your iPod crisp sound, innovative design – all in all…new life.
Micropod SE
Curvy, colorful and compact. The Micropod SE set new standards for quality design and engaging sound.
With top quality components, including a kevlar bass/midrange unit, a soft dome tweeter and an extra durable finish, the speakers set new standards for small designer systems. Building on our well known reputation to break away from traditionally built speakers without compromising sound quality, the curvy Micropod SE dares you to think square. Do you dare?

Using the Scandyna Micropod Pack is easy really, the only installation besides sticking the iPod in the dock is the speaker wires, and that's easy to do, and if you count attaching the legs to the speakers then I guess there's another step and of course plugging it into an electrical outlet as well. I think most people will be able to handle the assembly and installation of the kit with no problems.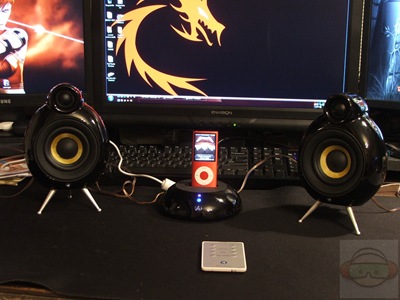 I'm using an iPod nano 4th generation and the first thing I found out was that it would not charge with this product, even though it says it's compatible with everything except the Shuffle. I'm guessing the specs are out of date or something.
Once I started playing music I was pleasantly surprised actually that the sound was very good as soon as I turned it on, no adjustments were needed, so out of the box it's ready to go. Then again there are no adjustments that can be made to bass and treble with this product. You'll have to use your iPod to make any changes to sound with built in equalizer settings if you wish the sound to be any different.
The sound from the speakers is very good, with nice highs and lows, the speakers produce good bass that you can feel as well. You can also turn it up fairly loud without much distortion to the sound coming from speakers.
The speakers can use regular type of speaker wire, so if what's included isn't enough you can easily pick more up and move the speakers fairly far away from the dock.
The remote only controls forward, back, volume, play/pause, repeat , mute and power, that might seem like a lot when it's listed, but it's not really. It's a rather large remote as well for just only a few functions.
I'm kind of disappointed that you can't actually control the iPod with the remote, the only navigation you can do is skipping forwards and backwards, not much fun to skip through hundreds of songs to find the one you want.
Conclusion:
The Scandyna Micropod Dock Pack is a very good sounding audio system for you iPod, it's easy to use and it's looks great. Since it's available in different colors there should be one that fits with most any decor or personality.
Yes it sounds good, but it isn't without it fault, there's no charging for new iPods, at the new nano. There's no iPod navigation either, so you're stuck with skipping one song at a time to find what you want to hear, and there's no adjustments for bass and treble either.
The lack of bass and treble adjustments aren't that big of a deal really as the speakers sound very good at the stock settings, but personally I like a bit more controls over my music.
Pros:
Very good sound right out of the box
Easy to set up, and use
Interesting look
Different colors available
Seems well made
Cons:
Won't charge iPod nano 4th gen
Lacks full iPod controls
No bass and treble adjustment
| | |
| --- | --- |
| Grades: |   |
| Overall | |
| Design | |
| Performance | |