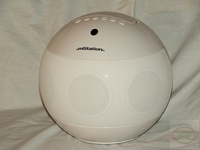 Here again we are with another iPod accessory, there's a slew of them out there, and I'm sure we'll see many more to come.
The other day I looked at the iPig and found it to be a very good sounding speaker system for your iPod, today I've got the mStation Orb for review. Like the iPig the Orb is unique as well, the name says it all really, it looks like a ball or an orb, but how does it sound? The Orb comes with several dock adapters, a remote control and can act as a dock or sync station via the supplied USB or Firewire cables, overall it's not a bad product, and can make a nice accessory for your iPod.

Ok, first up we've got the video unboxing and some still pictures for you, check them out and continue on:
Specifications:
This Sleek and Stylish "Made for iPod" Desktop Docking Station/ Speaker System packs a powerful thumping Bass that only a Dedicated Subwoofer can produce. Every Orb includes a 10 Key Remote that allows you to navigate within Playlists from a distance, as well as adjust the Volume ±, Bass and Treble. At approx 8 inches in diameter the mStation 2.1 Stereo Orb is the perfect addition to any Home, Office, or Dorm Room and comes in 7 different colors to match your room, mood, or even your iPod! The mStation 2.1 Stereo
Orb comes in White, Black, Blue, Green, Pink, Red, and Silver.
Features
• 2.1 Stereo with Dedicated Subwoofer
• 30 Watts of Peak Power
• Docking Station-Syncs w/iTunes
• 10 Key IR Remote
• 6 Cosmetic Docking Cradles
• Cables Include: USB, Stereo Mini
Price: $79.95

There's nothing to using the mStation Orb, pick a dock plate, put your iPod in and away you go.
The remote is very basic, the iPig we looked at the other day may have spoiled me a bit as you can fully control your iPod with it, the remote with the Orb only has very basic controls and no navigation for the iPod. You can control Bass and Treble with the remote, so you can customize your music to your liking which is nice, and there's controls for forward, back, play, pause and volume.
There's also controls on the Orb as well, which are the same as the remote except for the bass and treble controls.
So we know it's easy to use, it is just a dock after all, and I found out that it won't charge my iPod nano 4th generation, but that's something to be expected I guess as many products don't correctly work with the new nano.
Lack of charging aside it does play music, and that's its primary function, and it's nice to be able to use it as a dock/sync cradle when hooked up via USB or Firewire to your computer, but the lack of charging kind of makes it pointless as you'll have to plug it in with the iPod cable anyway to charge it.
Sound is decent after you adjust it, when I took it out of the box I was shocked at how bad it sounded, hollow and without any real high notes, but after playing with the bass and treble I got a decent sound from it. If I was to compare it to the iPig I would have to say that the iPig sounds better, but the mStation Orb isn't that bad either really, but it's like there's something missing from it, even when adjusted it still has a slightly muffled sound to it.
The Orb isn't a bad product really, and I'd like to see mStation make it truly portable by adding the ability to use batteries or maybe even a rechargeable built in.
Some might not care and I'm sure most people would be very happy with it, but I'm particular with my sound as I like music a lot, and the Orb just isn't something that I personally would care to use all of the time.
Conclusion:
The mStation Orb is a unique product that provides decent quality sound for your music, the included remote make it easy to adjust the sound to your personal preferences..
It's not perfect, but not many products are really, but it's not bad for what it is, for the price it would make a great addition to a college dorm or apartment.
Pros:
Easy to use
Well made
Dual connections to act as dock/sync
Numerous color choices
Works with other devices with 3.5mm jack
Portable
Cons:
Average sounding
Not fully compatible with new generation iPods
| | |
| --- | --- |
| Grades: |   |
| Overall | |
| Design | |
| Performance | |