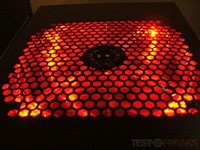 Up on the review block today I've got the Thermaltake Element T Mid-Tower Chassis or PC case. This case is sold as something for gamers, or pros, and it has a simplistic yet elegant design to it. There's plenty of room inside for any system, and room enough for the largest video cards and many hard drives. The case is very subtle in it's look, and style, being basic black with red accents, there's a top mounted 200mm cooling fan included and the PSU is mounted on the bottom of the case to help keep the inside of the case cool. One great feature of this case is that the motherboard tray is cut-out where the CPU cooler would be located, so you won't have to remove the motherboard tray to change coolers like some coolers require. Read on to check it out…
The Element T comes well packaged in a subtle yet attractive box, included with it is a brief user manual.
The Element T is basically all black in color with red accents on the audio ports and the power and reset buttons. The entire front bezel is all ventilation and there are three 5.25" bays and one 3.5" bay located on the outside. On the left side is a space for a fan, but it's not included with the one I got for review. The right side of the case is plain black.
The top of the case features a large 200mm exhaust fan, that does have red LEDs in it.
On the bottom of the case you'll find four silicone rubber feet, and a large section of ventilation holes, these holes are for the PSU that gets mounted on the bottom of the case.
On the back of the case we find the standard stuff, I/O plate, 120mm exhaust fan, space for PSU and the PCI slots. The side panels are both held in place by thumbscrews for easy access.
The front bezel is actually held on by spring loaded push locks making it very easy to remove, this is a nice feature that I've not seen in any other case I've reviewed.
Removing the side panels we see there's quite a bit of room inside of the case really, and one thing nice to see is that the motherboard is cut out where the CPU cooler would be located this way you won't have to remove the motherboard from the case to mount certain CPU coolers that would normally require it. This is a feature that I think all cases should have.
There are three 5.25" drive bays on the insides of the case, same  as outside, but we've got six 3.5" bays inside for hard drives. One 5.256" bay and one 2.5" bay have a tool-less lock, I have to wonder why Thermaltake didn't use these types of locks for all of the bays, just doesn't make much sense to me.
As we know this is a bottom mounted PSU case,m it will sit on two rails, and mounted this way will draw air in from the bottom of the case through the holes, keeping the hot air outside of the case essentially.
There are four accessory bags included, two of them are full of thumbscrews, these are used for the PSU and the PCI slots to make installation a bit easier.
Specifications:
Element T Mid-Tower Gaming Chassis
MRSP Price: $89.99
P/N: VK90001N2Z
Case Type: Middle Tower
Material: SECC
Front Bezel Material: Plastic
Color: Black
Motherboard Support: Micro ATX, Standard ATX
5.25" Drive Bay: 3
Ext. 3.5" Drive Bay: 1
Int. 3.5" Drive Bay: 6
Expansion Slots: 7
Front I/O Ports: USB 2.0 x 2, HD Audio x 1
Cooling System
Front (intake) : Optional
120 x 120 x 25 mm fan x 2 or
140 x 140 x 25 mm fan x 2 or
200 x 200 x 20 mm fan x 1
Rear (exhaust) :
120 x 120 x 25 mm Turbo fan (1400rpm,17dBA)
Top (exhaust) :
200 x 200 x 20 mm silent fan (800rpm,14dBA)
Side (intake) : Optional
230 x 230 x 20 mm fan or
120 x 120 x 25 mm fan
Power Supply Supported: Standard ATX PSII(optional)
Dimension (H*W*D): 525 (H) x 210 (W)x 480(L) mm / 20.7  (H) in x 210 (W) x 480(L) in
Net Weight: 15.32lbs / 6.95 kg
Warranty: 3 year

So on to the installation, I found there's quite a bit of room inside of the Element T, I had no problems getting a larger style video card in there. I do have one complaint though, there are no fan grills or covers on any of the fans, especially the top mounted 200mm one, you'll have to be careful routing wires or secure them in place so they don't wander and get caught in the blades.
This is just my test system so it only has just one DVD/RW and one HDD in it, so it didn't matter much to me that the Element T only has one tool-less lock on it, but others out there I'm sure will mind it.
The GTS 250 I've got in this system is only about an inch shorter than the largest of video cards, so it looks that even with a hard drives located across from it any video card should still fit, even though it might be tight, but it won't be impossible.
The top mounted 200mm fan is quiet and it had red LEDs in it that aren't too bright, it's a nice accent to the case and I really like the red and black color combination. There's also a red LED located where the power and reset buttons are as well.
Conclusion:
The Element T is a well designed, spacious case, it's simple yet elegant, a nice basic case really. Most any system should fit in the Element T with no problems at all, even the largest video cards will fit without difficulty.
I'm not sure what Thermaltake was thinking when they only included one tool-less bay for each 5.25" and 3.5" bay though, why not have all of them like that?
Pros:
+Simple, basic design
+Good ventilation even without front fan
+Quiet
+Bottom mounted PSU system with own ventilation
+Lots of room
Cons:
-No front fan included
-No fan grills
-Only one bay is tool-less
| | |
| --- | --- |
| Grades: |   |
| Overall | |
| Design | |
| Performance | |