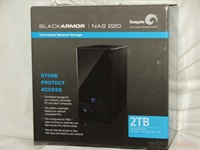 The BlackArmor series from Seagate are aimed at small businesses, and professional users but they can be great tools for the everyday user as well. I've taken a look at two of the BlackArmor series of external hard drives the PS 110 and the Ws 110, and both are very nice products overall that can be great tools for transporting and keeping your data safe. Today I've got another in the BlackArmor series of  storage and backup devices, the NAS 220 2TB Network Attached Storage box. The NAS 220 is a NAS box as one might expect given it's name, and I've taken a look at several NAS devices here on technogog, so I'm not only giving you a comprehensive overview of the NAS 220 but tossing in some comparisons as well so we can see how it performs compared to a few others.
If you read my other Seagate BlackArmor reviews then the packaging for the NAS 220 will look familiar to you, they've got the same look to them.The NAS 200 is packaged very well with lots of foam for protection.
Unpacking everything we find the NAS 220, ethernet cable, power supply, software disc, and user manual. The manual is more of a quick start guide, the in depth manuals are located on the disc for both the NAS 220 and the backup software.
The NAS 220 was fairly hard to take pictures of, it's black and the front is glossy. The main casing is metal and the front bezel is the glossy plastic, where you'll find the power button and the status LED indicators. The bottom does have four rubber feet as well.
On the back you'll find a cooling fan along with two USB ports, power connection and the ethernet port.
Of course I had to open it up to see inside. The hard drives are two Seagate 1TB drives, model 7200.12. They're on rails to make installation and replacement easier, they just clip into the housing.
The bottom is open and you can get a good look at the chipset:
Specifications:
Model: ST320005LSA10G-RK
Central networking that fits your business.
Network storage for up to 20 workstations. Designed with the small business in mind.
* USE IT TO:Keep your business data safe and available
* Support up to 20 workstations
* Automatically backup every networked computer at your workplace
Built to grow with your business.
Simple enough to let you focus on what matters.
* Automatic, continuous backup of connected workstations.
* Two reliable, user–replaceable Seagate hard drives.
* Two USB 2.0 ports for external drives, printers and UPS.
Security that's built right in.
You have plenty of things to worry about. Your network shouldn't be one of them.
* Automatic data mirroring with RAID 1 configuration.
* Hardware–based encryption keeps your files secure.
* Secure internet access to files with easy permissions and controls
All the details that matter.
The features you want. All in one place.
* Microsoft Active directory support.
* Multi–volume management.
* Event email notification.
* DLNA and iTunes media streaming.
* 3–year limited warranty
Price: $429.99
I've got a ton of screenshots for you highlighting all of the features of the NAS 220, rather than make this article longer than it is, small thumbnail pictures will be used, you can just click them to see the larger view.
The NAS 220 included BlackArmor Backup software, and 10 licenses for it so you can use it on your network. I took an in-depth look at the actual BlackArmor Backup software in my review of the BlackArmor PS 110 2.5" 500GB external hard drive, so I'm not going to repeat it all here. You can hop over HERE to read that review if you wish.
I did run into a problem running the backup software on my main computer, apparently if you've already used a BlackArmor product, and even if you've uninstalled it, it will still ask for the original product to be attached to the system. What I mean is that when I tried to use the BA Backup with the NAS 220 I couldn't do it, it would just keep searching and searching for a BA device and never find one. So I thought maybe trying to plug in the PS110 and see what happens and then it popped up ready to go, so I'm guessing it leaves something in the registry attaching BA Backup to  the system and previous drive. I even tried uninstalling it and reinstalling the software and it was still the same result, I had to attach the other BlackArmor product before being able to use the NAS 220 for my backups.
To get it to work as it should I installed BlackArmor Discovery and BA Backup on my netbook, this worked perfectly as it should. You just run the Discovery software, enter ID/Password, and then hit backup and it starts rights up.
Ok, now to the actual NAS 220 device.. I could've covered the backup part later but it's basically a separate part of the device. When you first hook up the BlackArmor NAS 220 you'll need to set it up, follow a few prompts and the system will initialize and you'll be at the main administration screen in a matter of minutes.
The main admin screen features two menus, one drop down at the top and another on the left side of the screen. The drop down menus are the same as you'll find on the left side for each section.
Under System you've got several options to choose from, Status, General Setup, Email Setup, Admin Password, Firmware Update, Advanced, SMART Manager, UPS Manager, Backup Client License, and Shutdown/Reboot.
Under Network you've got LAN, Services, Workgroup, Dynamic DNS and Printer Manager. Under services you can enable or disable Web Access, FTP, UPNP and NFS. Workgroup is just the workgroup info, and Dynamic DNS is the standard settings for that.
There are several options under Storage, but it's divided into two sections Disk manager, and Management. Under Disk manager you've got Volumes, Shares, USB Shares, Quota and Downloader. Then under management you've got Tasks, Setup, Backup manager and Recycle-Bin manager. Then the Backup manager is broken down further as well into User Backup, task Monitor, USB to NAS, NAS to USB, Schedule Backup, and Restore, and then there's yet another menu under that for Backup Server with Server Settings under that menu. So there's quite a bit going on here in this section…
Under the Media Menu you'll only find a few choices for DMS and Itunes
Under the Access heading you'll find info for Permissions, Downloader, Shares and Global Access.
To access Global Access you'll need an account, which is free, Global Access is essentially outside access to the NAS 220 through the Seagate Severs. It allows you and anyone else to have access via a web browser.
Here it is once you log into the Global Access account:
Some might say that having to use the Seagate Global Access is not a good idea since you're going through their servers, I think it's good and bad really. Who knows what information they collect as to what you're doing, but it also makes life a lot easier to enable outside access to the NAS 220. With other NAS boxes you've got to setup Dynamic DNS, and then configure your router and maybe even firewall, with Global Access you just create an account and you're ready to go, very easy to do. I know with my Thecus box it was trial and error and it took me quite a while to get it configured for outside access with my old router, with the new one I have though life was much easier.
Clicking on the Terms and Conditions or Privacy Statement on the Global Access site only takes you back to the main Seagate Website to show show those Terms and Privacy Policies, so who knows what's going on there.
You can of course enable access the normal way as well if you wish to, but Global Access is much easier I think.
Ok, I've covered a whole lot of stuff, but now down to actual performance. I've got the Seagate BlackArmor NAS 220 hooked up on my network through a gigabit switch, and I decided to put it up against the other Nas boxes I've got on hand, specifically the Lacie2big, Thecus N3200 Pro, Qnap TS-109 Pro II and the Synology DS209+ II. I used the Windows 7 ISO file for the test, it weighs in at 3.04GB in size. Here's the time it took to transfer and the Transfer Speeds of reach NAS device: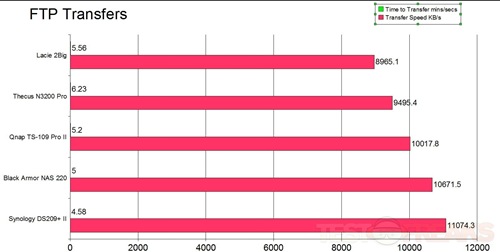 The BlackArmor comes in the second fastest of the bunch, not bad.
The BlackAmor NAS 220 is a well made product, and the fan is quiet. I've got it sitting on my desk to the left of me, about two feet away and I can't hear the fan, but I can hear the drives accessing every once in a while. I'm sure most people won't have it sitting where I have it. I've got my Thecus N3200 under my desk actually, so I never hear the drives or the fan.
As far as protection is concerned it's setup in a mirrored raid configuration so you've got your data backed up, but you've only got half of the space. I like raid for the protection it offers, but I much prefer Raid5 simply because it offers more space, at the moment I use three 500gig drives in Raid5 configuration in my Thecus box and that gives me 1tb of storage that's protected as well via the third drive.
So to each his own really, but the Raid1 of the NAS 220 will offer good protection for your data at fast transfer speeds and additional features like the Backup and ability to be a media server as well.
Conclusion:
The Seagate NAS 220 is a wonderful system for the home or small business user, I've got it hooked up to my main system and my netbook right now so I've got backup abilities for them and easy off-site access as well to all of my files on the server. The NAS 220 is an excellent device overall, it will provide the user with ease of use and peace of mind through the BlackArmor Backup System, you can easily backup your data with just a couple clicks.
The Global Access that Seagate provides is a very easy to use system that makes accessing the NAS 220 while you're away very easy, just sign up for a free account, input the info into your NAS account and you're set for access from anywhere in the world. You can of course set up access the 'old-fashioned' way through dynamic DNS and configuring your router if you wish not to use the Global Access system.
I did run into the small problem with the BlackArmor Backup software, it's likely other won't have the problem I did, it's more of an extra step than a problem to get it to work really.
The NAS 220 is an excellent, feature packed NAS box that most any user will appreciate.
Pros:
+Easy to use
+Well made, quiet
+Easy off-site access with free Global Access account
+Relatively fast
+Tons of features
Cons:
-Ran into problem with BlackArmor Backup not seeing the box
| | |
| --- | --- |
| Grades: |   |
| Overall | |
| Design | |
| Performance | |