Manufacturer: Verbatim
Product Name: 160GB FireWire/USB Portable Hard Drive
Review Date: 09/22/08
Author: Kristofer Brozio
Flash drives are nice, but they're not large enough yet to take huge amounts of data with us, so that's where portable hard drives come in handy. Of course you can get  a large 3.5″ hard drive, but when portability is a factor you'll want to look at the 2.5″ models as these allow us to take large amounts of data but yet remain lightweight and portable.
Today for review I've got the Verbatim 160GB FireWire/USB portable Hard Drive, it allows you to take large amounts of data with you and remain portable at the same time. The enclosure itself is plastic so it's lightweight, and as the name suggests, it can be used with either USB or FireWire connections. The drive come pre-formatted for the Apple file system, but it can be easily formatted to be used with a PC as well.
So read on to check it out…
The Verbatim Portable Hard Drive comes in a display style box, with the drive shown on the front and information listed front and back.
Included with the drive is a user manual, Firewire cable and a USB cable. The USB cable features two USB connections as one is used for extra power if need be.
The enclosure itself is made of plastic so it's very lightweight, it's about as wide as other enclosure but it's thicker, so that makes it a bit bulkier.  There are four rubber feet on the bottom of the housing, and the back is where you'll find the USB and Firewire connections. The appears to be small ventilation slits on both side of the connections to help cool the drive inside.
Specifications:
Verbatim 160GB FireWire/USB Portable Hard Drive
Expand the storage capacity of your laptop or desktop PC, with a sleek Verbatim Portable FireWire/USB Hard Drive. Whether you are on the go or at home, rest assured that your favorite music, photos, video and critical data are safe. Back up your MAC with a Verbatim's FireWire/USB portable hard drive which is fully compatible with the Leopard Time Machine feature.
Product Number: 96529
Capacity/Speed: 160GB/5400 RPM
Specs/Features:
* Rotational Speed – 5400 RPM
* External power – FireWire or USB port
* Interface One 6-pin FireWire (IEEE 1394) ports, One USB Mini-B port
* Data Transfer Rate – FireWire 400 Mb/s (max), USB 2.0 High-Speed: 480 Mb/s (max), USB 1.1 Full Speed: 12 Mb/s
* Unit Dimensions – 3.38 in. X 5.38 in. X 0.63 in. (86 mm X 137 mm X 16 mm)
* Unit Weight – 5.8 oz (164 g)
Installation is fairly easy, if you don't include the fact that it must be formatted to use with Windows. Formatting took about 45 minutes total.
The drive is quiet when in use, and it's lightweight. The Enclosure is plastic, which is something that might concern me, most other enclosures I have or have seen are metal or at least partially metal. Metal enclosures not only help protect the drive but also help dissipate heat to keep the drive cool. I'm also not sure the type of drive inside the enclosure, either SATA or IDE, I couldn't open it as this was a loaner unit, and didn't want to damage it, also I couldn't find any mention on the Verbatim website either.
Here's a quick comparison shot of the Verbatim and two other 2.5″ HDD enclosures that I have on hand. The one on the left is an IDE drive, which the enclosure is part plastic and part metal, the middle one is an SATA drive with a metal enclosure and of course the Verbatim drive is on the right.  The Verbatim enclosure is about the same width as the others but higher making it a bit more bulky.
For testing and comparison I ran SiSoft Sandra 2009 Removable Storage Benchmark, and compared the Verbatim to my 2.5″ 160GB SATA drive and an OCZ Rally2 Turbo Flash Drive. The higher the scores the better.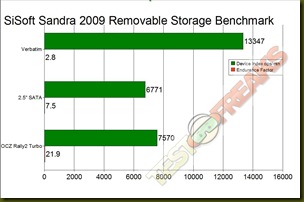 I used the USB interface only of the Verbatim drive, as I don't have any firewire drivers to compare. You can see the Verbatim drive performs very well in testing, but we can see the Endurance Factor is rather low on this unit. (The Endurance Factor gives an approximation of the life span of the device.)
Conclusion:
The Verbatim 160GB Portable Hard Drive is not a bad little product overall, it's fast and lightweight, making it nice and portable to take with you where ever you go.
The plastic enclosure is a small concern, but most people will be careful anyway with this product and others like it considering it's a hard drive inside.  As for heat dissipation and plastic, well it's not the best for it, but there are ventilation holes on the back, only time will tell really if this system works or not.
Pros:
-Small and Portable
-Seems well made overall
-Excellent speed
Cons:
-Formatted to Apple file system
-Plastic Enclosure
Grades:
Overall:
Design:
Performance: