Manufacturer: Epson
Product Name: Epson WorkForce 600 All-in-One Printer
Review Date: 09/19/08
Author: Kristofer Brozio
In my time as a reviewer I've gotten many products for review and I've found that quite bit of them don't live up to their marketing hype, it's not that they're bad products it's more the expectations are very high with some. The product I've got for review today though lives up to and exceeds the hype, it's an all around great product with virtually no flaws to be found.
On the review block today is the Epson WorkForce 600 All-in-One Printer, and as soon as you open the box you'll be impressed by this printer. My wife, who normally couldn't care about the stuff I get for review, was thoroughly impressed by this printer, so that's saying something right there. Anyway, the WorkForce 600 just looks great, even without powering it on you can just see that this thing means business, but yet look stylish enough to fit in your home. After all, the WorkForce 600 is meant for small and home businesses, so it's made to be a work horse and that it is. The 600 includes some great features like WiFi capabilities, laser quality printing, fast printing speeds, built-in memory card reader, and even an LCD to preview your pictures and operate the 600 easily.
It's just an excellent choice if you're in the market for an all-in-one printer, personally I like these types as then you don't have to have separate devices for all the things you need to do…
The box is huge and heavy, when the FedEx guy delivered it I heard a big thump on my porch, and I was like 'what was that?'. Of course there are several pictures along with specs and features listed on the box. The printer itself is packaged very well with styrofoam padding, wrapped in a plastic bag and more plastic covering the surface of the printer to protect it even more during shipping.
There's a bit of stuff included with the WorkForce 600 including ethernet cable, power cable, driver/software disc, user manuals, sample paper, phone cable and of course the printer cartridges. No USB cable though, but that's common nowadays for printers not to include one.. I've always wondered why they don't include USB cables, I mean they're cheap…
The housing of the WorkForce 600 is plastic as is expected, most of it shiny, and overall the look is classy but yet subtle, it should fit in with any decor.
The main interface of the WorkForce 600 in on the front panel, here you'll find all of your function buttons and even a color LCD panel to make navigation, operation and even editing your photos easy. Off the the far left of the panel is the card reader and USB port as well, I found that the card reader doubles as a storage device for the printer as well. You can scan documents, save them to a memory card or USB drive and then just transfer them to your computer, no need to use any software to scan documents anymore, a very nice feature indeed.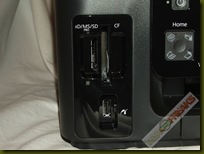 The top is the automatic document feeder that can hold up to 30 pages for faxing or scanning multiple documents. Under that is a flat bed scanner that can be used for scanning or as a standard copier, under the scanner is where the ink cartridges go.
The paper goes into the back of the WorkForce 600, it can be adjusted to fit several sizes of paper and even envelopes.
The finished prints come out the front and land on the collapsible paper tray.
In the back of the untit we find the main power connection, ethernet jack, USB connection and telephone jack.
Specifications:
Epson WorkForce 600 All-in-One Printer
Model: C11CA18201
MSRP: $199.99
Overview:
* 5-in-1 — Print, Copy, Scan, Fax, Photo, Wi-Fi
* Draft speeds up to 38 ppm (black and color)
* Laser quality documents about 2x faster
* Wi-Fi and Ethernet networking built in
* Extra High-capacity Black ink
* 2-year limited warranty with registration
* Smudge, fade, water resistant, highlighter friendly
* Uses up to 3x less power than a laser printer
* Fax and 30-page ADF
* Built-in memory card slots and 2.5-inch LCD
Show the world what your business is made of with WorkForce, Epson's new line of printers and all-in-ones, engineered for the small business and home office. Get laser quality output at laser fast speeds for prints that make you look your best.
Make your business look its best with brilliant color output from the Epson WorkForce 600 all-in-one. Why waste money on a laser printer when you can get so much more for less, including the ability to wirelessly print and archive critical documents, or fax stacks of originals in seconds. Because time is money, the WorkForce 600 races through every task. In fact, it's about two times faster printing documents than leading competitive models. And, it uses up to three times less energy than a laser printer. Fast, affordable and built to grow with your business, the WorkForce 600 does it all, so you can focus on the business at hand.
Features & Benefits:
* Boost your productivity — Fast draft and copy speeds — up to 38 ppm (black and color)
* Get speed without sacrificing quality — Laser quality documents at about 2x the speed of competitive ink jet   printers1
* Easily network within your workgroup — Built-in Wi-Fi and Ethernet networking
* Print more, change cartridges less often — High-capacity Black, Cyan, Magenta and Yellow ink cartridges; Extra   High-capacity Black also available
* Protect important documents — Smudge, fade and water resistant, highlighter friendly documents rival those from   a laser printer and photos rival those from the lab
* Send faxes fast, even in color — Fax in as fast as 3 sec per page; store up to 60 speed dials and receive up to   180 pages in memory; also faxes legal size
* Print photos without a computer — Built-in memory card slots, PictBridge and 2.5-inch LCD
* Make quick color copies and enlargements — One-touch copying with high quality scanning; reduce and enlarge 25   to 400 percent
* Do more with useful software included — OCR and creativity software to create flyers, brochures, calendars and   more
* Save energy — Uses up to 3x less power than a laser printer
* Save paper — Built-in double-sided printing1
* Do more in less time — Copy, scan or fax stacks of documents with built-in, 30-page ADF
* Get product protection you can count on — Epson Preferred program with 2-year limited warranty and 2-year toll-  free support, with registration, plus quick product exchange
Above is just the basic specs and features listed, you can stop over HERE and visit the full listing on the Epson site.
Included with the printer is also ABBYY Fine Reader OCR, and ArcSoft Print Creations software, along with Epsons own utilities and programs.
The WorkForce 600 is very easy to setup, since I've got wireless I opted for the WiFi installation. You need to hook the ethernet cable up to your router, then follow the instructions to install everything, then you just unplug the ethernet cable and your wireless! Setup in total took about 30 minutes, which is about average for most printers. I also connected the printer to my wifes computer as well, when you put in the disk it gives you an option to start the install for a second computer, that setup is even faster and it's easy as well.
Using the printer is very easy with the LCD screen and navigation buttons, there is a shortcut button on well located the left of the screen to easily access the most commonly used features quickly.
The menu choices are Fax, Copy, Photo, Scan, Backup Data, Print Ruled Papers, Setup and Problem Solver.
and yes you read that correctly there is a Data Backup function in the WorkForce 600, you can backup whatever is on your memory cards to a USB drive. Also you may have noticed the Print Ruled Papers choice, I think that's rather cool, you can print lined or even graph paper in various sizes..
There's also a very cool greeting card feature, you pick a picture, print a template, fill out the template and then re-scan it, the WorkForce 600 will understand your choices and print out your cards. Here's the template, then filled out, then the actual cards, clicking on these picture will take you to hi-res views at 1587×2187 resolution.
Actual printing is just excellent, they were not exaggerating when they say laser quality, the print quality is truly laser quality. It just so happened that my wife had a project for school were she had to print up 15 booklets for the class for a presentation, in total it was about 90 pages. The quality was excellent all around, and they printed fast even with pictures on them.
Regular pictures printed very nice as well using photo paper, they look just like something you would get at a photo lab, my wife was very impressed by them, and it takes a bit to impress her… she still uses a film camera and send her pictures out to be developed because she doesn't like how the pictures look when they are printed at home with our other 'photo printers', but with the Epson she was impressed by the quality of the pictures. One thing she said immediately was 'no dots!' which of course she means pixels, but with our HP Photosmart and Brother Photo printers if you look closely you can see the dots, with the Epson you can't…
<pi 'VE p really.>< breeze a usage and navigation makes LCD in built The do. to easy is everything faxing, scanning copying, including jobs, many for 600 WorkForce the used already>
Faxing is fast, and it's nice that you can put up to 30 pages in there, when you're done you can even print out a report of the things that were faxed if need be.
This thing can do pretty much anything you want it to, it truly is an all-in-on printer.
The only possible gripe I could have is that there is no handset to talk through, my previous all-in-on had the handset and I guess I'm just very accustomed to using it as a phone, but of course you can hook up a phone to the WorkForce 600 and use it that way.
I could just go on and on about this printer, but trust me, it's an excellent choice if this is the type of product that you need.
Honestly, try as I might I can't really find any faults with this printer… for the price it's perfect! I've done everything possible with this printer and it has done it all perfectly and flawlessly
For more information about the WorkForce 600 click here.
More Images:
Conclusion:
As I mentioned I tried to find something wrong with the Epson WorkForce 600, but I couldn't, it does everything exactly the way it's supposed to and it does it with quality and efficiency.
If you're in the market for an All-in-one printer then be sure to check out the WorkForce 600, you'll be very happy you did.
Coming in at around $200 it's well worth it, I can easily see this thing costing more really, it performs and has the features of products much more expensive than itself.
Pros:
-Fast printing
-Excellent quality printing both text and pictures
-Wireless network capable
-Easy to use
-Easy to setup
-Numerous great features
-Low price
Cons:
-Large and heavy
-No handset
Grades:
Overall:
Design:
Performance: