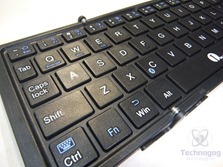 Tablets are great, I love them but I don't really care for the on-screen keyboard at all so I need a physical keyboard if I want to type a lot of stuff. Up for review today 1byOne has sent over their Foldable Bluetooth Keyboard and my first impression of this was a good one as it's made of metal making it sturdy and just well made overall. I tested it with my Android and Windows 10 tablets and had no issues at all, in fact it paired the first time with both systems. Like any small or portable keyboard though, you will need time to get accustomed to using it but for me it's better than the on-screen keyboard for sure. Read on to learn more…
Specifications and Features
1byone Foldable Bluetooth Keyboard for iOS, Android, Windows, PC, Tablets and Smartphone, Black
-Tri-fold design makes it a perfect portable keyboard.
-Using the American broadcom Bluetooth 3.0 chip, 8 times faster than the Bluetooth 2.0, high speed connection and signal distance up to 33ft (10m).
-QWERTY layout with hot keys, compatible with iOS / Mac OS, Android, Windows, and all Bluetooth-enabled tablets, laptops and computers.
-Ultra slim design, easily stows in a backpack, messenger bag or case. Ergonomic tilted design reduces wrist strain.
-Built-in 210mAh lithium battery, works for up to 114 days in standby mode without charging, with 64 hours continuous use.
Price: $36.99 (from Amazon at time of review)
The Review
Let's start with a video unboxing and then move on from there:
The keyboard ships in a brown box with the 1byone logo on it. When you open the box you're greeted with the keyboard wrapped in plastic for protection. Once you get everything unpacked you'll find the keyboard, user manual and USB cable for charging.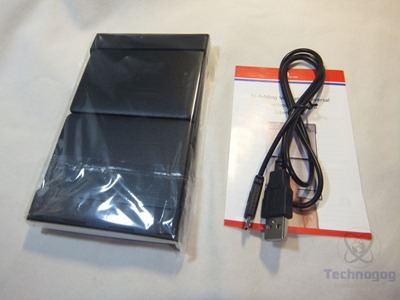 This is a foldable keyboard and I was very impressed by the quality of it when I first took it out of the package, for being so small it's rather heavy but that's because it's metal, basically the whole keyboard is metal except for the keys which are plastic. When folded the keyboard is about 5.75 by 3.6 inches in dimensions and about .5 inches thick.
On the top edge of the keyboard is the micro USB port for charging the internal battery. The battery should last for about 64 hours of use and it has a rated standby time of 144 days.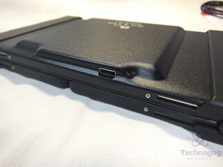 When unfolded the keyboard is slightly less than ten inches long and about 3.5 inches tall and slightly less than .5 inches at the thickest part which would be the hinges, the rest of the keyboard is very thin at about .25 inches thick. At the top center of the keyboard is two LEDs for power, charging and Bluetooth. The layout is similar to a regular keyboard but you'll need to use the Fn key for certain things as everything can't fit on a small keyboard like this so some keys do double duty and those are written or marked with blue while everything else is white. Across the top of the keyboard are numbers but they're also function and multimedia/browser keys. The keys across the op are more than just two things, for example the 1 keys is the 1, exclamation point, Function 1 and Search. It all depends what operating system you're using the keyboard with as to how you would activate them. On windows pressing Fn and 1 would be Function 1, but pressing Fn, shift and 1 it would be search.  The instruction manual does have a chart to let you know what the keys are and how to access them but it's fairly simple combinations. The keys are very springy and they do have quite a bit of tension on them and they do make a slight clicky sound when pressed.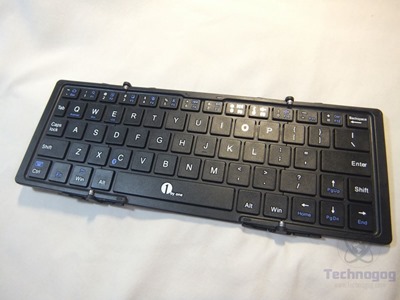 I tested the 1ByOne Foldable Bluetooth keyboard with my Android and Windows 10 tablets. To enter pairing mode you have to press the Fn key and the C key which has the Bluetooth symbol on it and the blue LED at the top of the keyboard will start to blink.  I had no issues pairing with either one, in fact it worked the first time on each. I opened up notepad on both and started typing, it worked as expected, I could type, not well but I could type. The fact that I couldn't type well was my fault, but it will be common for anybody trying to type on a small keyboard at first, but after a while you should get accustomed to using it and you'll be typing fine.
Conclusion
All in all I like this keyboard a lot, it's very well made and it works just fine. If you're looking for a very portable Bluetooth keyboard than I would highly recommend taking a good look at this one.
Some might think the price is a bit high, but I think it's just right. If this was an all plastic and lightweight keyboard then I might question the price, but it's heavy duty really, made of metal and just well made overall and worth the price.
Pros:
+Very well made
+Decent battery life
+Simple to use
+Multiple functions built-in
Cons:
-None that I could find
| | |
| --- | --- |
| Grading | Scores Out of 10 |
| Overall | |
| Design / Aesthetic | |
| Value / Price | |
| Performance / Usage | |
To learn more about our review policy please visit this page HERE.