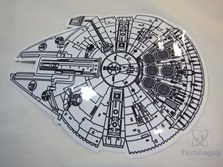 I've got a quick review for you today of a decal or sticker and normally I might not review something like this but it's Star Wars theme and it's the Millennium Falcon and it's one of the only decals that I would happily stick on my car or anywhere else really.  The decal is is about 7 inches by 5 inches in size so it's not exactly small but it's clear so it would be fine on a car window as it won't obstruct your view. The decal is well made and I like it a lot, so read on to learn more…
Specifications and Features
Millennium Falcon STAR WARS Sticker Decal for Macbook, Laptop ,Car Window, Laptop, Motorcycle, Walls, Mirror and More.
Sticker Decal for Macbook, Laptop ,Car Window, Laptop, Motorcycle, Walls, Mirror and More
High quality vinyl decal sticker
Looks great on your laptop computer
Easy to apply
Size 7″ high x 5″ wide
Price: $6.95 (from Amazon at time of review)
The Review
The decal just ships in a plastic bag with a label on it which is fine.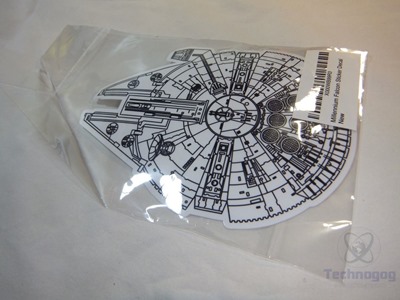 The sticker is the Millennium Falcon done in what I might call a wire frame type of design as it's black lines but it's clear between the lines. The detail is excellent, you can see everything on the ship, all the details of it, I'd have to say it's a very accurate representation of the ship.
The decal is about 7 inches long and 5 inches across and only I guess about a millimeter thick maybe as I didn't measure that.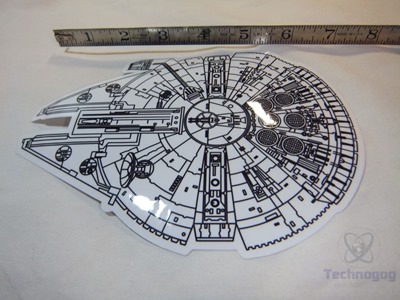 The decal can be used for all sorts of things, you can pretty much stick it anywhere on any surface and I choose to put it in my car window so everyone can see it everywhere I go. Putting it in place is tricky as with any decal you need to make sure you get rid of the air bubbles. So far it seems to be sticking very well but it's winter so it's cold, I think the real test of it will be in the summer heat and sun beating down on it. As is now though it's fine and I'm very happy with it.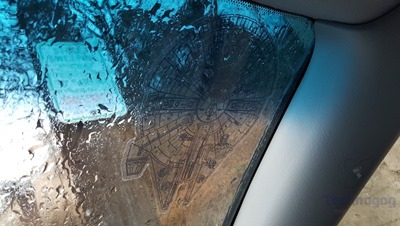 Conclusion
What better way to let everyone know your love of Star Wars than with a detailed decal of the ship that made the Kessel Run in less than twelve parsecs?
Seriously though it's a great decal in my opinion, I love the fact that it's clear so I can put in my car window as the view won't be obscured.
As far as the price, I think it's well worth it.
Pros:
+Well made
+Very detailed
+Clear as not to obstruct view
Cons:
-None that I can find
| | |
| --- | --- |
| Grading | Scores Out of 10 |
| Overall | |
| Design / Aesthetic | |
| Value / Price | |
| Performance / Usage | |
To learn more about our review policy please visit this page HERE.