We're back in the kitchen for another review of a handy tool that everyone should have in their kitchen and that's a thermometer. You need to make sure your food is cooked properly or to the proper temperature and you can only do that with a good thermometer. Today for review I have the Chef Remi digital cooking thermometer that not only measures temperatures but also has functions for recording temperatures and for converting degrees. For testing I cooked with it obviously and it seems to work fine, read on to learn more…

Specifications and Features
The Chef Remi Digital Cooking Thermometer enables you to prepare perfectly cooked meals without the need to slice food open or leave huge knife puncture marks in your food. This instant read probe features an extensive temperature range in both Celsius and Fahrenheit going from -58ºF to 572ºF or -50ºC to 300ºC.
With an easy to read electronic LCD display, it also has an auto shut off to save on your battery life. The digital thermometer takes an LR44 battery which is included with your purchase. It also comes with a handy storage case convenient for any kitchen or BBQ. Cook your food perfectly every time without the worry of overcooking or even worse illness from undercooking.
Use it on all food, meat, turkey, chicken, fish, casseroles, re-heated foods, bread, yogurt, candy, barbecue and deep fry. You don't have to have to be a Chef to be a great cook as celebrity chefs and several food writers have testified that our Chef Remi Grill Thermometer will ensure you'll never overcook food again.
Also comes with a 100% Lifetime Money-Back Guarantee so you can order with confidence.
Product Dimensions: 9 x 0.9 x 0.9 inches ; 4 ounces
Price: $16.95 (from Amazon at time of review)
The Review
Let's start with a video unboxing an then continue on:
The Chef Remi thermometer comes in a clear plastic tube that is for shipping but also for storage when you're not using. I'm not sure I like the plastic tube, I think I would much prefer a regular cover that goes right over the probe like you would see on most any other thermometer. This isn't to say the tube is a bad thing, it is sturdy and thick and will protect the thermometer for sure, it's just my personal preference and what I'm accustomed to really.
Packaged with the thermometer is an instruction sheet that tell you a little information and what the buttons are for and what they do.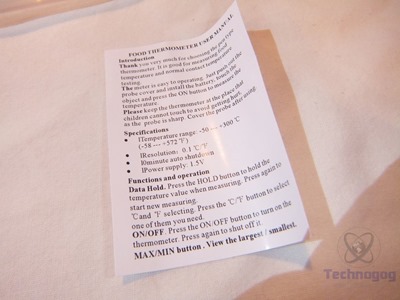 A digital thermometer is like an analog one, it has a long metal probe and at the end there is a read out that tells you the temperature. Digital thermometers can do other things that analog ones can't though, and they tend to be much faster at showing you the temperature than an analog one will. The display end is basically a plastic housing holding the display and the buttons along with the batteries which come already installed for you. Overall it seems made well enough, but sure about the plastic end and heat though, but only time will tell how that works out.
The thermometer has an LCD display for displaying the temperatures and on both sides of it are two buttons for On/Off, Celsius/Fahrenheit, Hold and Max/Min. The thermometer can display both Celsius and Fahrenheit and you can change it with the push of a button so it instantly converts it for you which can be handy.  The max/min button is to show you the lowest and highest temps recorded, and the Hold button is to hold a temp in memory.
The Chef Remi thermometer is quite a bit larger than my old EKCO Instant Read thermometer is, but the shaft or measuring probe part feel about the same in quality.
So for testing I cooked food and used the Chef Remi thermometer to check temperatures as one is supposed to do to make sure food it cooked properly and safe to eat.
Before you use the Chef Remi thermometer you'll need to wash it obviously but I also compared it to my EKCO instant read thermometer as well to check the accuracy.
You can't really calibrate a digital thermometer like you can an analog, you just kind of have to hope it's accurate. Some digital thermometers have reset buttons on them or you can just change the batteries, but you'll need a baseline. To test the calibration you can do it in boiling or freezing water. I'm not going to go into it all, but you can find numerous resources online as to how to do this.
I compared the Chef Remi to my EKCO and it was close, a degree or two difference, which is to be expected, but I think it's fairly accurate overall.
Using it you just push the on/off button and stick into the meat or whatever else you want the temperature of and in about second you'll see the temperature and if you leave it in in will continue showing the temperature, changing as the temperature inside changes.
One small issue I came across is that the display can be hard to read sometimes. The numbers sort of seem to disappear partly every once in a while and if I push on the display they'll come back. They're still readable, but just faint, that's the best way I can put it.
Conclusion
The Chef Remi cooking thermometer is inexpensive but for something like this you don't want to skimp on costs, you want something well made but something that is also accurate.
The Chef Remi thermometer seems made well enough and they do include a sturdy protective tube to protect it when you're not using it.
As far as accuracy this thermometer seems to be accurate, I compared it to my analog one and it was very close.
One small issue though is that the display can sometimes become faint and a bit hard to read if not at the correct angle, but that's not that big of an issue as it's still readable but just something to keep in mind.
Overall the Chef Remi cooking thermometer isn't bad, it will get the job done that's for sure.
Pros:
+Simple to use
+Included protective case
+Multiple functions
+Fairly accurate
Cons:
-Probe cover not included
-Display can be hard to read sometimes
| | |
| --- | --- |
| Grading | Scores Out of 10 |
| Overall | |
| Design / Aesthetic | |
| Value / Price | |
| Performance / Usage | |
Disclosure: This product was given to us for review by the company for review purposes only, and is not considered by us as payment for the review.
To learn more about our review policy please visit this page HERE.