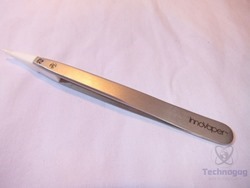 I review a lot of things and one thing I wish I reviewed more of was tools. I don't mean power tools, but those would be cool, but I'm talking more of electronic and computer related tools. When you think of electronic and computer tools you probably think of screwdrivers and testers, but one of the most useful tools I have are tweezers. I have, I don't know how many pairs of tweezers in all assorted shapes, styles and sizes and they come in very handy for all kinds of things. When you're building a computer and you drop a screw down inside it can be very hard to get at, a pair of tweezers can help. One problem is that most tweezers are metal making them conductive and possibly magnetic which isn't the best for computer work obviously. I've also used tweezers while soldering and they can get hot, I found that out the hard way of course. The point is that tweezers can be extremely handy for all sorts of jobs big and small. Today for review I probably have the nicest pair of tweezers I've ever come across. These tweezers are sold for the vaping crowd, but they'd make an excellent addition to any computer or electronic toolbox for sure. These tweezers have ceramic tips making them non-magnetic, non-conductive and even heat resistant. Read on to learn more…
Specifications and Features
When you first take these tweezers out of the pack you'll immediately notice how heavy they are, they are just very well made.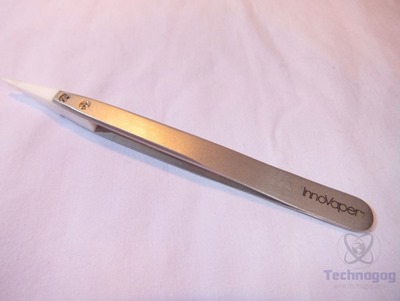 The tweezers have stainless steel handles with ceramic tips that are attached with two screws on each side. When they ship the screws are slightly loose, this is to protect them from damage during shipment so you will need to tighten them slightly before using them.
The tweezers ship with a small rubber band over them to keep them closed and for protection of course.
The tips are not quite needle points but they are sharp and very fine and flat on the inside making them easy to grasp and hold tiny objects.
I've got numerous pairs of tweezers of all assorted shapes and sizes that come in handy but I have to say I've never owned a pair of ceramic ones, in fact I never knew they existed but I'm happy they do, as they're very handy.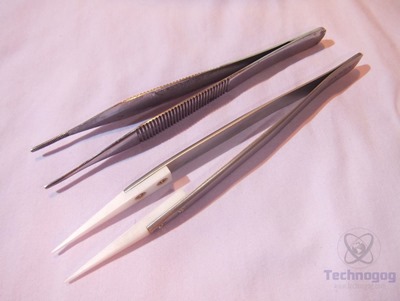 Conclusion
You might think a pair of tweezers aren't that exciting, but a quality product is, and these are very well made and of high quality.
Yes these are sold for vaping uses, but they can be used for much more. I am a smoker but not into vaping, yes I've tried ecgis but not the more customizable ones but from what I understand these would be perfect for your vaping needs.
These tweezers would be great for electronic and computer uses as they are non-magnetic and non-conductive. I've used tweezers for soldering and regular metal ones will conduct heat but these are ceramic making them heat resistant which means they shouldn't conduct heat through them. You can hold a wire for example while you're soldering it safely making the job easier of course.
For me personally these have earned a permanent place in my toolbox with my other computer and electronic related tools.
No matter what you're going to use them for these are an excellent pair of tweezers and well worth the money.

Pros:
+Very well made
+Non-conductive
+Heat resistant
Cons:
-None
| | |
| --- | --- |
| Grading | Scores Out of 10 |
| Overall | |
| Design / Aesthetic | |
| Value / Price | |
| Performance / Usage | |
Disclosure: This product was given to us for review by the company for review purposes only, and is not considered by us as payment for the review.
To learn more about our review policy please visit this page HERE.