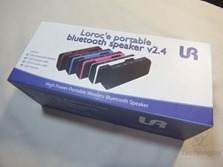 Up for review today I've got a great speaker from a company called Loroc'e and it's a Bluetooth speaker yes, but it also has line-in and even a microSD slot to play MP3 files, alogn with an FM radio and there's even a standard USB port so you could charge your phone in an emergency from the 4000mAh internal battery. The sound quality is amazing from this little speaker, it can get very, very loud and still stay clear. Read on to learn more…

Specifications and Features
On the front of the speaker is the Loroc'e logo along with a metal speaker grill behind which you can somewhat see the two speakers. The speaker is about 6.25 inches long and slightly less than 2.5 inches tall and just a bit more than 1.25 inches thick. The speaker feels very well made and sturdy overall, the metal grill will protect the speakers so you can safely just toss it in your bag and not worry. There's also a blue LED behind the grill off to the right side that indicates Bluetooth and charging.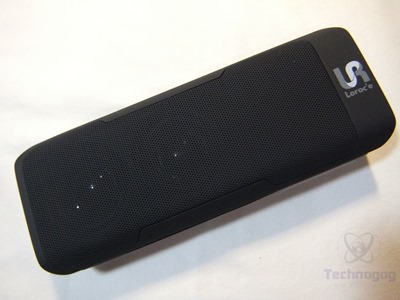 On the back is another speaker grill or cover which is metal as well and behind it you'll find the subwoofer and then there's a small id label there too.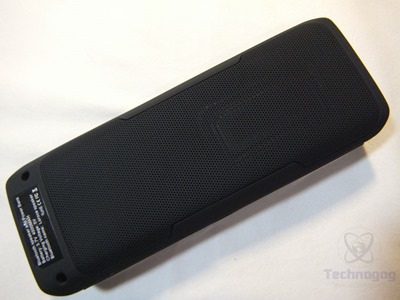 On the top you'll find the buttons but they aren't really buttons as they're touch sensitive. They are controls for skip back/volume down (short press skip, long press volume), play/pause (answer/end calls), skip forward/volume up and then FM radio and keyboard lock or actually it's button lock but it's also to change mode between FM, Bluetooth, Line-in and microSD card. To lock the keys you need to press the button for at least three seconds. Off to the right side are four bars that indicate battery level in 25% increments.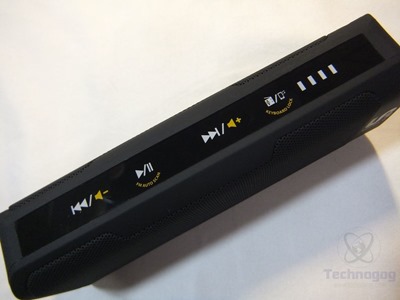 The bars light up blue to let you know the power level of the internal battery which powers the speaker and can provide power to other UBS devices.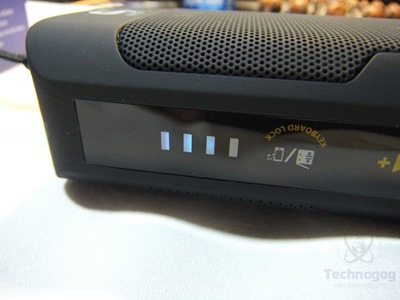 On the side you'll find the 3.5mm audio port so you can plug in other devices that might not have Bluetooth. There's a standard USB port there so you can charge your phone or other gadget if need be and then the on/off switch is there as well. There's also a microUSB port for charging the internal battery and then there's a microSD slot so you can use the speaker as an MP3 player without Bluetooth or line-in.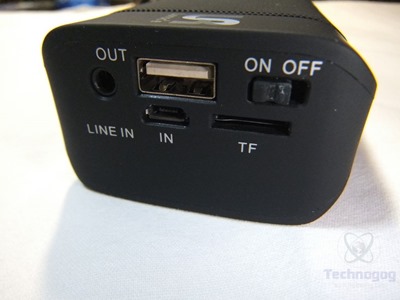 On the bottom of the speaker is a solid anti-slip rubber strip so the speaker will stay where you put it and it shouldn't vibrate itself off the surface you put in on either.
I've used this speaker with my Samsung Galaxy S6 phone Android tablet and a Windows 10 tablet, in fact I used it with my Windows tablet more often as the speaker just isn't that loud. I like to watch Netflix while I'm in the kitchen cooking and the built-in speaker just can't be heard across the kitchen and with water running etc, it's just too low unless it's very quiet.
I used both Bluetooth and wired connections and had no problems with connecting to any of my devices. Obviously the controls on the speaker did not work with my Windows tablet but they worked fine with both Android phone and tablet.
I have to say I was amazed by the sound and by just how loud it could get for such a small speaker, I could hear it upstairs and clearly. The actual sound quality is excellent, it's clear and perfect really, there's a good balance of bass and treble and it was clear at even high volume levels.
The FM radio function is a neat addition and the antenna is internal but I was surprised by just how many channels I got clearly as I have a radio station near so it tends to drown out other weaker signals so I don't get as many usually without an external antenna. To use the FM radio you just need to tap the radio button and it will automatically scan for signals or you can manually scan by pressing the skip buttons.
The only complaint I could have about this product is that the touch buttons are overly sensitive, just lightly brush them and they'll activate.
Conclusion
All in all the Loroc'e Bluetooth speaker is very well made and it just sounds excellent at all volume levels and it can get really loud.
The buttons are bit overly sensitive but it won't stop me from recommending it as you can always lock the keys so you don't press them accidentally.
This is the type of speaker that would be great to take with you on an outing for the day or even camping to have music and extra power if need be.
Pros:
+Very good sound
+Very well made
+Clear sound even at high volume levels
+Small and portable
+MP3, Bluetooth and wired connections along with external battery
Cons:
-Touch sensitive buttons are overly sensitive
| | |
| --- | --- |
| Grading | Scores Out of 10 |
| Overall | |
| Design / Aesthetic | |
| Value / Price | |
| Performance / Usage | |
To learn more about our review policy please visit this page HERE.