A little bit ago I took a look at a home humidifier that works fine but today I've got another one that's a humidifier yes but it's portable and more for a single small space like around your desk or even in your car. The product is a portable USB powered humidifier from a company called Pretty Care and it works great, it's silent and it lasts all days or about eight hours. Read on to learn more…
Specifications and Features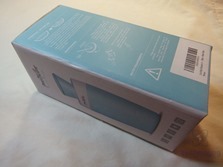 Once you unpack the box you'll find the bottle and vaporizer wrapped in plastic for protection along with a micro USB cable, user guide and and extra cotton filter or wick on the side. The USB cord is about 40.25 inches from tip to tip which should be long enough for most uses and placement I would think.
The humidifier or vaporizer just slides into the cup but you don't need to use the cup you can use any water source like any other bottle or cup. The bottle and humidifier is made of plastic and the bottle itself is semi-clear, you can see through it enough to check the water level. The bottle is about 5.5 inches tall from the bottom to the highest part at the top as it's not flat but curved or angled on the top. The humidifier section or wand as I like to call it is about 6.75 inches long from tip to tip and again this is curved and angled as well to sort of match the bottle. I should note the bottle is in two sections, the top white part and the bottom blue part and they can come apart to make cleaning and filling easier. The cup can hold 1 and 1/3 cups of usable water, I say usable as you can fill it up more but when you put the wand into the bottle it will overflow if you use more than that.
On the top of the vaporizer section is a small metal disc, this is where the cool mist comes out. On the front side is the power button to turn the humidifier on and off. The micro USB port to power the humidifier is on the back of the wand.
Towards the bottom of the wand or stick you'll see a cut-out section showing a spring and part of the cotton wick which is used to pass the water from the bottle to the humidifier section to create the mist. The top section of the wand can come off easily, it's just a twist lock, so you can replace the cotton wick which you're supposed to do every three months. Before first use you should soak the cotton wick in water and this is easiest done by removing it from the wand and putting it into a glass of water and then putting it back into the wand.
When powered on the mist is comes out the center of the top and it is visible. The ring around the top of he wand is an LED that lights up blue when it's active and then red when it's empty or not in use. It does power off totally once it's empty or not used for a length of time.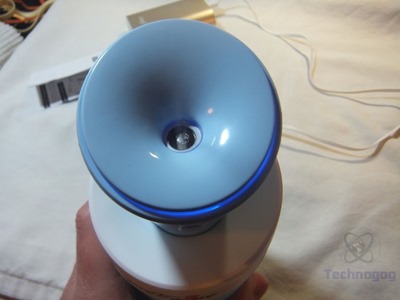 Conclusion
I've been using the Pretty Care humidifier for almost a month now, 28 days, and I've been using it daily, filling it up at least once sometimes twice but it's been used at least once per day and I've ran into no problems with it other than having to clean it a few times now. The water in the bottle lasts about six hours from my uses which is fine for me, I didn't expect it to last that long honestly.
You should use purified water with any humidifier really but if you're tap water isn't hard you can use that but there still will be mineral deposit build up on the top which will be visible on the top silver part and less mist will come out. It's easy to clean, I just used a cotton swab and some white vinegar and it dissolves the mineral deposits, it takes about five minutes to clean it really. Just a little vinegar on the cotton swab and rub it on the deposits until it's gone, then just rinse with clean water on another cotton swab and you're done. I've done it twice now and it's due to be cleaned again, cleaning it three times in about a month isn't bad in my opinion.
The humidifier is silent, you really can't hear it unless you're a couple inches away so using it at night while sleeping isn't a problem or having it near you while working won't cause distraction.
Since it's USB powered you can plug it into your computer and have the cool mist right there at your desk or workspace but you could also use it in your car if you wanted to as long as you had a USB adapter of course which I think these days most people do have. Personally I used it with one of the many portable batteries I have and I like this option the best as I can place it anywhere I want in the room and even take it to other rooms with me and not be limited to just having it hooked to the computer at all times.
All in all I like this little humidifier but the only thing I don't like is the name Pretty Care, it's just not what I would call manly. My son thinks it's funny and immediately made fun of it and still does every time he sees me filling it up. Not a big deal in itself but I just had to mention it.
Other than the name I really can't find anything wrong with this, I've used it daily for almost a month and it works fine, it's silent and it lasts a long time on one fill up.
Pros:
+Silent
+Easy to clean if need be
+Easy to use
+USB powered
+Lasts all day
+Can use with or without included bottle
Cons:
-Don't care for the name personally
| | |
| --- | --- |
| Grading | Scores Out of 10 |
| Overall | |
| Design / Aesthetic | |
| Value / Price | |
| Performance / Usage | |
To learn more about our review policy please visit this page HERE.