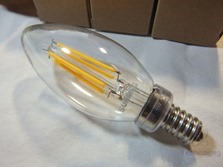 I've got a quick review for you today of some LED light bulbs but these are a little bit different than others as these are LED filaments instead of single square LEDs like you most people think of when it comes to LEDs. You may have noticed I like LED lights and that's a good thing I think as they're very popular and they're less expensive than regular incandescent bulbs are to power. Getting bulbs like these for review and other LED products let's me see how things are changing and evolving and they're getting better all the time as the technology improves. The bulbs I have today for review are a set of six that are 40watt equivalent to replace 40watt incandescent bulb but they only use about 3.5 watts of power each. Read on to learn more…
Specifications and Features
The bulbs are what I would call the candelabra style that you would typically find in a chandelier which is what I use them for as I've got two chandeliers downstairs in my home and actually another upstairs. The bulbs have four long LED filaments in them which provide the light and it outputs it in a 360 degree radius to light up the entire room well.
I have before and after pictures for you. I had five regular 40 watt bulbs in my chandelier before these arrived and these LED bulbs are 40 watt equivalent so it makes for a good comparison. The color of the LED bulbs is 2700K or soft white which is more of a yellow light and that's basically the same as the incandescent bulbs as well. The LED bulbs actually seem brighter to me, the long filament seems to put out more light than the filament of the incandescent bulbs. The bulbs also look more full of light, the incandescent bulbs have an empty spot near the tops, they look like only about half the bulb is light really whereas the LED bulbs really look full of light with just a very small space at the top being empty.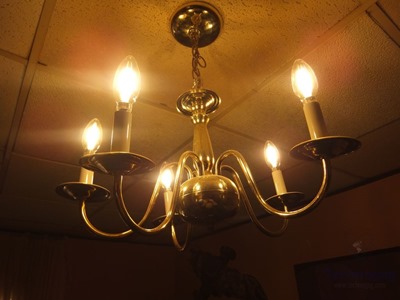 Conclusion
A 40watt incandescent bulbs basically uses 40watts of power and I have five of them in my chandelier which means 200watts of power being used when I turn on the light. These LED bulbs though only use about 3.5watts of power each so that would only be about 17.5watts of power being used as opposed to the 200watts being used with the incandescent bulbs. I've been using them for about a month now and they seem to be working out just fine, they're nice and bright and seem to provide the same amount of light as the incandescent bulbs I had installed before I got these.
As far as price, these are $36 for six bulbs or $6 each which I think isn't too bad when you look at the price of other LED bulbs on the market today.
As far as longevity, only time will tell as it were. I got another set of LED bulbs that I liked but after two months one of them died and then the next month another died, so two out of five went bad within three months and they definitely should have lasted longer than that. These I've had installed for almost one month now, in three days it will be a month actually and they work fine, nice and bright, no issues so far. Tentatively I can give these bulbs a good score, but I'll edit the review if things change as needed.
Pros:
+Inexpensive
+Very bright
+Uses less power
Cons:
-None so far
| | |
| --- | --- |
| Grading | Scores Out of 10 |
| Overall | |
| Design / Aesthetic | |
| Value / Price | |
| Performance / Usage | |
To learn more about our review policy please visit this page HERE.