Up for review today I've got another LED flashlight from a company called SeresRoad and it claims to be 900 lumens in power but I don't think it is, the light is bright yes and it's well made overall. The light can be powered with three AAA batteries of a single 18650 rechargeable battery but none are included. The light is water resistant thanks to O-rings at the front and back of the light. Read on to learn more…

Specifications and Features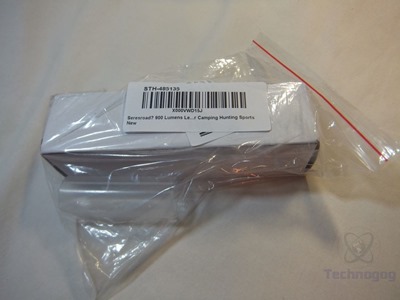 The SeresRoad light is black in color and one side has the SeresRoad logo while the other says XML-T6. The body has a knurled texture for grip and it's all made of aluminum alloy making it lightweight and fairly durable.
The flashlight Ii s slightly longer than 5.25 inches in length when not extended, when you extend the front section the light is about 6 inches long, but it can vary as the light can be focused by sliding the front section in or out. On the back is a rubber push button tail switch that can change the light modes which are high, medium, low, strobe and SOS, each click changes the mode.
The back tail comes off to reveal the battery compartment and inside you'll find an adapter so you can use three AAA batteries for power. The front lens cover comes off as well, it just unscrews. I took the front and back off really to check for O-rings and I found them on the front and back to help keep water out when you're using the light outdoors.
Conclusion
The SeresRoad light is really just like countless others available to purchase, it's just been rebranded like many companies do. For what it is, it's a fine basic light, it seems well made and it is water resistant thanks to the included O-rings on the front and back.
The light is bright yes, but it's not 900 lumens, I've got numerous flashlights and if it was 900 lumens it would be one of the brightest I have and it's not.
The light can use three AAA batteries or a single 18650 rechargeable battery, none of which are included. You can get similar lights at this price point that do include an 18650 battery and charger so I'm not sure why one wasn't included with this light.
Pros:
+O-rings for lens and battery compartment
+Seems well made overall
+Bright and adjustable
Cons:
-Not 900 Lumens
-No batteries included
| | |
| --- | --- |
| Grading | Scores Out of 10 |
| Overall | |
| Design / Aesthetic | |
| Value / Price | |
| Performance / Usage | |
To learn more about our review policy please visit this page HERE.