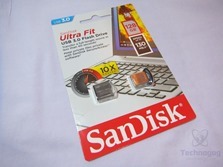 Up for review today I've got the third USB 3.0 flash drive in my little series of reviews. This one is a massive 128gb in capacity but yet it's tiny in size. The drive is called the Ultra Fit and it's from SanDisk and I've tested it and it's fast, very fast and I compared it to the other USB 3.0 flash dries I've got on hand. Read on to learn more…

Specifications and Features
SanDisk Ultra Fit 128GB USB 3.0 Flash Drive (SDCZ43-128G-G46)
SANDISK ULTRA FIT USB 3.0 FLASH DRIVE
SO SMALL YOU HARDLY KNOW IT'S THERE. SO FAST YOU BARELY HAVE TO WAIT.
This ultra-small, low profile drive stays put for extra storage, or moves media super-fast between devices. Enjoy performance speeds up to ten times faster than USB 2.0 drives, transfer a full-length movie in less than 40 seconds.
STAY-PUT STORAGE FOR ALL YOUR DEVICES
Extend your storage capacity by up to 128GB3 with this tiny, unobtrusive USB 3.0 flash drive. Connect it to hard-to-access TV USB ports for video playback or let it ride along in your notebook or car audio system wherever you go.
MOVE MEDIA SUPER-FAST WHEREVER YOU GO
The wait is over with high speed USB 3.0 performance. Now it's easier than ever to share your videos, photos and music collection among devices. Transfer a full-length movie up to 10 times faster than standard USB 2.0 drives.
KEEP YOUR PRIVATE FILES PRIVATE
The SanDisk Ultra Fit USB 3.0 Flash Drive comes with SanDisk SecureAccess, which creates a password-protected private folder on your flash drive. Your private files are protected with 128-bit AES encryption, so you'll be able to share your USB drive without compromising your privacy.
RECOVER LOST OR CORRUPTED FILES
With a year's free subscription to RescuePRO 5 software, you'll be able to get back that file you didn't mean to delete.
Read Speed: up to 130MB/s
Operating temperature: 32° – 113°F (0° – 45°C)
Item Weight: 0.2 ounces
Item Dimensions: L x W x H    0.34 x 0.64 x 0.75 inches
Price: $37.44 (from Amazon at time of review)
The Review
The  Ultra Fit comes packaged with just a a cardboard card with lots of information on it.
Inside of the pack you'll only find the flash drive and cover. The drive is tiny at about .75" x .5" by about .25" thick. One side has the markings USB 3.0 and 128gb on one side and the other just has ID markings, the back end has the SanDisk logo in red with what looks like a carbon fiber patter and a small hole for a lanyard or keychain.
The end does have a small red LED in it to indicate activity, it will blink when accessing.
On the drive is software, SanDisk Secure Access and I'll be honest I did not test it as I've got no use for it, but it allows you to secure you files cryptographically and there's a PDF about saving our files to the cloud included as well.
I started my testing with Atto Disk Benchmark and compared USB 2.0 to USB 3.0 as I was curious.
Speeds for USB 2.0 maxed out at 20MB/s write and 40MB/s read which isn't bad at all for USB 2.0.
Speed for USB 3.0 maxed out at 75MB/s for write and 143MB/s for read which is very fast in my opinion, at least it's the fastest USB 3.0 drive I've come across so far.
I then ran Crystal DiskMark to check the speeds of USB 3.0 and hit 142MB/s for read and 42MB/s for write.
I then ran DiskBench for the write test using files and folders of different sizes for testing. A video file at around 900mb, an ISO file at about 3.2gb and a full folder with 874 files and folders in it at about 3.2gb. I got between 21MB/s and 32MB/s for the write speeds, the speeds varied on what I was transferring. A single large file was the highest, with a single small file being the second fastest and then multiple files and folders being the slowest.
I have the Kingston 16gb DataTraveler microDuo USB 3.0 drive and the Corsair 16gb Flash Voyager Mini and was curious to compare them.
I used the Atto Disk benchmark test results for the comparison and the SanDisk Ultra Fit drive just blew them away in terms of speeds.
The results were for max speeds reached:
Kingston 12MB/s write and 115MB/s read
Corsair 10MB/s write and 82MB/s read
SanDisk 75MB/s write and 143 MB/s read
The Ultra Fit is easily the fastest drive of them all obviously.
The is one major drawback to this flash drive and that's heat. I used a non-contact infrared thermometer to measure the temperatures during my testing. I actually used two of them to compare the results to make sure they were the same as I was a bit surprised by the results.
Ambient room temperature was 77F during the testing. At one point during my testing the outside temperature of the flash drive reached 119.5F as the max temperature.  The average temperature though was in the low 90s which isn't too bad. The main problem is that was the outside surface temp, the inside temp has to several degrees higher I would think and that high heat can't be good on the flash drive itself.
I should not the whole drive didn't hit 119.5F in temperature, just the spot I was measuring, but other parts of the drive were very hot as well. I should also note that once I stopped testing the drive did drop in temperature fairly fast. I don't think heat should be issue as far as touching it when it's hot as it does cool itself off fast, but I wouldn't recommend holding the drive while it's running that's for sure. I did grab the drive when it did read 119.5F and I didn't get burned or anything, yes it was hot, but not painfully so. I have a higher tolerance to heat with my hands though from working in kitchens for many years, so it could just be me.
As a side note though you won't be using the drive like I'm using it. I run each test five times to make sure the results are the same so that's a lot of use on the drive in a short span of time and this will cause the drive to heat up obviously. During normal usage the drive should not heat up that much, I least I wouldn't expect it to and it didn't for me.
Conclusion
There's no doubt the SanDisk Ultra Fit is a fast flash flash drive, I'm impressed by the speeds really. The other two drives I've got pale in comparison to the Ultra Fit, there's just no contest here as to which is the winner.
The drive is small and very portable, it might be a bit too small really, I'm afraid I'll misplaced it honestly. It does seem well made overall and the protective cover is a nice addition.
I've listed 'tiny' as both a pro and a con because it is really. Yes it's nice that it's small and portable, I like that about it but being so small seems to cause some heat issues. I would have been happier with this flash had they even just doubled the size of it, it would still be small but it would dissipate heat much better than it does now.
Yes the drive is fast but the heat issue is a big problem. I guess if you don't use it for prolonged periods of time like I've done then everything will be fine. I don't really think people will be transferring/testing as much I've done in such a short period of time so it should be ok I would think.
Pros:
+Tiny
+Very fast read and write speeds
+Includes cover
Cons:
-Tiny
-Can get very hot under load
| | |
| --- | --- |
| Grading | Scores Out of 10 |
| Overall | |
| Design / Aesthetic | |
| Value / Price | |
| Performance / Usage | |
Disclosure: I purchased this product for my personal use and thought a review would benefit other consumers in making an informed purchasing decision.
To learn more about our review policy please visit this page HERE.