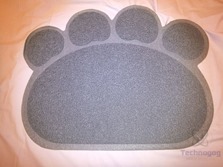 We've been doing a lot of home related things and few pet accessories as well for dogs but today I've got one for the cats. Yes I have two dogs and two cats and if you have cats you have litter for them and you know they seem to track it all over the place in your home. A company called Two Meows has sent over their Paw Shaped Litter Mat for my review and it's purpose is to reduce the amount of litter your cats track around by trapping it in the mat itself. The mat is very cute, it's paw shaped and it really does seem to work. The mat has a mesh top that is soft but yet grabs the littler from your cats paws thus stopping it from being tracked around your home. I like it, not a bad product at all. Read on to learn more…
Specifications and Features
Two Meows Cat Litter Mat – Traps Litter – Soft on Paws
Experience The Litter Catching Power Of The Two Meows Cat Litter Mat
You Won't Find A Higher Quality, More Meow Friendly Litter Catching Mat On The Market
Your search for the perfect large cat litter mat is finally over. When you purchase Two Meows cat litter catcher mat with scatter control today here's what you should do.
When your colorful cute paw shaped mat from Amazon arrives at your door, take it out and admire all the characteristics that will make this one of the last litter mats you'll ever need to own.
Now place it in front of your litter box, or if your meow has a favorite non-traditional exit from the box place it there. If he/she uses multiple exits use a mat for each side.
Marvel at how effective it is at capturing litter right off your cats paws. Watch your cats enjoy walking across the soft and squishy material kneading their paws on it and sleeping on it, stories shared with us by other customers.
What separates Two Meows cat litter mat with scatter control from competition? It's simple. It starts by how we selected high quality premium material to most effectively prevent litter throughout your home while keeping your cats happiness in mind. This is what makes up our exclusive TM-7 litter catching system.
The TM-7 technology in the Two Meows mesh design is truly scientific. Others have attempted this type of weave however the results are a stiff mat that can be rough and abrasive on your cat's paws.
Product Dimensions: 18 x 22 x 0.1 inches
Price: $19.97 (from Amazon at time of review)
The Review
Let's start with a video for you and then more on:
There is no box for the Two Meows Litter Mat, it's just in a plastic bag with a cardboard tag attached to the mat itself. Not a big problem, it's basically a rubber mat so no real packaging is needed as it's not breakable so the plastic bag works fine. Inside of the package is a sheet of paper with a little about the Two Meows company and registration information. If you register your mat you'll get a two year extended warranty and get a free eBook. There's also a link to the Two Meows YouTube channel that features tips about taking care of your cats and more.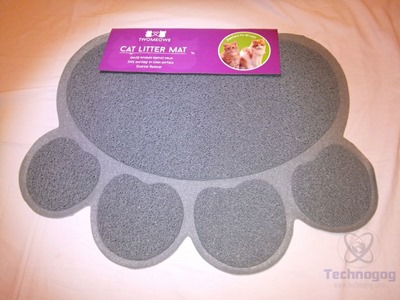 I have to say the mat is cute and that's the first thing my wife said when she saw it too. It's paw shaped, you can't get much cuter than that right? The mat is fairly large at 18×22 inches and it's less than an inch thick but it does seem well made overall.
The top of the mat is what they call TM-7 technology and it looks like a squiggly mesh, but it's very soft and squishy. it should be very soft on your cats paws and the mesh material catches or grabs the cat litter from their paws and stops it from being tracked around the house.
The back of the mat is a non-slip rubber so it will stay in place where ever your put it
So I've been using the Two Meows litter mat for my cats and no it does not catch 100% of the litter they track out, but I didn't expect it to honestly, nothing works 100% really. It does however catch a lot of it, a large percentage of the litter they track out of their boxes, which is a good thing obviously as this means there's less litter mess to clean up around your house. I would have to say it works as advertised and I'm happy with it.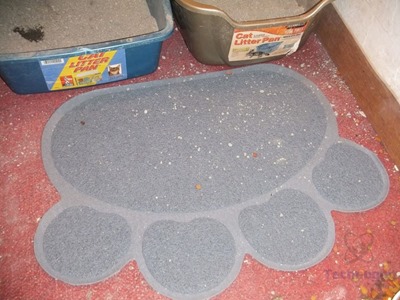 Conclusion
When it comes to pets most people treat them like family and that means we take care of them any way we can and that of course includes accessories for them like a litter mat. Sure it's not needed exactly and it's not really for them but it's something worthwhile as it helps eliminate the stray littler all around your home that your cats will tend to track with them. Keeping the litter off your floor will make you happier and let you enjoy your cats even more as there's less mess to clean up after them.
Sure it doesn't catch all the litter but it does catch a lot of it that will make a difference in your life. I used to have a trail of litter in the hallway, a few pieces here and there but now I really don't. I don't wear shoes in the house, it's just more comfortable for me, and if you've ever stepped on litter in your bare or socked feet then you'll understand what I mean when I say it's rather annoying. In your bare feet especially as it sticks, but in socked feet it can hurt and stick too and you'll track it around the house farther.
The Two Meows Paw Shaped Cat Litter Mat can make your life a littler easier and cleaner that's for sure and it may even make your cats happier too.
My cats didn't seem to mind the new mat at all, it was no bother to them, they walk over it just like it was the floor.
All in all I like the Two Meows Cat Litter Mat, it's cute, it's well made and it does seem to work well at keeping the cat litter from spreading around your home.
Pros:
+Cute
+Seems to work
+Well made
Cons:
-None really
| | |
| --- | --- |
| Grading | Scores Out of 10 |
| Overall | |
| Design / Aesthetic | |
| Value / Price | |
| Performance / Usage | |
Disclosure: This product was given to us for review by the company for review purposes only, and is not considered by us as payment for the review.
To learn more about our review policy please visit this page HERE.