Are you a T-Mobile or AT&T Customer in need of a new phone? If so then I've got a a nice one for you for free. Samsung was kind enough to give me five phones to give away to our faithful readers, three for T-Mobile and two for AT&T. The first giveaway will be for the Samsung Gravity T for T-Mobile and it's going to be easy to win it. The contest will run from today, Friday September 3rd, until Thursday September 9th. The second phone will be the Samsung Flight II for AT&T, and that contest will run until September 30th. So read on to learn what you need to do to win one of these phones.
Here's some info about the Gravity T:
On the one hand, the Samsung Gravity T is a premium touchscreen phone. In the same hand, it's also a powerful messaging phone with slide-out QWERTY keyboard. Equally stylish and affordable, it gives you a full suite of messaging features, 2MP camera, email synchronization and customizable web widgets, not to mention a world of other features.
Size:
Weight: 4.23 ounces
Dimension (HXWXD): 4.29? X 2.23? X .59?
You'll get the charger, battery and phone.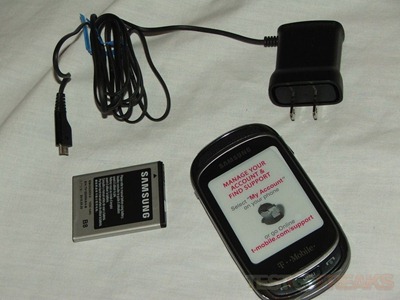 There was no manual in the box, sorry not my fault, but you can grab it in PDF format over on the Samsung site here: http://www.samsung.com/us/consumer/mobile/mobile-phones/t-mobile-phones/SGH-T669AAATMB/index.idx?pagetype=prd_detail&tab=support
To get this phone all you have to do is leave a comment telling me:
Why you want it!?
What phone do you have now?
What do you like about the Gravity T ?
Remember this contest will end on Thursday the 9th and next Friday the 10th I'll announce the winner in this post and in the comments and I'll email the winner. Make sure you leave a valid email address so I can contact you.
********************
THE WINNER OF THE GRAVITY T IS Hailey.
Check Your email so you can send me your shipping info so I can get your new phone sent to you.
********************
——————————————————
——————————————————
——————————————————
FLIGHT II:
… and the second contest is for the Samsung Flight II:
Info about the Flight II: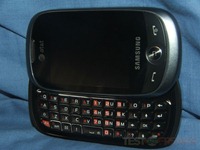 best of both worlds.
* Full Touchscreen Meets Full QWERTY Keyboard
* Fast and Easy Messaging
* Mobile Web Meets Mobile TV
* Complete Multimedia Package
When it comes to both messaging and entertainment, the sky's the limit with the Samsung Flight II. It features a slide-out full QWERTY keyboard that helps you easily message every which way possible, while its touchscreen puts you in touch with your favorite TV shows and websites. Attractively designed and very affordable, the Flight II also features a 2.0MP camera, music player and variety of social networking apps. Get the best of both worlds, and the best of everything in between, too.
Size:
Weight: 3.5 ounces
Dimension (HXWXD): 4.4" x 2.1" x .5"
You'll get the documentation, battery, charger and USB cable: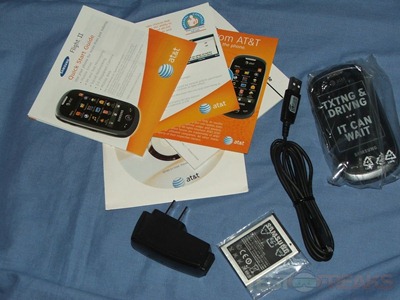 To win the Flight II: Look over on the right side there, you'll see a section titled 'Top Commentators', it keeps track of the top ten people that leave the most comments. At the end of the month on the 30th of September, we'll select one of those top ten commentators to get one of the phones. Please keep the comments real and constructive. You can comment on anything, the review, the PR, whatever posts you want.
When you're commenting please be sure to leave a valid email address so I can contact the winner to get their shipping information.
The contest for the Samsung Flight II will end on September 30th.
–

We would appreciate it if you would follow us on Twitter and re-tweet about the contest. If you don't have Twitter, then you could always let your friends know via FaceBook or your blog or wherever and however you can.
–
Also if you use RSS, don't forget to subscribe to our feed so you don't miss anything!!
You can read our review of the Gravity T HERE.
You can also find more reviews of the Gravity T on our main site HERE
You can read our review of the Flight II HERE.
–
These phones are for T-Mobile and AT&T so the contest is only open to United States residents, and of course you'll need to have an account with T-Mobile or AT&T to use the phones. Or I guess you could get a new account with them as well if you wanted to.
–

And I would like to thank Samsung, for without them I wouldn't be able to be giving these phones to to you!
Check out Samsung Mobile: http://www.samsung.com/us/consumer/mobile/mobile-phones/index.idx?pagetype=type