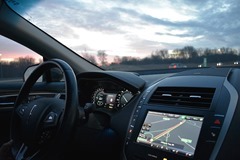 GPS tracking. It sounds like something from a spy movie. But, it's a real and valuable to run any business that relies on transportation or that has crucial vehicular assets. GPS tracking enables a small or large business to monitor the activity of its assets, improving scheduling, efficiency and safety for the vehicles and their operators. Tracking can apply to cars and trucks as well as other powered equipment.
What is GPS Fleet Tracking?
GPS fleet tracking refers to the use of a device carried in a vehicle or piece of equipment that uses the Global Positioning System to track its location remotely and in real-time. The equipment, using its associated software, can pinpoint the exact object location, often down to latitude and longitude, as well as ground speed, course direction, and travel time.
A company using a GPS tracking system gains the overall benefits of increased productivity, reduced operating costs and improved customer satisfaction. More specifically, GPS fleet tracking can:
-Route drivers more efficiently, as well as avoiding traffic delays, saving time and fuel.

-Reduce fuel-wasting behaviors including excessive braking and idling.

-Improve maintenance, thus extending equipment lifespan.

-Improve dispatching and arrival schedule reliability.

-Achieve compliance with fleet management regulations.

-Enable tracking fleet performance over time.

-Keep tabs on vehicle location and driver performance, enhancing security.

-Prevent out of area equipment usage.

GPS tracking can be highly useful in fleets of all sizes for such business types as:

-HVAC, plumbing and electrical service companies

-Tow truck companies

-Construction companies

-Package delivery and courier companies

-Police, firefighters and other emergency organizations

-Fuel distribution companies

-General freight truck haulers

-Local service operations, such as carpet cleaning, mobile pet grooming, and more
What are the Best Systems Available for Small Business?
Effectiveness for small businesses in their fleet and equipment management is the key objective. But to attain this objective, it will be important to look for the right features; features that will reduce costs, boost profits and contribute to good asset management. Consider these:
-Vehicle tracking. This is the "foundation stone" of fleet tracking, providing constant awareness of where vehicles, equipment and drivers are located so that management can get them to the right places at the right times.

-Mobile apps. The nature of transportation and fleet equipment is mobility, so it is essential that both drivers and managers have a mobile app that will facilitate communications and improve productivity.

-Two-way messaging capability. Having integrated two-way messaging will facilitate the constant two-way communication that takes place between dispatchers and drivers.

-Automated scheduling. This lets drivers know where they are going and on what schedule, with jobs arranged in the most cost-efficient way and accompanied by important customer delivery details.

-Route optimization. A system that routes efficiently to begin-with and can change driving directions as traffic conditions change will help drivers stay efficient throughout a trip.

-An effective system will alert fleet management when events happen—in real-time. Alerts include those for speeding, idling, accidents and unexpected delays.

-Data is powerful, and the data available with fleet tracking will help make better fleet management decisions. Robust reporting tools will help management to understand and manage their fleet.

-Utilization measurement. Knowing what equipment is being used, how often and for how long will help fleet managers make the best decisions about efficient vehicle and equipment usage.

-Driver monitoring. GPS fleet tracking provides information on vehicles and how they are being driven, so management can hold drivers accountable, correct behaviors can be trained, and problems corrected. Thus, vehicle downtime, injuries and possible lawsuits can be avoided.
The best systems available for small business include these:
–US Fleet Tracking. US Fleet Tracking has been in business since 2005 and proclaims itself "the number one manufacturer and provider of live vehicle tracking systems in the world." Their features start with a mobile app for on-the-go checking, including traffic and weather information. Their system provides aggressive driving and speed alerts, geofence alerts, maintenance alerts, idle alerts and ignition alerts. Other features offer full route set-up, electronic logging, fuel card integration, service call integration, and live technical support. Equipment integration features remote start, locks and kill switch. A robust reporting platform includes numerous alerts, mileage data, device input activity and activity reporting like job completion verification.

–Onfleet. Onfleet provides an easy-to-use system with simple to operate software. Their approach is touted to make it easier to manage "last mile" deliveries and includes intuitive routing, dispatching, real-time tracking and a full suite of analytics. Features include a comprehensive dashboard, with real-time alerts, automatically delivered text messages to customers, route optimization, accurate ETA's, integrated apps and full customer support. Drivers can easily contact delivery recipients to collect proof of receipt.

–Fleet Manager by GPSTrackit. Fleet Manager by Trackit offers a full-featured GPS tracking system for a value price. Features include mobile access with constant coverage and communication. Automated scheduling, dispatching and reporting headline the key features. A full complement of alerts and diagnostics are offered including fleet routing and tracking, monitoring of driver reports, vehicle diagnostics, vehicle maintenance reminders, geofence alerts and hour logging.

–GPS Insight Fleet Tracking Solution. GPS Insight Tracking solution offers three fully functional tracking systems–Standard, Pro version and Enterprise versions. The Standard version is designed to service fleets of one to 25 vehicles. It includes a mobile app, with custom map icons, fuel integration and engine diagnostics. A full set of communication and reporting features includes email and text alerts, mapping, hours of service, historical data, dispatch and routing.

–GPS Technologies. GPS Technologies offers a series of impactful tracking approaches tailored to the equipment to be serviced. Those include a fleet tracking system that provides live GPS tracking with minute-by-minute vehicle monitoring and information and an asset tracking system that is perfect for any piece of equipment, both to track location and to retrieve the unwanted theft. The fleet tracking system is fully functional with complete monitoring and data provision including detailed activity reports with speed, mileage, location and stops. Alerts regarding driver habits and geofencing are included. All of these and more come with sophisticated features, compact tracking unit size and value-oriented pricing.
Securing a GPS Fleet Tracking Option
Get the fleet tracking system that will up your fleet management game to a great new level. Contact GPS Technologies for the best choice in GPS fleet tracking systems, the lowest monthly fees, built-in antennas for superior GPS sensitivity, flexible plans and great service support.