On November 27, 2009, people will be flocking to the stores looking for the best deals this Black Friday… hoping to find just the right gifts for family and friends this Christmas. This holiday season we are helping you take the guess work out of your post Thanksgiving Day shopping.
If you're like me, you do a lot of research before making a major purchase (well, in today's economy – any purchase).  I like to find reviews on products I'm interested in and price comparisons – where can I find the best deals.
And after you've done your research and ready to go shopping this Black Friday you can feel a bit safer in knowing that many U.S. stores will be open 24 hours.  This is to help with crowd control and keep shoppers safer.
So this Black Friday be prepared by knowing what it is you want and feel confident you are getting the best product for your money.  Just click on the product name and it will take you to our product information page where you'll find all the information you'll need to make an informed decision.  Including expert reviews and user (just like YOU) reviews.
Computers
Computers are a major shopping category this time of year.  From desktops, laptops and netbooks to computer accessories like mouses, scanners and printers are on many Christmas wish lists.  FYI, often times the term netbook and laptop are used interchangeably – nowadays, netbooks have larger keyboard space. Here are a few things that may be on your list:
Netbooks, Laptops and Notebooks
Asus Eee PC 1000HE – If you or someone you know is in the market for a netbook this Christmas, the Asus Eee PC 1000He is just the netbook to fit the bill.  Compact, lightweight and a long battery life are key selling points with this Asus mini notebook.  Oh, by the way, this just so happens to be on my Christmas wish list.
Toshiba NB200 – Looking for a good netbook or laptop for a student?  The Toshiba NB200 has a nice sized functional keyboard, good battery life and it's compact in size – perfect for the life of a student.
Acer Aspire Revo R3600 – If you have the budget and wanting the best nettop computer your money can buy… the Acer Aspire Revo R3600 is it. It's a desktop system based on netbook technology – offering low cost and low power.  I feel confident in saying that the person who opens this gift up on Christmas morning will be one happy guy or gal.
Logitech G500 – Is aimed at the gamer guys and gals but the Logitech G500 mouse is a nice mouse to have on any desktop.  If you're in the market for a new mouse Logitech is a trusted and well-known brand.
Dell Ultrasharp 2209WA – If your job entails extensive work on a computer, it would be very advantageous to have dual monitors to increase user performance; and the Dell Ultrasharp is a great monitor for just that purpose.  Not to mention you can watch a movie or do a little gaming on your Dell Ultrasharp 2209WA while you are doing your work on your other computer.
Samsung SyncMaster 2333SW – Is another great monitor that is a bit more budget friendly than the Dell Ultrasharp.  This 23" monitor will make a great Christmas gift for the tech person in your life.
Logitech Quickcam 3000 – Is a nice webcam for those who don't have a laptop with a built-in webcam.  With a webcam you can use a program like Skype to talk with family, friends and business associates.  If you are interested in doing podcasts or vlogs, the Logitech Quickcam 3000 should be on your shopping list this Holiday season.
Home Audio
Home audio is another category that makes good Christmas gifts.  Check these out for some good ideas before you go fight the crowd this Black Friday:
Panasonic SC-BT200 – Guys if you're looking for a great home theater system to watch football, basketball, baseball or whatever your favorite sport is, look no further.  And ladies, if you get the Panasonic SC-BT200 for your significant other this Christmas, I guarantee, he'll be one happy man.
Razor Carcharias – Is a superior quality gaming audio headset.  A great gift for the die-hard gamer in your life.  I think I may put this on my shopping list for a special gamer in my life.
Klipsch Image S4 – These headphones are perfect for the music enthusiasts on your Christmas list. They'd also make a great pair of headphones for exercising.  Good sound quality, comfortable and budget friendly.
Cowon S9 – Is hailed as a good alternative to the Apple iPod Touch.  The S9 is light and has good sound quality.  If you're looking for a good mini portable music player, the Cowon S9 may be for you.
Apple iPod Nano 5G – This fifth generation iPod packs a big punch for the price.  The iPod Nano is loaded with audio-video features such as a video camera, FM radio, voice recording, Genius Mixes, a built-in speaker, and a larger 2.2-inch screen; also gets a pedometer.  It will make a great gift for anyone on your list, especially teenagers.
Logitech Pure-Fi Anywhere 2 – These portable speakers with digital player dock works with both your iPod and iPhone… a good buy for the person on the go.  You can take it to the beach, on picnics or travelling.
Maybe your Christmas shopping list includes a gaming console and/or games for preexisting consoles?  If so here are a couple of topnotch consoles and a nice list of games to surprise that special someone with this Christmas:
Nintendo DSi – If you're looking for a portable game console this Christmas for the kids or that special person in your life, the Nintendo DSi is it.  A great on the go console that can keep your children busy on long drives, and we know what a life-saver that can be.   The DSi can put a damper on the "Are we there, yet?" or "How much longer?" whines coming from the backseat.
Sony Playstation 3 Slim – This gaming console makes a great family gift.  It may have been given a trim down in size but it is large in performance.  A powerful gaming machine that will be sure to provide hours of fun… just make sure you take plenty of pictures of the overjoyed recipient of this awesome gift on Christmas morning.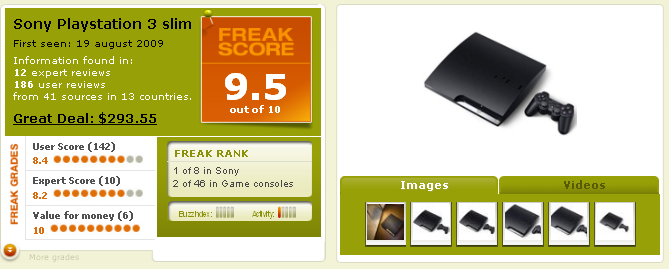 The die-hard gamer can always use accessories for their consoles… from skins to controllers here are a few that will be sure to please this Christmas.  They also make great stocking stuffers:
Logitech Playgear Pocket Slim – Allows you to add your own personal style to your PSP-1000.  A smart purchase for teenagers to protect their PSP-1000… because we all know how rough teens can be.
Nintendo Wii Motion Plus – Bring more sensitivity and accuracy to your game play with this Wii add-on.  Keep in mind you won't notice a difference in older games but those designed to take advantage of motionplus.
Logitech G27 Racing Wheel – Here is something for the racing enthusiast in your life.  The Logitech G27 Racing Wheel can satisfy the Andretti in your life this Christmas.  Note:  it's only Windows and Playstation compatible.
Games
Already have a gaming console and just looking for games for the kids and spouse this Christmas?  Here are some best of the best games.  It's a great way to spend your Christmas day.  And make sure you click on the category link for a more extensive list of games:
Video and Television
A popular gift idea for moms and grandparents is digital frames… a great way to share special memories of the kids or grandkids.  And what better gift for dad or the special guy in your life, than a projector or new TV?  Check these out:
Sony DPF-X1000 Digital Photo Frame – Digital photo frames are a great way to show an ever-changing collection of favorite pictures. Show off your favorite memories in the Sony DPF-X1000 Photo Frame which features an impressive 10.2" frame.  Put a smile on grandma's face this Christmas!
InFocus X9 – Projectors can turn a media room into a real movie experience, and one of the more famous names in consumer media projectors is InFocus. From the famous X1 projector they have steadily released improvements, and the X9 is a great choice to build up your dream home theater.  I guarantee you ladies that the guy in your life will be thrilled with this projector.
Sony Bravia KDL-40Z4500 – When you look at any list of the top rated TVs in the past few years, you should expect to see the name Sony around the top of the list. IF you want to see one of the reasons why, take a look at the Sony KDL-40Z4500.  With 200hz MotionFlow the picture is sure to please. And if you run out of things to watch, take advantage of the unit's network capability and expand your viewing technology.  What guy wouldn't love it?!
Samsung LE-40B651 – Samsung is the UK's number one TV brand, and the LE-40B651 is a solid performer that shows why. The 40 inch LCD tv is solid in its delivery, and while it might not have the same features of some high end models, it certainly has the goods when it comes to image processing.  This would easily brighten up any den or family room this Christmas.
Logitech Harmony 1100 – For the man in your life, this remote control is a symbol that he is actually in control of his environment. How better to stroke his precious ego than with a killer remote control?  The Logitech Harmony 1100 is not just a remote control – it is a control center, the very nexus of his digital world.  It will be sure to make his Christmas, merry.
Camcorders and Cameras
Another great gift idea for just about anyone on your Christmas list is camcorders and cameras.  It's the gift that keeps on giving – by providing memories for a lifetime.  Here some worth checking out:
Flip Mino HD – The sleek design of the Mino HD fits into any pocket or purse, and you can be recording within 3 seconds of powering it up… perfect for those opportune family moments.  You may want to give or receive this gift on Christmas Eve so you can use it to record those precious moments on Christmas morning.
Canon VIXIA HF200 – It's never too late to start making those family home movies.  With the Canon Vixia you can start making those memories this Christmas.  It is a great camcorder for the money.
Canon EOS 500 D/Rebel T1i – This digital camera is perfect for the entry level and intermediate photographers in your life.  I'm confident that the person opening this up on Christmas morning will have a great big smile on their face.  What a great photo-op!
Panasonic Lumix DMC-TZ7 / DMC-ZS3 – If you're looking for a more budget friendly pocket mega-zoom camera, the Panasonic Lumix is your camera.  If you're the casual photographer who would rather let the camera do the work this should be on your Christmas list.
Kitchen and Home Appliances
Many women are putting kitchen gadgets, appliances and home appliances on their wish list this Christmas.  Here are some good finds for you this Black Friday to get that special lady (or guy) in your life:
Cuisinart CBK-100 – Not much smells better than fresh bread baking.  If you have a special "baker" in your life, the Cuisinart CBK-100 bread maker will have them rolling in the dough.  Seriously, you can make his or her life easier… while the breadmaker is doing its thing they can take a little "me" time.
Cuisinart DCC-2600 – This coffee maker is perfect for the coffee conessuer in your life.  If you or someone you know can't start the day without a cup (or two or three) of joe or a jolt of caffeine, I recommend you put the Cuisinart DCC-2600 to your Christmas shopping list.
Cuisinart DLC-2009CHB – This food processor should be on every cook's want list.  Whether dicing, chopping, pureeing or mixing dough, this wonderful small kitchen appliance would be a nice gift to give mom or any special cook in your life.
Home Appliances
If you are wishing for a major appliance this Christmas be armed with the information you need to make the most informed purchase, on the best appliance, at the best price… before you even leave your house on Black Friday.  From stoves to refrigerators and microwaves to vacuum cleaners here's some of interest:
Electrolux EW30GS65GS – If your Christmas wish this year is a new range or stove and you've been a good girl (or boy), maybe Santa will drop (gently we hope) the Electrolux stove down your chimney.
Samsung RS277AC – Maybe you're in the market for a new refrigerator?  This 27 cu. ft. side by side fridge will look beautiful in your kitchen.  Santa may need some help from his elves getting this under the Christmas tree, though.

Bosch SHE4AM15UC – Is your kitchen in need of a new dishwasher?  If so this beauty is quiet and energy efficient… a wonderful gift to make someone's life easier.  Oh, and Dear Santa, I have been a really good girl this year (hint, hint).
GE PEB2060SMSS – One appliance that has made lives so much easier in the kitchen is the microwave.  And if a microwave is on your wish list, check out this GE microwave.  Slap a big red bow on it and make your honey a very happy person this Christmas.
Samsung WF219AN – Is your washing machine on its last leg?  Just not cleaning your clothes like it use to?  Or maybe it's so old its loud and not so energy efficient?  Maybe it's time to get a new one.  This Christmas get this Samsung washer… your clothes will thank you.
Samsung DV209AEW – If your dryer is taking twice as long to dry clothes than it used to, maybe a new dryer – to go along with your new washer – is in order.  This gem of a dryer will dry your clothes in half the time and it's so quiet you may not even know it's on.  A great gift idea for sure.
Dyson DC25 – Okay, I wouldn't mind finding this under the Christmas tree, too.  Dyson has a great reputation when it comes to vacuum cleaners and this one gets rave reviews.  If you know someone who needs a new vacuum cleaner pick up the Dyson DC23 on Black Friday.
Phones
Cell phones are one of the most popular gift ideas.  And one of the most asked for gifts by teenagers.  Everyone wants to be able to keep in touch when they're on the go… and who isn't on the go nowadays?  Here are a couple of the best cell phones to check out:
Apple iPhone 3GS – If I didn't have this phone already… I'd want it this Christmas.  A great gift for anyone on your list – from teens to grandparents, the iPhone 3GS is the best gadget!  As a mom, I cannot even begin to tell you how useful I've found this phone to be.  While you're shopping on Black Friday, be sure to pick one up.
HTC Hero – Is the most feature-packed Google Android device to date.  The HTC Hero will be an awesome gift for your teenager… or anyone on your list this year.  It may have one of the best web browsers on a smart phone.  It's packed with lots of features that anyone will enjoy trying out.
Whatever you decide on buying for your loved ones this Christmas, you can feel better knowing you did your research to get the best bargain for a gift that will be needed, wanted and loved.
Here are thousands of products with millions of reviews, price comparisons and all the technical information you'll need to make good shopping decisions this Christmas.  And here's wishing you a great Black Friday shopping experience!