Being able to access tutorials, video lessons, and other helpful videos with just a few clicks is useful – and thanks to online streaming platforms such as YouTube it is easy to find videos on practically any topics you would want. However as you probably know it is almost always not possible to 'save' online streaming videos and watch them later offline.
If you really want to be able to watch any videos later on, the only surefire way to do so is by capturing it from your screen using a screen recorder for Mac. That is precisely the role that Movavi Screen Capture Studio for Mac will play – and then some.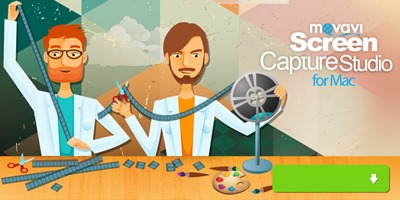 As a screen recorder that is designed to be user-friendly and intuitive, it is easy enough to set up Movavi Screen Capture Studio for Mac. To begin you just need to launch the software and start the screen recorder by selecting 'Record screen' in the menu.
The first thing you should do is define the region of your screen that you'd like to record – in this case the part where the video is located. Initially you can either draw a frame over the area using your mouse cursor. Afterwards the capture interface of Movavi Screen Capture Studio for Mac will appear, allowing you to select a preset size (or the entire screen) in the list that is available.
Seeing as you'll undoubtedly want to record the audio from the video, you should also ensure the 'System Audio' icon is highlighted. Additionally you can set another audio source, or adjust the various other recording parameters within Movavi Screen Capture Studio for Mac such as the sound levels, frame rate, and so on.
In case you would rather not have to be present to manually start and stop the recording, you can use the built in 'timer' or 'scheduler' features in Movavi Screen Capture Studio for Mac to automate that part of it. Regardless, all that remains is to start recording and play the video at the same time – and it will be captured.
After you're done you could save the video that you've recorded immediately, or you could open it in Movavi Screen Capture Studio for Mac's editor. Opting to do the latter will let you improve the video quality, cut and join video segments, apply special effects, insert animated transitions, add captions, and much more.
Suffice to say Movavi Screen Capture Studio for Mac will make it easy for you to record and save any videos you want from your screen so that you can watch them later. The fact that it also has useful editing features may prove handy as well – particularly if you'd like to extract highlights, or even create your own videos.