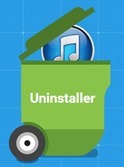 Do you never seem to get around to cleaning your Mac simply because you know just how time consuming and tedious it can be? If you normally try to clean your Mac manually then it can take ages – and odds are you won't actually be able to remove all of the junk on your Mac.
At the same time not cleaning your Mac is a surefire way to ensure that it ends up slowing down and performing sluggishly. Needless to say that is undesirable as well, which is why what you really need is a way to clean your Mac quickly and without too much hassle.
Fortunately for you Movavi Mac Cleaner will fit that bill to a tee. It is an easy-to-use software that specializes in removing junk files in the easiest and fastest way possible. In fact if you want to know how to get rid of junk files on Mac with it, all you need to do is:
Launch Movavi Mac Cleaner and wait as it automatically scans your Mac and locates all the junk files on its hard drive.
Review the visual report that will provide details of how much space is being wasted.
Click 'Start Cleaning' when you are ready to remove all the junk files from your Mac.
See how straightforward it is? If you would like more control over which junk files are removed, Movavi Mac Cleaner will even let you choose to remove only certain types of junk files from your Mac.
Additionally it has a handy 'Uninstaller' feature that will let you cleanly remove apps that you aren't using without leaving behind any traces. The feature will also is capable of uninstalled native OS X apps, and can track down leftovers from other apps and let you remove them too.
If you use your Mac for work and deal with confidential or sensitive files then you may also want to use the 'Shredder' that will let you delete these files and ensure they can't be recovered – even using specialized recovery software. Furthermore the built-in antivirus and firewall in Movavi Mac Cleaner will help shield your Mac from various threats that could make it vulnerable or affect its performance levels.
As you can see Movavi Mac Cleaner will give you a fast and easy way to clean all the junk from your Mac. More importantly the additional features that come with it will help you to keep it in good condition, and improve its performance even further. In a nutshell if you use the software you should be able to keep your Mac well-maintained so that it lasts a lot longer.