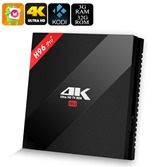 Android TV boxes are becoming increasingly popular and since they come with different features and at the different prices, making a choice from the lot that is available, can be a bit of a task. It becomes even trickier, if you're not too familiar with some of the technical language used in advertising these smart TV boxes.
The Best Android TV Box Features
Apart from budget considerations, choosing the Best Android TV box for you will depend on what you want to get out of your streaming device. There are no one-size-fits-all criteria for buying a TV box because the features desired by one person, may mean nothing to another. You wouldn't want to spend money on features you will never use, or regret buying a TV box because you realized you could have had something better.
To get best value for your money therefore, there are certain considerations you should have before buying your android TV box.
Access To Updates: One of the ways to future-proof your smart TV box, is to ensure that you can get regular firmware updates from the manufacturer. With Firmware Over-The-Air (FOTA) Updates, you can enjoy newer features without having to go through the rigors of manually downloading new updates, or buying a new device.
Newer Android OS: You should pay attention to the android OS version of your TV box. Since you wouldn't think of buying a brand new car with an older engine (if such exists), you'd want to be sure that your android TV box is running a newer OS – Android 5.1 Lollipop or higher. Apart from performance improvements and bug fixes, newer android versions, offer you better and modern user interface design; an updated Android Run Time (ART) library which allows for faster start-up time, disc space economy; and support for OpenGL ES 3.1 which ensures better rendering of 3D and 2D graphics. There is also the advantage of future software support. Apps get updated with newer feature which improve user experience and you might miss out on these if you're using older OS.
Dual-Band Wi-Fi and\or Gigabit Ethernet: Streaming from Netflix, another computer or a Network Attached Storage (NAS) requires fast and smart networking hardware. An android TV box with dual-band Wi-Fi router (2.4GHz and 5GHz) and network adapter will ensure smoother transmission of signals. A wired Gigabit Ethernet will give you similar results.
The latest stock version of Kodi: Team Kodi developers are always adding cool new features to the Kodi platform, to enhance your experience. Not having the latest Kodi version can deprive you of this.
Android TV Box Features You Won't Need
There are certain hyped-up features that you may never get to use on your smart TV box and paying extra dollars on them may be a sheer waste.
10-bit color (different from 10 bit video encoding) for example is practically ineffective because deep colors it offers aren't supported by HDTV nor Blu-ray devices. The same thing holds for TV boxes boasting a 7.1 Audio pass-through feature.