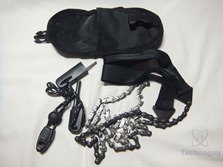 So I've got something today for review for the campers and hikers out there or it would work for even Boy Scouts or just as something for an emergency kit. What I have for review today is the Sumpri pocket chainsaw and fire starter set and yes I tested the chainsaw on a fallen tree in my yard and it worked but it's a lot of work as it were. Read on to learn more…
Specifications and Features
Pocket Chainsaw & Fire Starter Camping Gear – 36 Inch Compact Hand Saw & Magnesium Spark Fire Rod Kit -Best For Hiking, Survival & Emergency Equipment, Wood & Tree Cutting Tools -Folding Set By SUMPRI
FED UP WITH SMALL LOW QUALITY WIRE SAWS THAT BREAK AND CUT POORLY? IN NEED OF A COMPACT, LIGHT WEIGHT SAW THAT CAN CUT FIREWOOD IN SECONDS?
Your search for the best Pocket Chainsaw is over:
SUMPRI 36 INCH FOLDABLE POCKET CHAIN SAW IS YOUR SOLUTION!
-Has extra length, super sharp and can cut down a 12″ trunk in about 3 minutes.
-Made from high carbon steel -formulated for provide good wear resistance and hardness.
-Bi Directional Blades – Cuts when pushed and pulled.
-Compact, lightweight and fits in your pocket!
-Essential Tool for Survival, Camping, Emergencies, Yard Work, and More.
BONUS ALL WEATHER MAGNESIUM FIRE STARTER – Comes with a convenient and compact belt loop pouch to store your chainsaw and an all weather Fire Starter with its own unique casing. Will work in the rain or cold, fireproof, water-resistant and shatterproof. The Fire Starter contains everything you need to get a fire going, Perfect for your Bushcraft needs.
Price: $10.95 (from Amazon at time of review)
The Review
Let's start with a video unboxing and then move on:
The Sumpri chainsaw and fire starter kit comes in a nice looking box and included is a user guide.
The fire starter is on an adjustable nylon cord and it locks together. When you want to use it you open it up and one side has the scraper and the other side has the magnesium bar. You do have to scrape the black paint off the bar first before you use it. The first starter works just fine, it's just like any other and it does produce nice large sparks.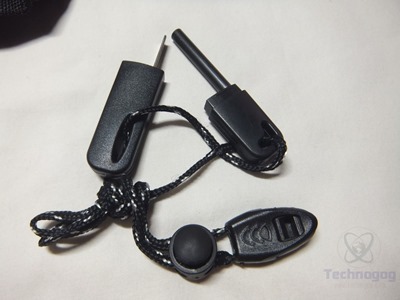 The pocket chainsaw comes in a nice nylon pouch with a plastic locking clip on the front and then a belt loop on the back. The chainsaw is wrapped in plastic inside of the pouch as it's oiled.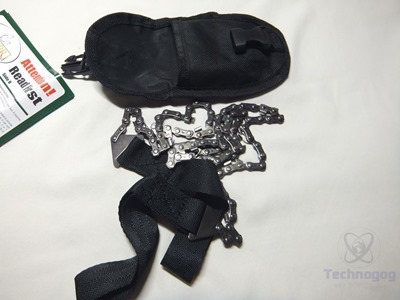 The chainsaw is 36 inches long with thick nylon handles on the ends and of course a chain saw in the center with teeth that go in both directions so you cut with both push and pull essentially.
For testing the saw I cut a tree that had fallen down in the back of my yard. It was about 4.5 inches diameter and it took me just under 10 minutes to cut it. I have to admit it was hard work, much harder than I expected really. The specs mention that you can cut a 12 inch trunk in about 3 minutes, I don't see that happening unless you're some body builder type who can really pull the chain hard and fast and non-stop. I'm not out of shape but I'm not in body building, triathlete shape either, I guess I'd be average and it was rough work for me. I did get cut on the saw while I was using it so it is sharp as I barely felt it. I literally gave my blood to get this review done! Seriously though, I should have been wearing gloves of course, so lesson here is to wear your gloves!
I wasn't really sure about the nylon strap handles but I pulled as hard as I could and they didn't break so I guess they work fine.
I really can't demo the fires tarter in pictures but I showed it in use in the video and I did play around with it outside and it works fine. You just have to remember to remove the black paint first.
Conclusion
The Sumpri pocket chainsaw and fire starter kit would make a great addition to an emergency kit for sure or a great gift for a camper or hiker or really any outdoor sportsman.
The chainsaw works but just not as fast as the specs say it does, at least not for me anyway. The blades are sharp, sharp enough to cut skin for sure so be sure to wear gloves.
All in all it's not a bad kit for the price, it's about $11 on Amazon right now and I'd say it's well worth that.
For camping you might also want to see this list of the best camping blankets, you need a good blanket for camping that's for sure.
Pros:
+Inexpensive
+Multiple uses, camping, hiking etc
+Decently made
+Nice set
Cons:
-Not as fast as specs say, at least not for me
| | |
| --- | --- |
| Grading | Scores Out of 10 |
| Overall | |
| Design / Aesthetic | |
| Value / Price | |
| Performance / Usage | |
Disclosure: This product was given to me for review by the company for review purposes only for free or at a discounted price.
To learn more about our review policy please visit this page HERE.