On Friday Fedex dropped off the Verizon Wireless HTC Incredible phone to me for review, and as of now I can show you pictures and the unboxing of it. It's one of the most anticipated phones in a while, and it's well worth the wait. You can start pre-ordering it today, and it will be available on April 29th to purchase. I'm writing this on Sunday night, and the phone arrived on Friday morning, that's not enough time for me to have with the device to give you a full review but I can share some of my first impressions with you along with a video and a slew of pictures. Give me about a week or so and I'll have the full review up after I really get some time to play with it and use it. For now you'll have to be content checking out the pictures of the phone and the interface..
Features:
* Android 2.1 with HTC Sense experience
* 1GHz Qualcomm Snapdragon processor for maximum responsiveness
* Friend Stream for unified Flickr, Facebook and Twitter updates
* "Leap" view for quick access to all seven home screen panels
* 8 megapixel camera with dual LED flash for crisp, detailed images
* Razor-sharp 3.7 inch WVGA (480×800) AMOLED capacitive touch display
* Optical joystick for smooth navigation
* Dedicated, touch-sensitive Home, Menu, Back and Search keys
* Proximity sensor, light sensor and digital compass
* Integrated GPS
* Wi-Fi (802.11 b/g)
* 3.5 mm headset jack
Price and availability:
* Droid Incredible will be available for pre-order online at www.verizonwireless.com beginning on April 19 and it will be in Verizon Wireless Communications Stores on April 29. Pricing will be $199.99 after a $100 mail-in rebate with a new two-year customer agreement. Customers will receive the rebate in the form of a debit card; upon receipt, customers may use the card as cash anywhere debit cards are accepted.
* Droid Incredible customers will need to subscribe to a Verizon Wireless Nationwide Talk and an Email and Web for Smartphone plan. Nationwide Talk plans begin at $39.99 monthly access. Email and Web for Smartphone plans start at $29.99 for unlimited monthly access.
* For additional information on Verizon Wireless products and services, visit a Verizon Wireless Communications Store, call 1-800-2 JOIN IN or go to www.verizonwireless.com.
Here's the official website: http://phones.verizonwireless.com/htc/incredible/
Video unboxing first:
The HTC Incredible is actually thin and lightweight, it's not exactly small but it's not too big either. It's a tall or long phone, but again it's very thin.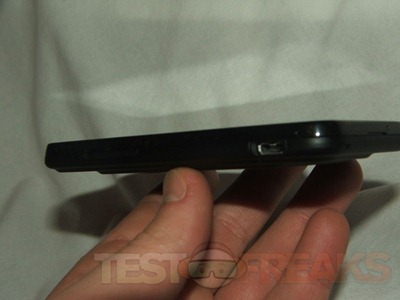 There's not much to it really, meaning there aren't many buttons. On the front are a few touch sensitive ones below the screen, and the navigation pad.
The phone feels well made, it's solid, but it's just begging for a screen protector…
On the left side we find the volume buttons and USB port, while on the top is the power button and the 3.5mm headphone jack. There's nothing on the right side or bottom.
On the back we find the 8mp camera with dual flash LEDs
Opening it up we find it to be a very bright red under the battery cover.
There's a microSD slot on the side that blends in, I almost missed it while examining the phone.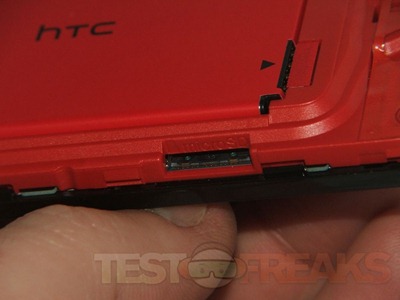 The battery is thin as you might expect and it's only a 1300mAH battery.
Here's the interface:
The interface is very fast and smooth, and overall the entire phone work fast with no lag at all that I found.
I've found that I don't care for the keyboard that much. The buttons are fairly close together and I always seem to be hitting the wrong key. It could be that I'm accustomed to hardware keyboards, my main phone and those before it all had one. Here's the Peep Twitter app and the keyboard:
The phone dialer is small, it only takes up half of the screen, the other half is your contacts which are behind it as well.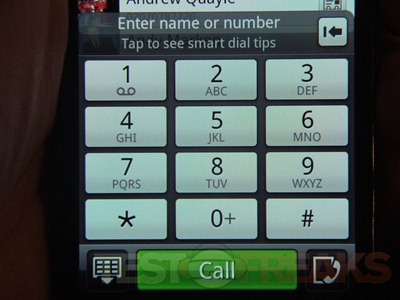 Here's the apps:
… as you can see the HTC Incredible comes with a lot of stuff installed, and really no trials of software like you'll find on other phones.
Here's the settings section as well:
The screen is very nice, it's sharp and clear, the blacks are very dark but the whites aren't exactly bright white, more of an off white or dull white, but overall very good. The icons and text look beautiful, nice and crisp and well defined, not pixellated at all.
There is an FM radio built-in, you'll need to use a pair of headphones with it though to use as the antenna.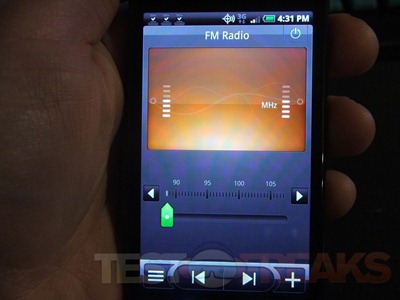 The only game on the phone is Teeter, I like it..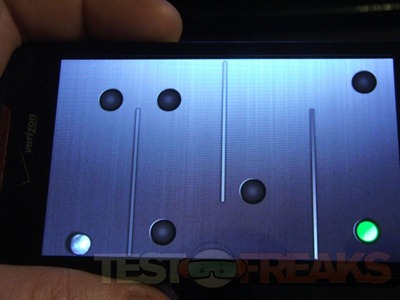 Battery life so far isn't that great… and I haven't made many calls or really done all that much, tested the web browser, a few tweets and a few facebook updates. I charged it on Friday to full, and Sunday morning I woke up with the battery indicator being red meaning it needed charge again. I was not using Wi-Fi or Bluetooth either, so that wasn't draining the battery.
Calls are nice and clear, and I seem to have good reception, but it does show I only get two bars at most in my house. Despite the lack of signal bars, calls work fine and so does data.
Internet is fine, the browser works well, it's fast for me and my area.
I have not really had the chance to play with the camera but it does have a lot a features in both the video and still versions. One thing I didn't see was a Macro mode, but you can zoom in and out quite a bit.
Well that's it for now, I need to get some more time in with it before I can really give you my opinion of it all… so check back in about a weeks time for the full review…