Linux is probably best known as a server operating system, and for a good reason – according to at least one source, 60% of the servers on the web are running a Linux OS (source). But Linux on a desktop (or laptop) as a very viable option is gaining popularity, and its presence as the default OS on many netbooks continues to push its market share.
As you can see from the chart below, Linux is still the small kid on the block at only 1.14% of the web clients as of March 2010.
However, the interest in Linux has created many different distribution packages, and the time has never been better for anyone to take the plunge to the other operating system. You will find it to be a mature, stable platform to run a growing variety of software titles for your needs, many of them free.
But what are the different distribution packages for Linux, and what do they offer? We take a look at what is out there, and round out our favorite 13 for a perfect baker's dozen of Linux distros.
Market Share
First, let's take a look at the most popular distributions of Linux. As the chart above shows, the most popular Linux flavor is Ubuntu, which as of April 2010 is reported to be the Linux installation of choice for over half of the desktops out there (source ). The next most popular distro is Fedora, with SUSE, Debian, and Red Hat filling out the top 5. (Please note that 34% of the installation is unknown due to 3rd party browser use, but our best guess is that 3rd party use would be fairly distributed across the installations, making the market share data fairly consistent.)
1. Ubuntu
Ubuntu,as previously stated, is by far the most popular version of Linux. Named for the Southern African ideology of "humanity towards others", Ubuntu is distributed as a free and open source operating system. Ubuntu's focus is on usability and ease of installation, aiming for the average user.
Ubuntu is a stable system that is kept up to date with new releases on average about every six months. Ubuntu can also be found in a LTS (Long Term Support) version that are released every couple years with three of support for desktop and five for servers.
2. Fedora
Fedora, the number two most popular Linux distro, was developed by the community supported Fedora Project and is actually sponsored by Red Hat (which has its own distro based Fedora). Fedora's mission is to lead the advancement of free and open source software as being built upon and by a collaborative community.
It might be interesting to note that Linus Torvalds, the author of the Linux kernel, uses Fedora as his main choice. This started due to Fedora' strong support for that PowerPC architecture that Torvalds was working with, and continues as of the last report.
3. openSUSE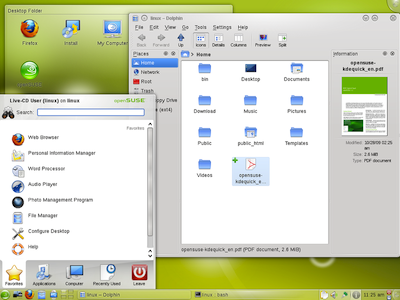 The openSUSE OS started out as SUSE, but when Novell acquired the company in 2004 it released the SUSE Linux Professional Product as an open source project, hence the name open SUSE.
The open community supported openSUSE, and as of November 2009 the current stable release is openSUSE 11.2. It is still sponsored by Novell, and during installation the end user can select between KDE, GNOME, and Xfce GUIs.
4. Debian
If any Linux distribution embodies the idea of free software principles, it would have to be Debian. Serving as a base for other popular distros (including Ubuntu), Debian focuses on stability and security.
The Debian project is controlled by the Debian Constitution, which explicitly states that the goal is for development of a free operating system. Not backed by another company as many distros are, Debian incorporates over one thousand volunteers around the world.
5. Red Hat Enterprise Linux
Red Hat Enterprise Linux (unofficially RHEL) is targeted toward the commercial market, and this includes mainframes. You will also find desktop versions of RHEL running on Intel based computers. Red Hat backs up its product with official support and training, making it a potential good choice as a corporate solution.
RHEL claims to have major releases every 18 to 24 months, but over three years has elapsed since the release of Red Hat Enterprise Linux 5. However, RHEL 6 public beta was released on April 21, 2010. RHEL is available through a subscription.
6. CentOS
CentOS is a community supported operating system that is based on Red Hat Enterprise Linux, but unlike RHEL it is a free alternative. Built to be 100% compatible with RHEL, CentOS provides an enterprise class computing platform. CentOS stands for Community ENTerprise Operating System.
7. Mandriva
Mandriva was originally referred to as Mandrake (and can still be found running under that name in the wild), but legal issues with King Features and its Mandrake the Magician character forced a name change. Supporting both server and desktop configurations, it was originally based on Red Hat Linux 5.1, but since has diverged substantially, with its own tools and system configuration.
8. Slackware
Slackware is one of the oldest maintained Linux distros. Created by Patrick Volkerding in 1993, the most current stable version is 13.0, released on August 26, 2009. Originally named with emphasis on being a side project, Slackware has since grown into a serious operating system, and aims to be the most "Unix-like".
9. Knoppix
Knoppix, created by Linux consultant Klaus Knopper, is derived from Debian and designed to run completely from removable media. While other distros now have that ability, Knoppix was the first, and that configuration remains as its focus.
Knoppix is also a popular alternative for people who want to load the OS from a USB memory card, making it simple to take your programs (and your entire operating system!) with you as you travel.
10. Linux Mint
Linux Mint is aimed towards personal computers, with focus on being user friendly. Mint is a great choice for users with no prior Linux experience, and it incorporates integrated media codecs to help in this. Mint is based on Ubuntu, and like Ubuntu can be found in Live versions that allow testing on a given machine before actual installation.
11. Oracle Enterprise Linux
A list of Linux distros would not be complete without mentioning a version from software giant, Oracle. Oracle Enterprise Linux is based on Red Hat Enterprise Linux and designed to compete directly with it. Oracle supports this distro through its Oracle Unbreakable Linux Program, a subscription based service for Enterprise Linux installations.
12. Gentoo
Gentoo is not shipped as a compiled solution, but rather the end user compiles the source locally. As you would expect, this distro is aimed at the experienced or power user. However, this feature allows a very wide range of adaptability for the operating system, and the reason why Gentoo can rightfully refer to itself as a metadistribution.
And, interesting to note, Gentoo and its products are named after the Gentoo Penguin.
13. SimplyMEPIS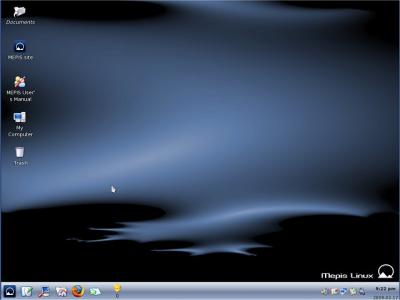 SimplyMEPIS is the most popular distribution of MEPIS, based on Debian. Aimed for the average user, SimplyMEPIS is intended for easy desktop use with a strong support component.
According to its creator Warren Woodford, MEPIS is pronounced like "Memphis" without the extra letters. The name actually does not stand for anything in particular, and came about through a poor Skype connection conversation, but was unique enough to keep.
I know there are many variations and distributions of Linux that we do not have listed here, but time and space does not allow to include everything. The important thing to note is this – whatever your computing need, from a laptop to a major enterprise installation, Linux is a very strong and widely used solution. For the end user who wants an alternative to Windows, it only takes a download to try it for yourself.