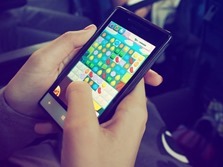 When digital mobile phones were still in their infancy, video games were seen as little more than an added luxury for users. Although Nokia achieved mainstream success with the launch of their preinstalled Snake game starting in 1997, mobile titles lagged considerably behind their console counterparts; few would surely have envisaged that mobile games would go on to gross more than $36.9 billion per year worldwide as of 2016.
It arguably wasn't until the release of the iPhone – and its associated App Store – that mobile gaming had its true watershed moment. That's not for a lack of trying, however: the advent of feature phones, which included color screens, in the early 2000s gave rise to a number of Java-based titles that moved beyond simplistic, monochromatic attempts; Nokia even tried to capitalize on the earlier popularity of Snake by releasing the world's first phone/portable gaming console hybrid, the N-Gage, in 2003.
Ultimately, however, both a lack of hardware required to run sophisticated video games and the absence of a unified operating system for cell phones meant that mobile gaming remained well behind its console counterparts. Not only that, but monetization was a real issue for developers: mobile internet was still very basic, negating both the capacity for in-app advertisements and the possibility of selling titles digitally. As a result, the vast majority of mobile games were lackluster ports or rehashes of years-old console gaming franchises: a particularly dreadful Sonic the Hedgehog port on Java remains etched in the memory of many as the epitome of mobile gaming mediocrity.
However, the birth of the smartphone – specifically, the original iPhone – in 2008 started a cataclysmic shift in the world of mobile gaming. Apple's App Store was pushed as a key feature of the original iPhone, and through a substantial promotional effort coupled with a flawless execution, set in motion a major change in the habits of mobile phone users. Essentially boasting a mini-PC architecture, smartphones opened the door to sophisticated software applications to be created for users; the App Store made it easier than ever for users to download utilities and games, as well as for developers to upload, monetize and update their work via a uniformed storefront.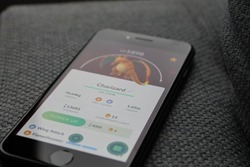 "Entertainment 2000" by Arvid Rudling (CC BY 2.0).
Other mobile phone manufacturers soon followed Apple's lead, with Google's Android operating system, along with its Google Play Store, providing an able competitor to the iPhone's iOS and App Store. Soon, due to the ease of publishing on each storefront, mobile users were afforded more choice than any other platform in terms of the number of video games on offer. Not only that, but the smartphone opened up the gaming market beyond what had it had been predominantly seen as previously: a somewhat niche, male-oriented pastime.
Early mobile titles such as Angry Birds and ports of popular puzzle title Tetris drew in a huge number of players due to their accessibility and intuitive, casual gameplay, and each iteration of the iOS and Android operating systems – along with each new iteration of mobile handsets – have seen more sophisticated titles being released.
Resource-intensive games, such as open world action-adventure title Grand Theft Auto: San Andreas, can now be run effortlessly on the latest iOS and Android-based smartphones, while the iGaming industry has also prospered, with mobile casinos being able to offer more sophisticated slot games to players. As casinoquest.ca points out, the prevalence of wifi and affordable data costs, coupled with the advancements in mobile hardware, has made the gap between the desktop or console and mobile casino experience closer than ever, with various devices available for game play on major online casinos including Leo Vegas and Mr Green.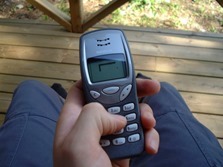 Credit: Pexels.
As mobile game developers began to find their feet with smartphones, a whole new genre and monetization model of video gaming was born. Rather than simply charge users a set fee for downloading their software, many creators now utilize the free-to-play, or freemium, model, which ensures a constant return on their IP. What this essentially means is that users can download and experience the core game for free, but can pay real money – often through microtransactions – to speed up the rate at which they are able to acquire in-game items and progress.
Free-to-play gaming is a big business, too: one of the most popular titles in the genre, Clash of Clans, helped studio Supercell turn over $2.3 billion in revenue in 2015 alone. Indeed, the success of freemium gaming has actually led to console developers taking the lead from mobile for the first time, with titles such as Paragon, DC Universe Online and Warframe all using a similar model to some of their mobile counterparts.
Ultimately, while dedicated game consoles are still able to play host to more technically impressive and engaging experiences than mobile phones, that gap is now closer than ever – evident in the fact that the revenue generated by mobile gaming is soon set to eclipse that of PC and consoles, according to Newzoo.