Businesses are becoming digitalized to accelerate growth, and OCR software has shown to be a valuable tool in this regard. Scanning and processing documents for valuable data, such as invoices, receipts, and photographs, has traditionally been time-consuming and error-prone. Businesses can save time and money by using OCR software instead of manual data entry and verification.
Optical Character Recognition (OCR) is a technique for recognizing and interpreting the text in scanned documents and pictures. OCR software extracts data from PDFs or scanned documents and then converts it into machine-readable text data that can be altered and saved more easily for subsequent processing. We'll go over the top 10 free OCR readers in this article so you can modify your scanned PDF files.
CocoDoc is a free PDF editor used by over a million individuals in more than 190 countries. TechTimes, Phandroid, iLounge, Pocket-line, and MacWorld are just a few of the well-known publications that have given the software positive reviews. The fact that this PDF editor is available for any business or personal usage has made PDF editing and conversion a snap.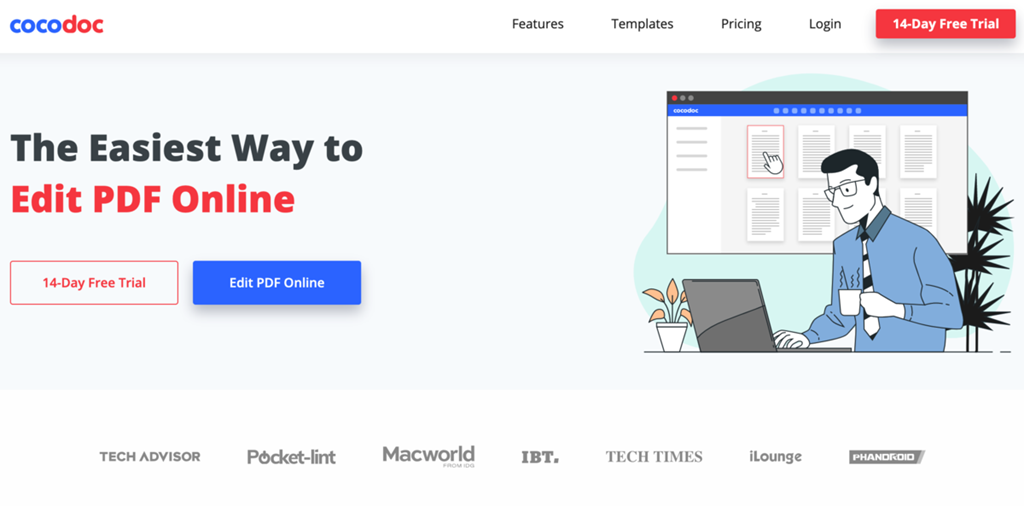 The editor supports files in any format and can easily modify them. You can add text, links, re-edit, undo edits, and combine several files into a single document with CocoDoc. CocoDoc's OCR technology enables users to scan PDF files with accuracy and speed. It's a program that extracts data from any written or printed text automatically. Later, the user can extract the content from the PDF file or transform it into readable and searchable text.
How to Use OCR to Recognize Text
CocoDoc provides a very efficient platform for users to work on. Your files can be scanned and converted online in a matter of minutes. All you need is a browser that works and an active internet connection to get started. You must follow the procedures outlined below to scan your document and convert it into readable text using OCR in PDF.
Step 1: You can drag and drop your files or upload them from your computer. You can also share the URLs to your files or upload them from Google Drive, OneDrive, or Dropbox.
Step 2: Use CocoDoc's OCR PDF online tool to scan all of the data and convert them to PDF files.
Step 3: When you're finished, save your file. The final PDF file can also be downloaded to your PC.
CocoDoc's Other Useful Features
The application has functional capabilities that allow you to modify, mark, and track the PDF document you want. Listed below are a few of them:
PDF Files Can Be Merged and Compressed
This tool allows the user to resize and merge any PDF file to meet their requirements. All of the files in a single folder can be merged, organized, and compressed. To conduct these activities on any PDF file, the user does not need to install any additional software.
CocoDoc's official site features a multitasking feature that allows you to convert PDF files to Word, Excel, and PowerPoint. Additionally, the tool provides for converting other formats, such as JPG and PNG, to PDF.
Create a form and have it eSigned
With the help of CocoDoc, every form can have fields and different texts added to it. Furthermore, after creating the form, the app allows you to sign the document for free using any electronic device.
CocoDoc's PDF Editor allows you to add text boxes, checkmarks, and dates to PDF documents. All the changes and functions in the document can also be undone or redone. This online application also allows you to search, alter texts, copy and paste different texts. It can also be used as an online spell checker and corrector.
Due to the advanced OCR technology, PDFelement can quickly assist you in working with scanned PDF documents. This feature detects text in scanned PDFs, allowing you to alter the file and content.
It can also convert scanned PDFs to editable document formats such as Excel, Word, PPT. Your original document's quality will be entirely kept as well. You can also use various form filling and form building tools to fill out both interactive and non-interactive forms and create new forms.
This online OCR tool is 100% free and does not require registration or an email address to use. Image file types with multi-column text are supported, including GIF, JPG, BMP, TIFF, and PDF. It also understands over 30 other languages. The maximum upload size is 2MB (5000 pixels), and you can only upload 10 photos per hour.
Adobe Acrobat Pro DC is OCR software that extracts text from scanned documents and converts them to editable PDF files. It offers an all-in-one PDF solution for any device. This implies you can make and modify PDFs and convert them to Microsoft Office and JPG formats. You may also use Pro DC to share PDFs, sign PDFs, and print or compress them. Adobe also detects your text and compares it to your font, then changes the PDF to that font.
Readiris lets you combine and split PDF files, alter and annotate, and secure and sign them. It's also a one-stop site for converting, editing, and transforming all of your paper documents into several digital forms with just a few clicks. The optical character recognition engine allows you to recover texts in several file formats with flawless precision while retaining the original format.
Omnipage Ultimate is a tool that converts paper, PDFs, and photos to digital files using optical character recognition. It effectively converts PDF files and forms into editable documents that you can modify, save, and share.
However, the software is only compatible with Windows, so you won't be able to use it on your Mac. Its eDiscovery Assistant allows you to turn single or multiple PDF files into searchable files.
Another desktop software with an OCR function is Wondershare PDFelement Pro. You can convert PDF to Word, Excel, PPT, JPG, PNG, RTF formats using this software. The converter is simple to operate and produces excellent results.
You can not only identify and modify text in any scanned and image PDF files, but you can also search and copy text from it with Wondershare PDFelement Pro's OCR function.
Boxoft Free OCR is a free tool that allows you to extract text from a variety of photos. The freeware supports various languages and can evaluate multi-column text. You may even scan your paper documents and instantly convert the OCR material into editable text.
ABBYY FineReader PDF 15 is a PDF solution that uses AI-based OCR to create and improve all types of PDF documents. It also enables you to digitize, recover, secure, and share various documents in a single workflow. It also allows you to modify paragraphs and sentences, as well as the document's layout.
PDFMate PDF Converter is a free and easy-to-use tool for converting PDF files to various formats. You won't have any difficulty copying or altering PDF files with it. You may easily convert JPG to PDF with the free PDF tool.
Users can convert scanned PDFs to editable text or Microsoft Word files using the freeware's built-in OCR technology. After you've imported an image PDF file into the software, go to advanced options to enable OCR, and then select text as the output format. After clicking the convert button, the status bar displays success after a few seconds. Then you can see that all of the characters have been accurately identified.
Conclusion:
Whether you're running a business or doing personal work, you may need to digitize printed or handwritten documents. Fortunately, using these OCR tools, you can complete this operation swiftly. Users, on the other hand, may find it challenging to select the ideal product.
CocoDoc brings together various features and benefits in one great spot, making it an outstanding choice for both business and personal use. I recommend starting with the free plan or the 14-day free trial to get a feel for the software before purchasing the plan you require.