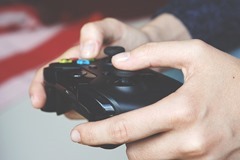 Reed Hastings, CEO of Netflix, has recently told shareholders that the company's stiffest competition will be brought not by Disney+, Amazon, or cable television but the biggest threat to Netflix's is going to be the video game Fortnite. Why so? Because the question "what to watch" is being replaced by the question "whether to watch". And the answer is often "no" as more and more people prefer playing a game to watching a movie.
Today, most of us choose to pick a game controller instead of a TV remote. Every year, the gaming industry generates billions of dollars in revenue and it keeps growing. It is projected that 2.7 billion people, which is about one-third of the global population, will be gamers by 2021.
Such predictions are the reason why big tech companies, like Apple, Google, and Amazon are seizing the moment and actively developing gaming products.
So what's the future of this fast-changing industry that keeps inventing new approaches to entertainment?
Innovative game development trends emerge every year. Modern technology advancements bring new opportunities to gamers. Currently, game development trends are associated mainly with AR/VR, eSports, 5G, and Inclusivity.
First, let's consider how AI helps game developers. AI can generate assets, which frees up designers from painstakingly drawing each separate element in a set of similar ones. Instead, they can offload that work by using a technique called procedural content generation. Sometimes, developers also rely on neural networks to tailor-make entire game levels with the help of this technique.
AI is used not only to create games from scratch but to get valuable feedback as well, so designers can fine-tune their creations on the fly. Games routinely collect up-to-date data on how players experience a game, so this information is fed into an algorithm.
According to a survey, 61% of industry experts believe that AR/VR will significantly impact the future of game development. Most players pursue realism and the ability to live in a game, so AR/VR will cease to be a separate category soon.
Huge companies like Google, Microsoft, and Sony have invested huge resources to develop VR hardware and games. When it comes to virtual reality, we are still in the early days and it remains a niche category comparing to the rest of the gaming industry. Today, companies put much effort to make VR more consumer-friendly, so its usage is only a matter of time. With the help of VR, games will become even more immersive and innovative.
Some people prefer AR games as they can interact with reality and not get isolated. The adoption rate of VR and AR is going to grow since prices for it are decreasing and the technology becomes more available.
In the times of the COVID-19 pandemic, eSports continues to rise in popularity as real-life sporting events have been canceled and people are seeking alternatives. Some of them prefer online platforms similar to https://casinosters.com/3-pounds-minimum-deposit-casinos/ while others like sports betting. Hence, game development is going to help this industry evolve. Experts assume that eSports and online competitive gaming are going to become a $1.8 million industry by 2022. Whether it's true or not, the tendency is promising.
They say that 5G is also expected to bring technological breakthroughs in the game development process. 5G is going to add a spur of innovation and make it possible to stream console-quality games on smartphones. As 5G drives mobility, gamers will always be able to play. It can dramatically change mobile game development and take it to a new level, putting it on par with the quality of console games. 5G capabilities are especially great for AR games as they are not worth playing without real-time data input.
The future of the industry will probably include expanded inclusivity. Web development can become more inclusive in different ways. For instance, games can be built based on the demographic that developers want to reach.
Another change in the gaming industry concerns face recognition. This technology is not new but it's often associated with security-based applications. However, now it's expanding its reach to games. For instance, NBA-2K15 can scan the face of players and allows them to play alongside with athletes they love most.
After the launch of the Apple Watch, wearable technology has become extremely popular. Now many companies are shifting their focus to using this technology in gaming. There is a smartwatch designed for gamers called Gameband that allows them to play without the need of staying close to their computers. Another example of wearable tools is SuperSuit which was designed especially for children to reduce their screen time and boost their social interaction as well as physical activity.