I have to admit this is a neat idea, but I wouldn't wear it, but then again I don't wear watches often so it might just be me. Would you wear a speaker on your wrist that allows you to answer calls and listen to music? The speaker band is Bluetooth and it can provide up to six hours of talk time and has a price of $49.99 with availability at the end of the month.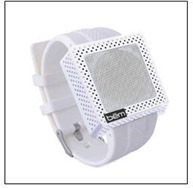 bem wireless unveils the speaker band, a stylish extension of your smartphone or tablet, at the 2014 Consumer Electronics Show.  In a fast-paced, mobile world, it's important to always have your phone on you.  With the speaker band, your smartphone will literally be "on you"- on your wrist to be exact.  So, make calls while you're in your car or listen to music while walking the dog and more.

"We've struck the perfect balance of form and function with the speaker band.  Technology is a new way to accessorize, and everyone from fashionistas to businessmen will enjoy this product," says Bryan Katzel, Product Development Manager for bem.  "No need to fumble around in your purse or briefcase for your smartphone anymore—just manage your calls and music with speaker band."

The speaker band connects to any Bluetooth-enabled device, and features multifunction buttons so you can play, pause, answer, skip and reverse.  Users can safely engage in conversations while on the road (or anywhere!) because of its built-in microphone, and the speaker band is compatible with most voice recognition apps.  Additionally, the speaker band comes with a caller ID function so you always know who is on the other end of the line. 

With up to six hours of talk time, the speaker band is a must-have item for any trip, and  it's developed from soft touch material so you can comfortably wear it for long periods of time.  There are six fashionable colors to choose from so each user can express their own style.  The speaker band comes in black, white, blue, red, gray and green.

Features and Technical Specifications

Connects via Bluetooth
Built-in microphone
Caller ID function
Soft touch wrist band
Micro USB charging port
6 hours of talk time
Power Button
Play/Pause, answer, skip, reverse buttons
Power/Bluetooth LED indicators

The speaker band will retail for $49.99, and it is expected to begin shipping at the end of January 2014. 

Check out www.bemwireless.com for more information.