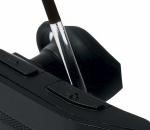 BlueAnt has just announced a new bluetooth headset called the T1 that supposedly can deliver clear calls in winds up to 22mph with their Wind Armor Technology. It's got talk time of 6 hours and standby of 120 hours and it's got and MSRP of $79.99. It also comes with an optional silicone cover to protect against dust, moisture and impact.
T1 Feature Summary:
Superior wind noise performance: clear calls in winds up to 22 mph
Durable exterior and soft touch silicon covers protect the headset from accidental impact, dust and moisture
Use your voice to make calls with quick access to phone voice dialing
Answer calls with your voice just by saying "Answer" or "Ignore"
Stores up to 2,000 phone book entries for each paired device and uses text to speech technology to read out the name of the incoming caller
Multipoint: connect to two phones at the same time and answer whichever one rings
True multipoint: both phones remain connected even during a call, so you can switch between multiple simultaneous calls on both phones without disconnecting from the T1
Simply Connect technology and embedded audio guides talk you through setup and pairing
A2DP streaming for playback of music, podcasts and turn-by-turn direction information from a phone GPS application
Free firmware upgrades available online
Hardware on/off switch
The T1 incorporates the BlueGenie™ Voice Interface software from Sensory, Inc. BlueGenie is a trademark of Sensory, Inc.
Pictures with the cover and without the cover: