And of course with the iPad 2 announcement comes the iPad 2 accessory announcements, first up we have a lot of stuff from Scosche arriving later this month.
Scosche Industries  is excited to announce its complete iPad 2 accessories line-up will be available this month.  The Scosche iPad 2 product line-up is highlighted by three new cases, a waterproof Bluetooth mini keyboard and a variety of new charging options.
"We take pride in consistently being one of the first accessory manufacturers to market following a new Apple product announcement," said Kas Alves, Executive Vice President of Scosche Industries.  "This time we are taking our commitment to being a market leader to a new level by delivering all our new iPad 2 products in the same month as Apple's announcement."
iPad 2 users looking to protect their new tablet will have no shortage of options from Scosche.  Inspired by the popular foldIO for the original iPad, the foldIO p2 is a stylish folio case.  Available in black and white leather options, as well as black and white carbon fiber textured models, the foldIO p2 adds an element of sophistication to Scosche's iPad 2 case line.    Priced at $49.99, the foldIO p2 features three landscape viewing positions and a suede interior for enhanced protection.
The Scosche glosSEE p2 is a translucent, flexible rubber case for the new tablet that provides an enhanced grip and superior protection.   Priced at $39.99, iPad 2 owners can choose from Crystal Clear, Smoke, Deep Purple, Rocker Pink and Blue options.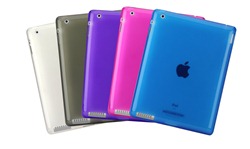 Available in the same fun colors, the Scosche snapSHIELD p2 is a low profile polycarbonate case for iPad 2.  The shatterproof snapSHIELD protects the iPad and features an open design, providing access to all the tablet's connections and controls for just $29.99.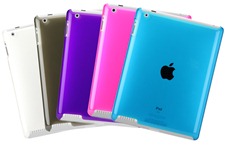 Scosche has also put together an offering of screen protectors for the iPad 2.  Models include the klearCOAT p2, satinSHIELD p2 and privaSEE p2 and they are priced at $19.99, $24.99 and $49.99 respectively.
The $59.99 Scosche freeKEY is a water resistant, Bluetooth keyboard, perfect for working on the go.  The rugged, high quality silicone keyboard has a wireless range of up to 30 feet, a retractable USB cable for charging, and rolls up for easy storage.
iPad 2 customers worried about running down the new tablet's battery can pick up a 2.1A powerPLUG for charging in the car for just $17.99, or the Scosche goBAT II dual USB battery back-up and charger for $79.99.  Scosche's dual USB reVIVE II chargers are perfect for simultaneously charging an iPad 2 and another USB powered device at home or in the car and are available for $24.99 and $29.99 respectively.
All of Scosche's tapLINE II earphones are also compatible with the second-generation iPad.  In addition, to volume and track control, these earphones provide iPad 2 users with a high quality mic for FaceTime and voice memos.   The Scosche sneakPEEK II, HD audio video output solution, also works with the iPad 2 and is perfect for sharing media on the iPad 2 with friends and family and is also available at