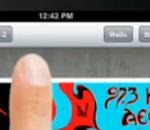 Here's something interesting for the iPad called Rock Show, it's an app where you can look at concert posters. For nostalgia sake I guess it's rather neat, but it will allow you to actually buy most of the posters you see through the free app. It's supposedly going to be available on April 3rd when the iPad is released…
Digital media company Neutrinos, LLC announced the development of Rock Show, an application for the Apple iPad which enables users to experience artwork from limited edition concert posters.
The Rock Show application allows users to discover more about performing artists via quick links to both Wikipedia and the iTunes store. "We wanted to give music fans a chance to easily engage the artwork using the iPad's unique interface. Rock Show is what we have developed," said Rob Banagale, CEO of Neutrinos.
All concert posters featured in Rock Show are available for purchase directly through the iPad application. In most cases the posters will be shipped to the purchaser by the artist or design studio that originally created them. "Rock Show not only establishes a new retail channel, it also serves as a great opportunity for artists to get exposure via a digital marketplace," Banagale added.
Neutrinos announced Rock Show to coincide with this year's South by Southwest (SXSW) interactive, film and music festival and the American Poster Institute's 2010 Flatstock poster show. A variety of artists attending Flatstock have already signed up to sell posters using Rock Show.
"We're very excited about the new user interface options made possible by the iPad's large multi-touch display," said Matt Tuzzolo, Senior Developer at Neutrinos. "We really believe in the iPad, so we designed Rock Show to utilize a scalable, cloud-based infrastructure."
Rock Show will be available for free download from the iTunes iPad App Store following Apple's application approval process and the release of the iPad on April 3rd, 2010. For more information and to sign up to be notified of availability, visit