Hmm, Monday looks like the day for companies to announce Windows 7 tablets because I've got another announcement from a company called Ambiance Technology and they're touting their tablet as direct competition for the iPad! The tablet does look very nice in the pictures, it's a 10" tablet with 3G built in and comes with a 16gb HDD, 1.3Mp webcam, card reader, Bluetooth and LAN and even a mini VGA port. Another one I want surely. It's going to be available in November in Europe.
Introducing the 10 inch AT Tablet, Dutch Ambiance Technology is the first company in Europe to launch a consumer 3G touchpad operated by Windows 7 Home Premium. The new tablet PC performance matches every modern laptop and – unlike his famous counterpart the iPad – allows all Windows software to be used.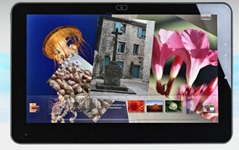 Ambiance Technology managing director Eric Schouten is surprised no one else beat him to this. "Microsoft even called to congratulate us with the fist professional answer to all the Android commotion," he says. Thanks to his AT Tablet consumers no longer have to download their programs or applications in special app stores, but are able to use the same programs they are familiar with on their PC.
With the device they can surf the internet with the fast and wireless 3G-connection, watch movies, listen to music, read e-books, watch or alter their documents, visit social networks and do everything they normally do behind their computer, wherever the are. "You carry your digital life with you. This tablet makes you more mobile, frees you from an endless dependency on wires, sockets or special app stores," Schouten says.
The AT-Tablet is operated by a multi touch screen – allowing the simultaneously touching of several keys -, has a 3G SIM card slot, a 160 Gb hard drive, USB ports, card readers, LAN, Bluetooth and a mini VGA connector to a LCD monitor. The built-in 1.3 Mp webcam and microphone allow people to chat, Skype or MSN. It's even possible to write on the screen with a stylus pen to make notes or adjust documents. Users can buy apps from other users or professionals in a special app store or develop their own applications.
Ambiance Technology is known in Europe as a supplier of AT Telecom mobile phones, based on Dual SIM solutions, and importer of high quality consumer electronics. The introduction of the AT-Tablet met enthusiastic reactions. Schouten: "People say: finally a Windows operated tablet."
More information: http://www.attablet.com