I like all-in-one PC's they just fit like anywhere and offer most of the functionality of a regular desktop. They might not be as powerful yet but they're very close, and this Gateway seems the closest I've seen yet with a Corei3 CPU in it along with Blu-ray and up to 16gb or ram with up to a 640gb hard drive.
Responding to the success of its ZX One Series and the growing popularity of all-in-one desktop PCs among consumers, Gateway today expanded its line with additional models featuring an all new industrial design.  The new AIO PCs join Gateway's existing ZX One Series, adding more design choices, configurations and price points.
With MSRPs beginning at $899.99, the Gateway One ZX4951 Series and One ZX6951 Series feature 21.5- or 23-inch full high definition displays, powerful Intel® Pentium® or Core™ i3 processors and Blu-ray drives.  Their compact size makes them perfect for small rooms, such as a dorm, home office or kitchen.  In addition, the ZX6951 includes a TV tuner, so it can easily double as a TV and/or home entertainment center.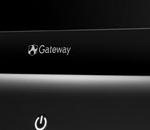 "The demand for all-in-one desktop PCs took off last year with the introduction of Windows 7 and its touch screen capabilities, and as the technology became more powerful and less expensive," said Steve Smith, senior business manager of consumer desktops, Acer America.
"The newest additions to our ZX One Series of PCs expand the choices available, making these highly stylized PCs more accessible to a wider range of customers."
Unlike most "square" all-in-one PCs on the market today, the new Gateway ZX One Series features a unique curved bottom edge, adding some flair to the traditional box-shaped PC design.  A glossy black bezel and chrome and silver accents keep it modern and elegant.  Lighting along the bottom edge of the PC can be set to four different brightness levels, adding ambiance to the room and lighting up the wireless keyboard.

A chrome back-stand can be adjusted for different heights and viewing positions, while a back door covers the various ports and cables keeping the back of the PC clean and streamlined.
The new Gateway One ZX4951 and ZX6951 models can easily function as a TV and/or home entertainment center, making them ideal for small rooms, such as a dorm or home office.  VESA mountable, this design can be attached to a kitchen wall, freeing up limited counter space.
Full high-definition widescreen LCDs, powerful components, 4GB of RAM (upgradeable to 16GB via 4 slots), 500 or 640GB(1) SATA hard drives, high-definition audio with 5.1 channel support, integrated wireless capabilities, and an integrated webcam make these great computers for PC-based entertainment, social networking and media sharing.
The new models also include Gateway Touch Gadgets, a fun and useful way to use the PC's touch screen technology to interact easily with the Internet, social media, music playlists, photos, videos and more.
Availability and Pricing
Both models are available today at leading retailers nationwide.  MSRPs range from $899.99 to $999.99, depending on configuration.
About Gateway
Since its founding in 1985, Irvine, Calif.-based Gateway has been a technology pioneer, offering stylish, user-friendly products and world-class customer service. Gateway is a wholly owned subsidiary of Acer Inc., the world's second-largest PC company. Through collaboration with suppliers, the company strives to design environmentally friendly products and establish a green supply chain. See www.gateway.com for more information.