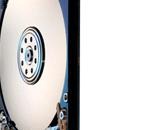 These are small and fast, only 7mm thick. They're called the Travelstar and Cinemastar drives and are available in both 1.8" and 2.5" sizes. Capacities are up to 320gb, so they're not small, but they're not exactly big either..
From laptops and handhelds to PVRs and blade servers, Hitachi's new 7mm Z-series family of Travelstar and CinemaStar drives are designed as a direct replacement for today's standard 2.5-inch, 9.5mm hard drives. All Hitachi Z-series drives feature common connectors and common mounting points for simple integration into existing systems, and enable greater design flexibility to differentiate and meet market demands for new, thinner, lighter and more robust devices.
New Hitachi Z-Series Family Includes:
Travelstar Z7K320 Family – Industry's first 7200 RPM, 7mm, 2.5-inch hard drives
The Hitachi Travelstar Z7K320 drive with a 16MB cache and a Serial ATA 3Gb/sec interface provides high capacity, performance and durability on a proven platform for quality and reliability. For use in notebook PCs, ultra portables and netbooks, and compact desktop systems, the Travelstar Z7K320 drive delivers up to 18 percent better application performance than 5400 RPM models of the same capacity, turning netbooks and laptops into performance-leading solutions.
Best-of-breed acoustics and eco-friendly features such as low power and a halogen-free design make the Travelstar Z7K320 drive a smart choice. The drive offers 1.8 watts (W) read/write power and 0.8W low power idle for more unplugged computing time. It also delivers 2.3 idle / 2.4 seek bels for a quieter, richer audio-listening experience for music, movies and games.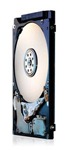 Travelstar Z5K320 Family – Industry's highest capacity, 7mm, 5400 RPM 2.5-inch hard drive at 320GB
The new Hitachi Travelstar Z5K320 – a 7mm, 5400 RPM, 2.5-inch, 8MB cache, Serial ATA 3Gb/sec interface hard drive – meets the needs of mobile and ultra-portable applications in an eco-friendly environment. The Travelstar Z5K320 drive offers 1.6W read/write power and 0.55W low power idle, and delivers quiet acoustics at 1.9 idle / 2.0 seek bels.
CinemaStar Z5K320 Family – Industry's first 7mm drives for A/V streaming devices
Hitachi CinemaStar drives are specifically designed for A/V streaming devices and power the most popular set-top boxes (STB), PVRs, portable video players, DVR-enabled TVs and video surveillance systems in the market today. This fifth generation 2.5-inch, 5400 RPM, 8MB cache, Serial ATA 3Gb/sec interface CinemaStar drive continues this tradition, delivering the right balance of capacity, power-management and outstanding low acoustics.