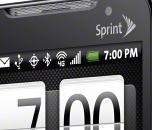 Sweet phone, but then again I think anything from HTC is amazingly awesome.. The new HTC EVO 4G is the first phone running on the 4G network, it's running Android 2.1 and it will cost $199.99 with 2yr contract of course.
HTC EVO 4G will be available in all Sprint retail channels, including Sprint.com and national retail partners, RadioShack, Best Buy and Wal-Mart. Sprint will price the award-winning device at $199.99 with a two-year service agreement and after a $100 mail-in rebate (taxes excluded) with a new line activation or eligible upgrade. Pre-registration is available now at
HTC EVO 4G features the latest version of the increasingly popular Android platform, Android 2.1, offering more than 35,000 apps, as well as a mind-blowing list of features, including:
Simultaneous voice and data capability in 4G and Wi-Fi coverage areas, enabling Web surfing and more while the conversation continues.
Offering a new way to search with pictures instead of words, Google Goggles™ works with everything from books, DVDs and barcodes to landmarks, logos, artwork and wine labels.
Superfast 1GHz Qualcomm® Snapdragon™ processor, ensuring a smooth and quick movement within phone menus.
Two cameras – an 8.0 megapixel auto-focus camera with HD-capable video camcorder and a forward-facing 1.3 megapixel camera.
Built-in mobile hotspot functionality allowing up to eight Wi-Fi enabled devices to share the 3G or 4G experience on the go with a laptop, camera, music player, game unit, video player, or any other Wi-Fi enabled device.
Integrated HD video capture with the ability to capture and share live video via the Qik Web site, Facebook, YouTube or Twitter™.
Ability to easily watch video with the device on an HDTV via an HDMI cable (sold separately).
Custom Web browser optimized for the 4.3 inch display and Sprint 4G speeds to deliver a full, no-compromise Internet experience.
A handy kickstand built into the back, making it easy to watch videos on-the-go.
Adobe Flash technology ensures that rich Internet content, such as embedded video and animation, are displayed the way they are meant to be seen.
Pinch-to-zoom and automatic text reflowing provide easy Web page views.