HTC Comes to Verizon with a phone that resembles a BlackBerry….
BASKING RIDGE, N.J., and BELLEVUE, Wash., June 25 /PRNewswire/ — Verizon Wireless and HTC today introduce the Verizon Wireless HTC Ozone(TM). This easy-to-use smartphone combines a simple design with a host of connectivity options that include the nation's largest wireless 3G network, global roaming and Wi-Fi, making it a smart option and, at $49.99*, a great value for first-time smartphone users or savvy business professionals.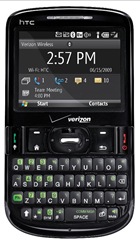 Available color: Black

  Key features:
  --  Ergonomically-designed QWERTY keyboard for fast and easy typing
  --  Flexible connectivity options with Verizon Wireless' 3G network,
      global roaming capabilities and support for Wi-Fi
  --  1500 mAh battery delivers extended operating time
  --  Includes international charging adapters to stay powered up while
      abroad

  Lifestyle features:
  --  VZ Navigator(SM) -- get audible turn-by-turn directions to more than
      15 million points of interest and share the directions with others
  --  Visual Voice Mail -- view, delete, reply, listen to and forward voice
      mail messages without having to listen to prior messages or voice
      instructions
  --  Mobile IM -- connect with friends on AOL(R) Instant Messenger,
      Windows(R) Messenger and Yahoo!(R) Messenger
  --  Mobile Email -- access to popular e-mail services such as Yahoo!(R),
      Hotmail(R), AOL(R) and Windows(R) Live Seamless Microsoft(R) Exchange
      synchronization with Microsoft(R) Office Mobile for maximum
      productivity
  --  Access to most frequently used features with a simplified "sliding
      panel" user interface

  --  One-touch messaging key for quick connection to friends and family

  * Price and availability:
  --  The HTC Ozone will be $49.99 after a $70 mail-in rebate with a new
      two-year customer agreement.  Customers will receive the rebate in the
      form of a debit card; upon receipt, customers may use the card as cash
      anywhere debit cards are accepted.
  --  VZ Navigator is available for $9.99 monthly access, and Visual Voice
      Mail is available for $2.99 monthly access.

  --  Customers can purchase the HTC Ozone beginning June 29 online at
      www.verizonwireless.com, by calling 1-800-2 JOIN IN, or through
      business sales channels.  It will be in Verizon Wireless
      Communications Stores on July 13.  For additional information on
      Verizon Wireless products and services, visit a Verizon Wireless
      Communications Store, call 1-800-2 JOIN IN or go to
      www.verizonwireless.com.


  About Verizon Wireless

Verizon Wireless operates the nation's most reliable and largest wireless voice and data network, serving more than 86.6 million customers. Headquartered in Basking Ridge, N.J., with more than 86,000 employees nationwide, Verizon Wireless is a joint venture of Verizon Communications (NYSE:VZ) and Vodafone (NYSE and LSE: VOD). For more information, visit www.verizonwireless.com. To preview and request broadcast-quality video footage and high-resolution stills of Verizon Wireless operations, log on to the Verizon Wireless Multimedia Library at www.verizonwireless.com/multimedia.
About HTC
Founded in 1997, HTC Corporation (HTC) is a global leader in mobile phone innovation and design. Since its establishment, HTC has developed strong R&D capabilities, pioneered many new designs and product innovations and launched state-of-the-art mobile phones for mobile operators and distributors in Europe, the US, Asia and around the world. HTC is one of the fastest growing companies in the mobile device market. The company is listed on the Taiwan Stock Exchange under ticker 2498. For more information about HTC, please visit www.htc.com.
This company's web site http://www.verizonwireless.com/