Now this is something that I want… too bad it's only available if you buy a complete system! Maybe they'll start selling it as an accessory? One can only hope!
iBUYPOWER, a leading innovator in gaming PCs, is excited to announce its proprietary USB Internal Expansion System (IES Controller), adding to a  growing list of exclusive system innovations developed this year, including upgrades such as the Harmony Sound reduction system and iBUYPOWER specialized advanced packaging system.   The new system will enhance control and boost power to front panel USB ports and add-ons like card readers.  The IES Controller accomplishes this by connecting front panel ports, which often struggle to power USB devices, directly to the computer's power supply.  The system also adds an internal USB port that can be used for storage expansion with a flash drive or for adding USB wireless router.
Wireless device users can also add a Bluetooth module to the IES Controller to free up a front panel USB port.  The Bluetooth module simply plugs into the added internal USB port on the IES allowing peripherals to remain constantly connected to the PC. The transmitter can sync with a mouse, keyboard, printer, speakers, headset, or mobile phone.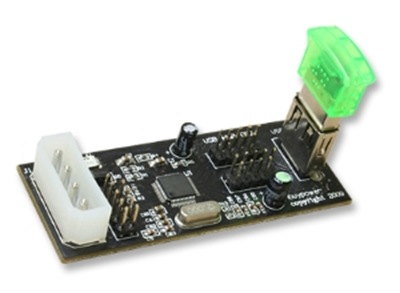 The iBUYPOWER USB Internal Expansion System is available with any new iBUYPOWER tower PC for $14 or $24 with Bluetooth capabilities at www.iBUYPOWER.com.  iBUYPOWER systems come standard with 3 year limited warranty and lifetime technical support.
About iBUYPOWER
iBUYPOWER Computer, an enterprise in association with American Future Technology Corporation (AFT), is one of the largest system builders in the PC gaming industry.  Located in Los Angeles County, iBUYPOWER's mission is to provide a complete computing solution to meet the needs of the surrounding community and customers nationwide. Currently, the company's product lines include gaming desktops, gaming notebooks, workstations, media center PCs, peripherals and multimedia products. www.iBUYPOWER.com