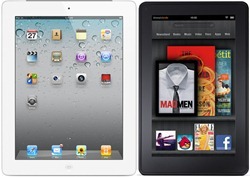 The new iPad is expected to be 0.7 mm thicker than the iPad 2 in order to accommodate the extra backlighting required. It's not known whether the slate will gain the iPad 3 moniker, or whether that honour will be reserved for a later model. It's possible that Apple will move to a tick-tock schedule as it does for the iPhone, with new releases and model upgrades coming at one year intervals, which would mean the new slate would be the iPad 2S.
We should see for sure pretty soon – Apple are expected to announce the new device as early as January, a wise move given the strong level expected of competition in the Android tablet space, including the Asus Transformer Prime, HTC Quattro and a Lenovo tablet which will all be out by early next year.
If you were planning to pick up a Transformer, Kindle Fire or iPad 2, you'll definitely reap the rewards for waiting six months. All in all, it looks like 2012 may be the year of the super tablet – with HD displays, quad-core processors and more, these new gadgets will move into desktop-replacement levels of performance at increasing lower prices. I cannot wait.
This article was written by William Judd. William writes for MobileFun.co.uk, the UK's leading online retailer of iPhone 4S covers and kindle covers, including the new Kindle cover.